I have to admit, the Malaysian jungle of Taman Negara was never on my radar when I made my way from Thailand to Malaysia. I hadn't really done a lot of research prior to making my way to Malaysia and so I was going off of the word from other travelers that it was not to be overlooked. Therefore after a brief stay in the cool and relaxing mountain town of Cameron Highlands, I made my way toward Taman Negara National Park…not knowing what I was getting myself into (typical me). I quickly learned that Taman Negara is Malaysia's largest national park covering 4343 sq km and is known as the world's oldest tropical rainforest, estimated to be more than 130 million years old!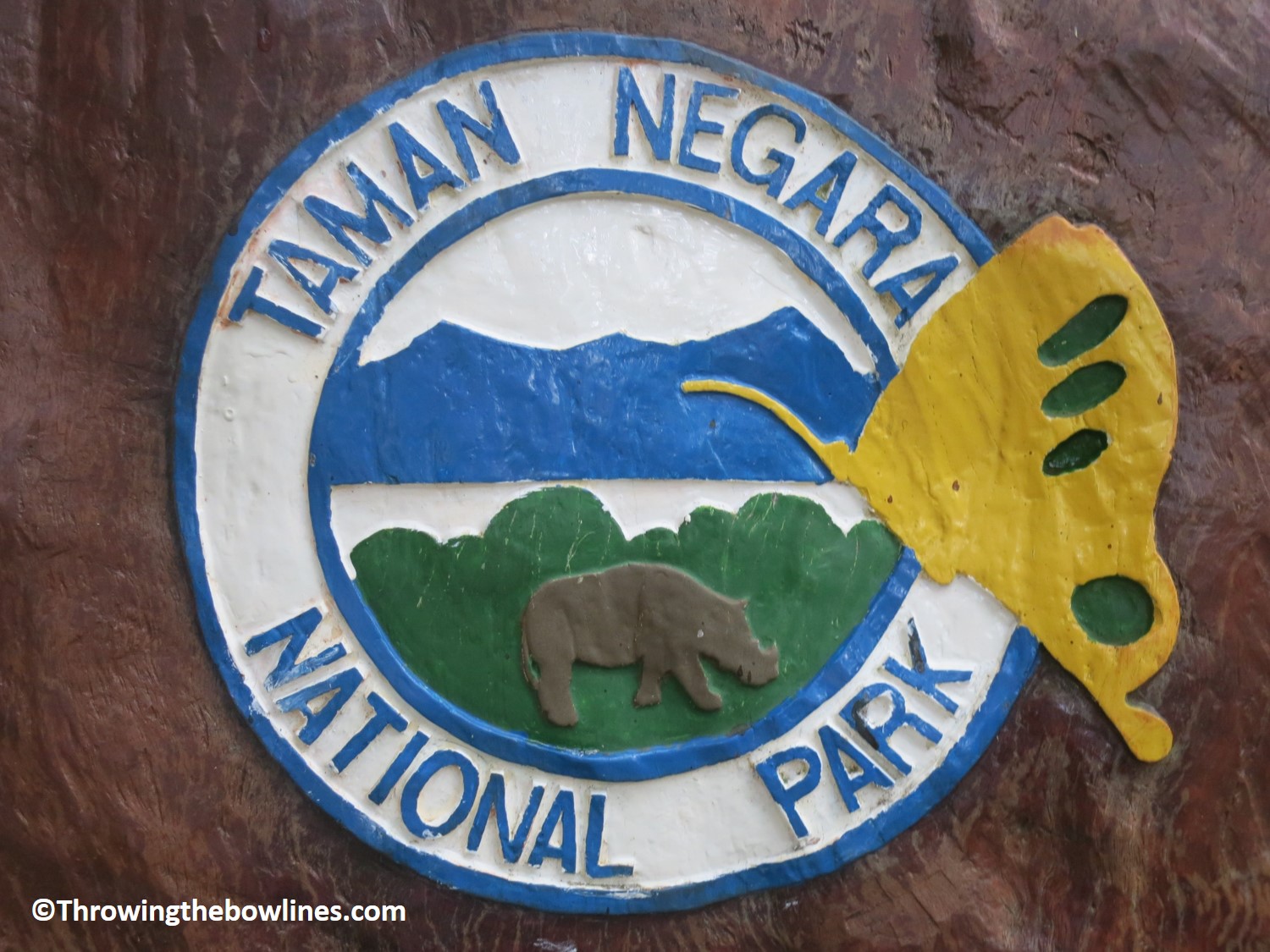 After a 3 hour mini bus ride to the town Jerantut (which would rival that from Chiang Mai to Pai with the amount of curves!), I had a nearly 3 hour wait until our boat left to take us by river to Kuala Tahan, the gateway to Taman Negara. During the wait, I began chatting with a young English lad, Ed, traveling solo about what my plans were. Ha…plans! But in all seriousness, I had no idea what I was going to do upon arrival. He had obviously done much more leg work in looking into options and mentioned that he may try and spend the night in the jungle for one night. This sounded intriguing to me, but I was honestly a bit scared of hiking through the jungle, sans guide, amongst venomous snakes, spiders, and perhaps run into a tiger! I know the tiger is a long shot, but leave it to me to cross paths with one.
We finally made out way to the jetty to catch our boat to Kuala Tahahn. After an excruciating long and painfully uncomfortable 3 hour boat ride, we made it to the jungle! To be fair, the boat ride was okay for the first 30 minutes. After that, all the water buffalo in the world could not have made it worth it. Upon arrival, we were briefed by the main tour company about different activities available to us, ranging from free to hefty prices. Ed and I chatted with some of the tour operators who were helpful, to an extent, giving us information about trekking to a hide (Bumbun Kumbang) about 11k into the jungle on our own. They definitely encouraged us to engage a guide rather than try to do it on our own, which they were conveniently eager to offer at a laughable cost.
Ed and I decided that we could manage and worked out our plan to embark on our trek the next morning. We loaded up on food at the mini mart (marked up at premium) and necessary supplies for 2 days in the jungle. The morning of our adventure, we reserved two 'beds' at the hide for one night at a cost of 5RM. The route to the hide allowed for use to choose one of two ways as it was nearly circular. We opted for the trek that was regarded as less strenuous and more direct, which was to take us 5-6 hours.
Day 1
Our journey began 930 after a tasty breakfast and a quick boat ride across the river for 1RM. As we began our trek into the jungle, I was a bit surprised. I had expected it to be dense with trees and growth to the point where sunlight couldn't break through, but it wasn't at all. The sun shone beautifully through the trees and onto us as we trudged along dripping in sweat from all the humidity. You could definitely feel nature at work all around you. It was breathtakingly beautiful, especially the deeper we ventured into the jungle.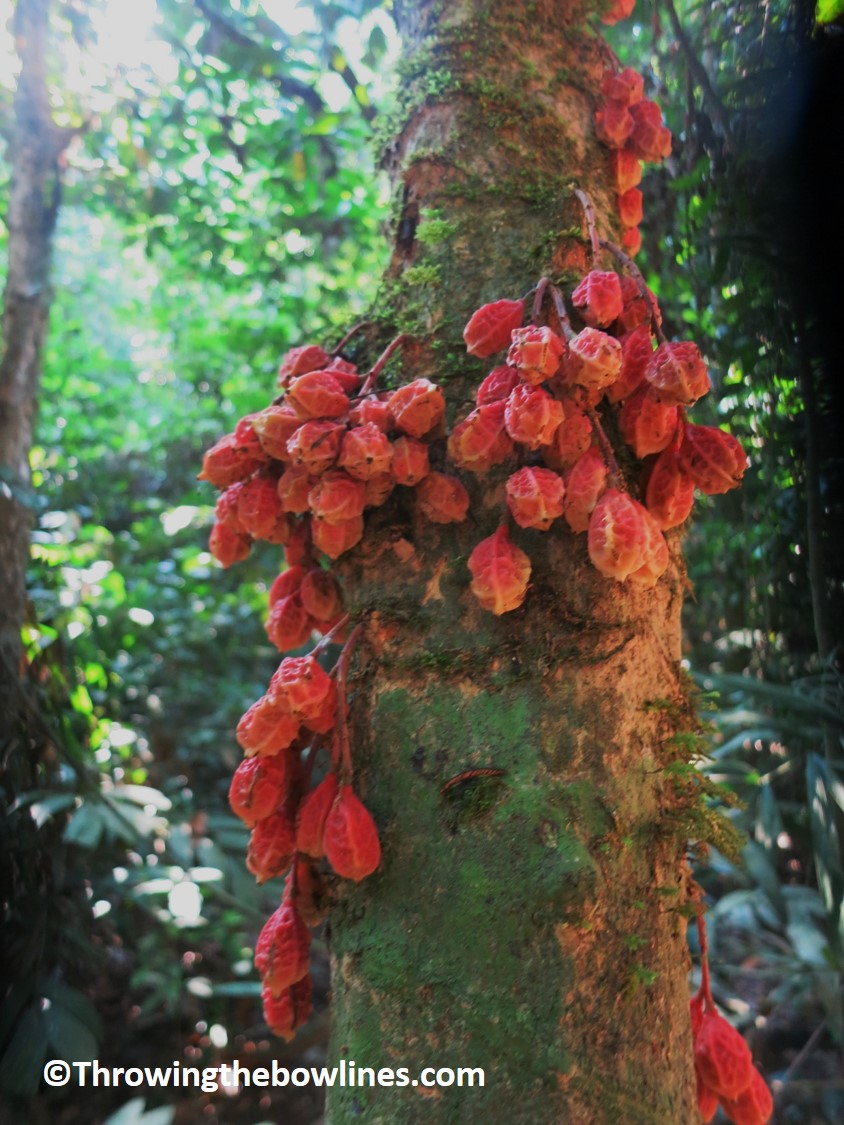 The trek was not overly difficult, but there were some areas where you definitely needed to pay attention to ensure you did not take the wrong turn. Honestly, I think I was most concerned about stumbling upon snakes, running into giant spider webs, and leeches sucking me dry! I soon realized that it was going to be difficult for us to run into any major wildlife as they would hear us coming for miles and would watch us from a distance. We did, however, nearly run straight into a 4.5-5 foot monitor lizard right on the trail in front of us! It was massive and scared us both so much all we could do was laugh as he scurried off ahead of us.
Thankfully, between the two of us, we navigated the route correctly and made it without issue to the hide in 4.5 hours! We noticed how dry it was as many of the 'streams' we crossed were bone dry. The final river just before the hide was the only one that had any significant flow, but we were told that during rainy season, it is not atypical to have to swim across!
The Bumbun Kumbang hide was surprisingly well kept and inviting. We managed to snag a couple of the lower bunks before the tour group behind us arrived. They had taken the same route as us and must have paced themselves quite a bit more as it took them 7 hours! We were pleased, again, that we opted to venture on our own. I do have to admit, although, we were quite jealous of their prepared meal of rice and chicken & beef curry, while we ate our questionable tuna fish. We did end up getting very lucky as they were gracious with their leftovers and offered them to us!
We spent the evening quietly staring into the thick trees hoping to catch a glimpse of some larger wildlife…possibly a tapir or perhaps an elephant. But, no such luck. A lightening show began for us around 730, lighting up the sky with such strength and fury. This was quickly followed by powerful rain showers that continued most of the night, which likely had most animals hunkered down.
Day 2
I slept surprisingly well on a wooden slat, with a thin sleep sack, and my backpack as a pillow. Surprisingly, I awoke quite rested and ready to tackle day two. Ed and I had a few crackers and nuts for breakfast before packing up and heading out on our trek back to Kuala Tahan around 930. We decided we would try the other route back and were warned by many that it would be more strenuous with many more inclines and declines, but we were up for the challenge.
We had refilled our water bottles in the stream the night before and threw in some purification tablets which left the water with a familiar taste of swimming pool…yum. But, it was completely necessary. The trail started off fairly harmless, but quickly picked up steam. There were lots of downed trees blocking the trail which tested our balancing skills over dodgy, watery pits, full of who knows what! And then came the ups and downs….good God, there were ups and downs! It was definitely more difficult than day one.
There were ropes along the more treacherous parts which helped me to haul my ass up, literally. The main issue I was confronted with was, was a lack of water. Both Ed and I were consuming much more water than the day before and were running out quickly. We knew we were both pretty dehydrated but had to push forward. There were a few streams that we used for refilling our bottles and purifying, but none of them were moving very quickly so we were hoping to not need to dive into that water, unless really needed.
Ed graciously led the way and broke the trail – in terms of spider webs! He ran into one web that he hadn't seen but thankfully missed the gigantic spider sitting just outside of where he punctured the web! We saw just two other people along this route heading in the opposite direction for the hide, a father and son team. They told us the trail was fairly straight forward all the way back to town, but shortly after seeing them we had a slight moment of panic as we did manage to get a bit lost. The trail ran along the river and looked to head up an incline, which wasn't unusual, until we dead ended. No clear trail in sight. This was at the same time I had noticed that my ankles had become a buffet for leeches!! We back tracked several times and found the trail markers (red squares on trees). After nearly 30 minutes, we found a narrow trail covered by brush that ended up being the way! We knew, worst case scenario, we could flag down a boat along the river, but neither of us wanted to have to do that!
Five and a half hours later….we made it!!! We were both so excited to be back to 'civilization' and to have survived. We both a liter of coke and shared it as it was what we kept craving on the trail! It was such an amazing trek and I am so glad we did it together and without a guide. Although we didn't see any major wildlife, we had an amazing time. Trekking through the world's oldest jungle, over 130 million years old, is an incredible experience. I had to remind myself several times of where I was and just unbelievable my surroundings really were. If you find yourself in Malaysia, so yourself a favor and make your way to Taman Negara…you will not be disappointed.
For anyone debating on whether to do a self-guided trek to Bumbun Kumbang, here are a few tips for you from my experience:
Bring LOTS of water – especially if doing an overnight trek. I took 3 liters and consumed 1.5 liters on the first day (easier route) and roughly 2 liters on day 2. If you can carry more, do it.

You WILL need a way to purify water – water purification tablets, Steripen, hand pump purifier, or boiling.
Bring some powdered drink mixes with electrolytes – it will help reduce the chlorine/iodine taste of the purified water and give you some energy.

Bring plenty of food – high energy foods, lots of protein and carbs as you will be burning a lot calories. Tuna, peanut butter, nuts, dried fruit, bread, crackers, dried meat (jerky)

Best to pick up supplies and groceries before arriving in Kuala Tahan, but there is a mini mart that offers what you need, at a bit of a premium.

Reserve you spot in the hide as soon as possible (at the resource office) – we nearly didn't have beds as there were only 3 left when we reserved them the morning of our hike. There are 12 spots available.

Speak with the resource office prior to trekking about the trail conditions. They can provide you with tips and advice.

ALWAYS stay on trail. Venturing off or taking a wrong turn thinking you will find the trail 'soon', leads to bad news. There are markers (either yellow or red) on the trees every couple hundred meters. If you think you are lost, backtrack to the last marker and begin again.
Pack extra clothes and a rain poncho – be prepared for all changes in weather.
Bring salt for leeches! 🙂
Remember, you are entering a jungle environment with loads of venomous snakes, spiders, and plants (not to mention elephants, tigers, and bears). It is encouraged that you engage a guide for deep trekking, but if you choose not to – understand the risks and please educate yourself on survival skills. It could save your life if you fall into a bad situation.