In life, I have found that the most unexpected things are the ones that can make me so happy. How many times have you been driving to work or up early shuttling the kids to soccer when you look up and see a hot air balloon floating in the glow of a new sunrise? I cannot help but smile.
Riding in a hot air balloon has resided on my bucket list for quite some time. There have been several opportunities to take a ride over the years, but frankly, I just did not want to. Call me crazy (you wouldn't be the first) but, if I was going to spend the money to ride in a hot air balloon, I wanted it to be in an absolutely gorgeous location. Similar to when I went skydiving in New Zealand, I waited until I made it to an unbelievable location. I think scenery can really make or break these types of experiences and it is worth waiting for the beautiful backdrop.
Once I made my way over to Turkey via Nepal, I had one city especially in mind aside from Istanbul. Cappadocia is a well-known tourist city and it draws people from all over the world to admire their beautiful, and uniquely created landscapes. It is not the most conveniently located city as it is over 450 miles (735 km) from Istanbul in the middle of the country. I was pretty well determined that I would be going there for one reason, to ride in a hot air balloon.
The Makings of a Fairy Tale
I chose to make my way to Cappadocia (Goerme, actually) via bus, which required enduring a grueling 12 night bus from the west coast of Turkey. I awoke shortly before arriving and was greeted with an amazing sunrise and a sky scattered with beautiful hot air balloons! I instantly forgot about my lack of sleep and was so ready to get the chance to float in the sky too!
The landscape of Cappadocia is dominated by unique geological rock formations formed thousands of years ago. Thanks to a massive amount of volcanic activity and eruptions combined with centuries of erosion, these beautiful rock pillars now dominate the area. Long ago, people realized that these rock structures would make ideal homes keeping them warm in the winter and cool in the summer. They carved their sturdy homes within the rocks and began inhabiting the area. They are commonly referred to as "fairy chimneys"…how cute is that?!
Now a days, people have capitalized on this and many accommodations are built within the rocks and are marketed to tourists as the opportunity to sleep in caves. If you are going to go all the way to Cappadocia, I think it is the best way to stay.
Choosing an Operator
There are 22 balloon companies offering rides in Cappadocia, and I was told several times that they are not all created equally. It is important to do your research and ask questions prior to booking with a company. The qualifications of the pilots are critical as they must be able to navigate amongst 100 balloons in the same area and take you up and down through the valleys safely.
I booked my trip through my hostel as they choose to only work with 5 balloon companies that have the highest safety standards and trust to take their guests up for an amazing trip. There are several options you can choose from once you have decided on your company. The levels typically correlate to the number of people that are joining you in your basket. You can have anywhere from 16-30 people in one basket which can definitely change your experience. Additionally, the more established and qualified companies have the ability to launch from various sites, depending on the weather conditions each morning. Other companies only have one launch site and cross their fingers the wind is blowing the right way for them.
I ended up choosing to go with Urgup Balloon Company in a 20 person flight basket for a  60 minute sunrise flight.
Flight Day
I awoke at 0530 the morning of our scheduled flight and was greeted by clear skies and…I had a feeling we would be good to go! We were picked up from our hostel and taken to the company's office to finalize payments and enjoy a light breakfast as the crews prepared our balloons. We were divided into our flying groups, given colored stickers to identify our groups, and met our crew. We then loaded up into the vans to be transported to our launch sites. The brilliant shots of hot orange flames lit up the landscape as we got closer to our balloons. We unloaded the vans as the sky was starting to show signs of a new day approaching. We met our pilot, reviewed safety procedures, and loaded up in the basket.
I was full of nervous excitement. I have been bungee jumping, skydiving, and scuba diving all over the world, but for some reason….the idea of riding in a hot air balloon really made me nervous!! We all climbed into the basket, which was divided into 5 sections, enough for four people in each section. This was nice so that we all weren't piled on top of each other.
We slowly made our way off of the ground and floated very smoothly upwards! It was really quite amazing how the pilot was able to move us so effortlessly. We hovered fairly low to explore the rock formations as the other balloons filled in around us. We got the best views of the landscapes and the towns of Cappadocia and Goreme.
We slowly increased our elevation and the sun was starting to peek out from behind the mountain. It was an absolutely perfect sunrise and cast a beautiful glow over the other balloons and rocks. I was completely awestruck. This was exactly was I hoping for and it definitely lived up to the high expectations I had built in my mind!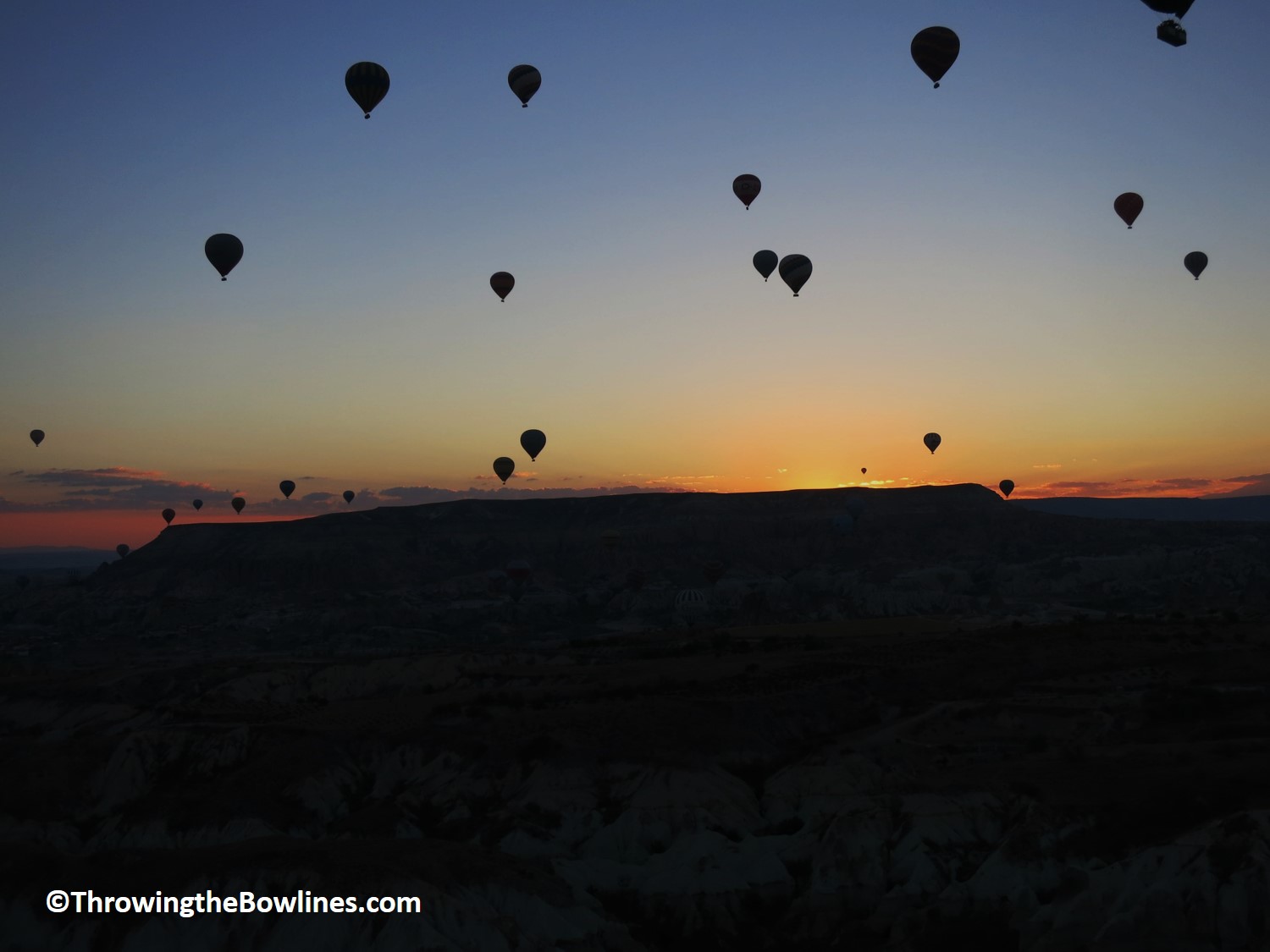 After we all took an excessive amount of photos of the sunrise, the pilot made his way down into the "Love Valley" and navigated through the fairy chimneys. He did such a phenomenal job of getting us so close but never gave us any reason to worry.
We ended our ride with a perfect landing on the basket trailer. This is much more difficult for pilots to do versus landing directly on the ground. It is a much safer and softer landing technique for the passengers, but not many companies require their pilots to do this type of landing. We saw a couple very rough landings and I was (again) very thankful for my pilot.
Once we were back on solid ground, we celebrated with a champagne (and juice) toast. We received certificates of accomplishment and were given the opportunity to purchase photos of ourselves that were taken just prior to liftoff, I declined 🙂
This experience truly lived up to my expectations. It had waited so long to take a hot air balloon ride and wanted it to be here in Turkey. I cannot imagine a better place to cross this item off of the bucket list!
Tips for Ballooning
Do your Homework: Ask questions…experience of pilots, training, number of people in baskets, launch sites, etc. so that you feel comfortable about a company prior to booking. It is crowded airspace and you want to know you are in good hands.
Weather: If the wind is too strong or weather is too bad, the flights can be cancelled. Give yourself a cushion day just in case you have to rebook.
Timing: Always take the first flight, which is usually at sunrise. Some companies offer a 2nd flight around 9am, but the sunrise is what really makes it breathtaking
Layer Up: It will be chilly in the morning so wear an extra layer and maybe a winter hat. The fire that the pilot uses to control the balloon will warm you up nicely once you get going
Be Courteous: You are in confined space with several other people (depending on basket size). Everyone wants to take photos, so be kind and take turns. Believe it or not, people do not want YOU in all their photos 🙂
Be Generous: There is usually a place to leave some money at the end. It is not for the pilot, but for the crew that is up before dawn preparing the balloons, launch sites, chasing balloons, and packing up. Toss them a few Lira, they have earned it.
Have you ever been hot air ballooning? Do you want to go? I'd love to hear about your experience!