In 2010, 300,000 tourists journeyed to explore the newly opened country of Myanmar. Fast forward three years…in 2013, there was just over 2 million tourists visiting Myanmar – a monumental increase from 2010. The country is working rapidly to keep up the tourism and you will notice this in every major city. New hotels are being built, signs written in English are popping up, and western food is creeping into menus. There are parts of the country that have still remained  untouched but you have to be willing to put forth the sweat it takes to find them. Trekking through the mountains of the Shan State in Myanmar is breathtakingly beautiful and worth the effort to see its natural beauty, but you had better get here before everyone else does.
Kalaw
I spent a rather uncomfortable (to say the least) 10 hours on a night bus from Bago to arrive in the quaint town of Kalaw at 4am. Sitting at an elevation of 1,300m (4,363 ft), this small village offers overwhelming relief from the heat that often exceeds 100°F (38°C) in May, their hottest month. Due to the mountainous terrain, trekking is a prominent activity in Kalaw with an abundance of guides ready to take you on an adventure. Rather than wander around the market area and inquire with various trekking guides, my new Canadian friend (aka bus buddy) and I decided to inquire with our hosts at the Golden Kalaw Inn. Shortly thereafter, we met Putah, a trekking guide who quickly won us over with his excellent English speaking skills, knowledge of the terrain, offer to take us off the beaten path to visit locals, and easy going approach. We made plans to set off on our 3 day/2 night adventure the next morning.
Day 1
My friend and I were joined by another single female traveler from Korea and our foursome was complete. We set off at 730am and were advised that today would be our longest day of walking for a total of 7 hours. The cool breezes and shaded trails were such a welcome relief to the hot sweaty days we had become accustomed to in other cities. As we walked, Putah educated us on all aspects of Myanmar, their history, in addition to plants and trees we encountered along the way.
About 1.5 hours into out hike, we came across a sweet old lady walking her buffalo to the field. She let Putah know that there was a wedding ceremony happening in her village that we were heading toward. Yahoooo! We were definitely wedding crashers at this Burmese reception and it was amazing to see what an event it was for the people. People walked from all over to wish this new couple well and share in the festivities. We were invited to eat with the local people as part of the custom and eat we did! The food was delicious and we shared green tea afterward. We were a hit amongst the locals, especially for the children, as Putah told us many had never seen foreigners.
Along the way to our first stop, we ran into many local people of the Shan State. The women's traditional dress is in black with a head scarf while then men wear a turban. I found it interesting that the turbans were usually crafted from colorful beach towels 🙂
Our first day culminated in one the most amazing experiences I have had along this journey. We stayed in a local village made up a modest 15 houses but used to have about 50 many years ago.  A beautiful older couple opened their home to us for the evening and were so warm and welcoming although we didn't speak the same language. Putah helped us to communicate with them and it was wonderful. The man said he can remember when the Japanese were in Burma. He thinks he is over 80 now and she, over 70…but they aren't sure of their exact ages anymore. Married when they were about 35, but not sure which one was that age. They had six children, 3 boys and 3 girls. All married except the youngest son. She told us that two days prior a man and a buffalo died after being hit by lightning. I wish there wasn't a language barrier, because I am sure they have some amazing stories to tell!
Putah cooked us a traditional Myanmar curry for dinner that evening: lentil bean soup followed by chicken and vegetables, watercrest, dandelion greens, bean sprouts, eggs, and rice. It was absolutely delicious. We had green tea and some brown sugar for dessert while chatting with Putah until we were all ready for bed.
Day 2
We were awoken by a natural alarm clock at a brisk 330a – thanks roosters – but managed a few extra hours of rest. Taking a deep breath of fresh mountain air was all I needed to wake up all my senses and the exquisite scenery filled my tired eyes with gratitude – to be able to experience this epic journey that so few tourists ever will. The family we stayed with is off the "typical" trekking track because Putah realized that it was getting too crowded and he wanted to give his guests a more authentic experience. It was exactly that and more. I was so grateful for their generosity.
Breakfast was prepared by Putah again and was French toast, mango, papaya, melon, with REAL coffee! This was a real treat since most coffee in Myanmar is either Nescafe or "3-in-1" packets (coffee, milk, and sugar). After our goodbyes to the family, we set off on our second day with 6 hours of hiking ahead of us.
As I walked, I couldn't help but feel as though I had gone back in time. Oxen pulling huge carts filled with the harvest, massive fields being prepped for new planting with nothing but a hoe and strong arms, and herds of buffalo lounging lazily in the heat of the day. I felt so lucky to be able to see these sights that were authentic. This is how these locals lived — hard work every day to make a modest living for their families. As we passed through villages along the way, some more developed than others, but the people were all the same – huge smiles and waving hands to greet us. Every person we met along the trail were such great ambassadors for the country – friendly, welcoming, and always willing to share whatever they might have.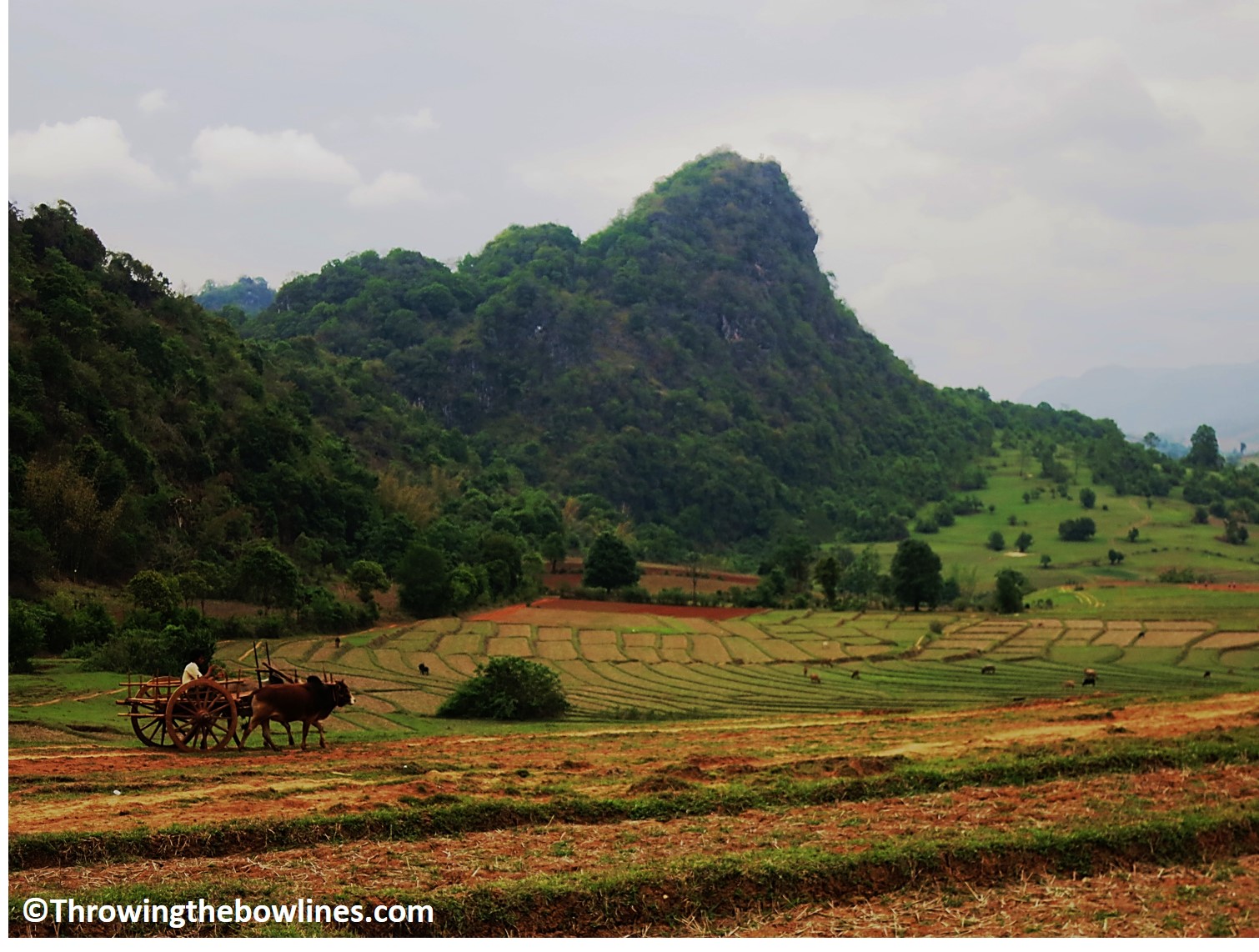 As we continued on, we all started noticing the temperature was increasing – as our elevation was decreasing. The breeze was not as cool nor as often. We continued on for a few hours and then came to the river which was like a breath of fresh air. I could hear the laughter of children before I saw them and knew they must be enjoying a cool swim. They were having the time of their lives splashing and swimming in the cool river water. We took a break beneath a large shade tree which was ideal for a nap. We snacked on wild mulberries on the bushes nearby and had the perfect rest.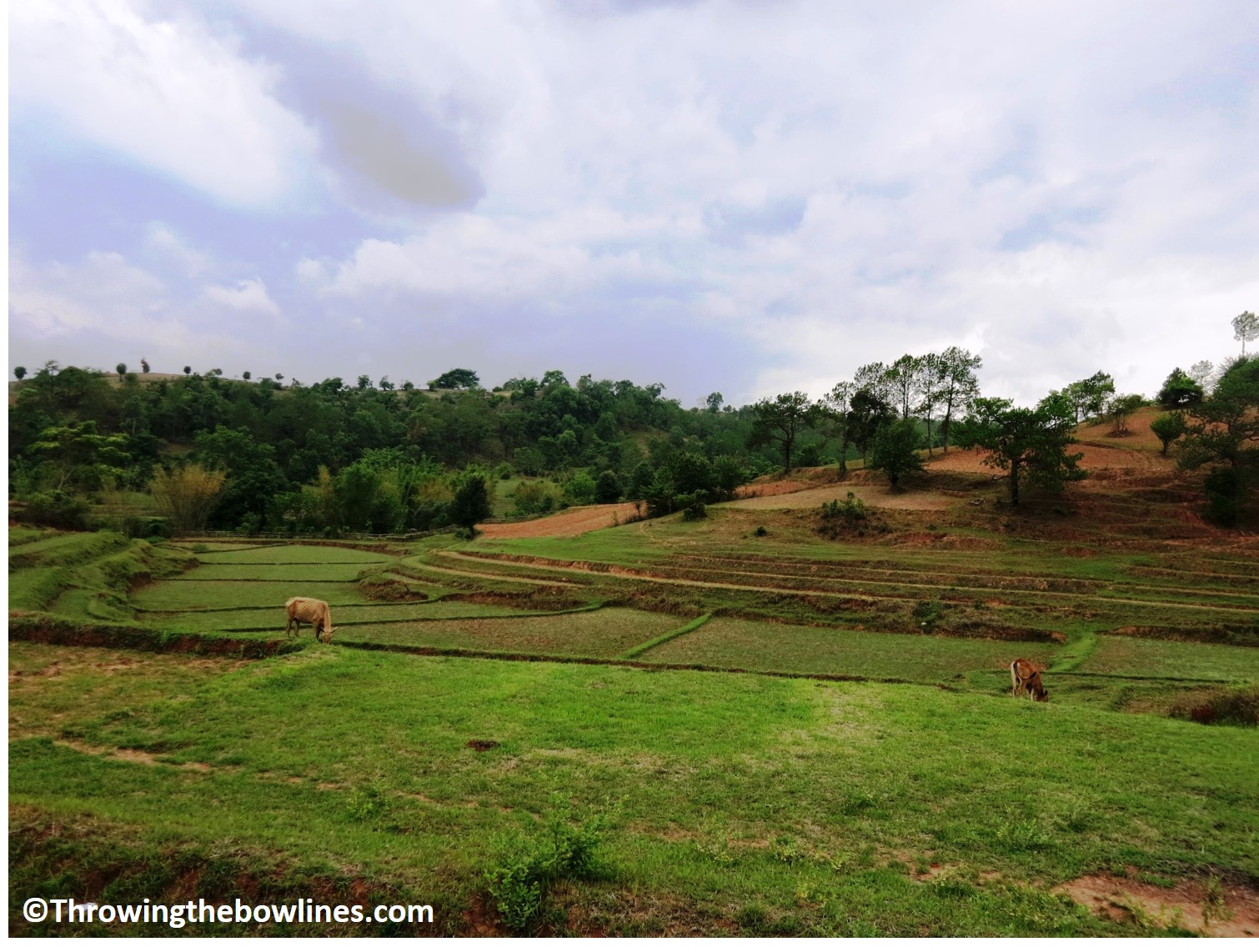 That evening we stayed at a more traditional camp that accommodated trekkers coming through the area. The village was quite large with many houses, and even a small monastery. They had a small store where we enjoyed some cookies and a cool beer 🙂 Dinner was fried noodles with vegetables, cucumbers, and sesame honey snacks for dessert with green tea. Putah always joined us after dinner to chat and answer all of our questions about life in Myanmar. We also helped him to learn about our countries and life outside of Myanmar, which he loved.
Day 3
After a restful night's sleep for all of us, we fueled up on pancakes and fruit for breakfast. I said goodbye to the sweet dogs that lived at the village and we set off of our final stretch into Inle Lake which would be 5 hours of hiking. An hour into the hike, a dog came out of nowhere to greet us. He ended up following us for 4 hours all the way to Inle Lake! Apparently, he commonly joins trekkers and follows them along the way. He was awesome and although he would disappear for awhile, he always ended up back with us. We affectionately named him Boomer, as in boomerang for that reason 🙂
This was the easiest hiking day of the 3, but definitely the warmest. I was missing the elevation of Kalaw as we arrived to Inle Lake, although the sights were simply lovely. We had our final meal upon arrival and celebrated with fresh coconuts that were larger than our heads! Just what we needed. We had one last leg of our journey remaining and that was a beautiful boat ride across Inle Lake to the town of Nyuang Shwe.
We took a boat across the Lake to Nyuang Shwe and said our good byes to Putah. He was an absolutely amazing guide that taught me so much about Myanmar and would highly recommend to anyone considering a trek. Myanmar has been popping up on travel lists for "best countries" to visit in the last couple of years and I definitely agree. With tourism already shifting the way this country operates, who knows what it will look like in another few years, but eventually I figure it will turn into another Thailand or Cambodia. I can't help but wonder how these treks will change as more people stomp the ground. They undoubtedly will. My advice to you, go now.  This was truly the best way to see Myanmar.
Is Myanmar on your travel bucket list?

Sidenote: If you are interested in setting up a trek while in Myanmar and are looking for a phenomenal guide, leave me a comment below or shoot me a message and I can get you contact information for Putah. You will have a fabulous adventure.