It's that dreaded feeling that sneaks up on us all. You know what I am talking about….you are exhausted and you convince yourself that you just need more sleep – so you nap. You are too tired to cook, so you get take out. You continue to feel crappy and make excuses that there isn't enough time and you need MORE sleep. When I start feeling like this, I know exactly what the root of the problem is, but it is sometimes hard to admit it. I am flat out being LAZY.
That is what 3 months of traveling had done to me. Yes, I was active enough in my day to day – walking nearly everywhere, but I was also eating street food and enjoying drinks along the way. Although I wasn't gaining weight, I could feel myself getting out of shape and I hate that feeling. It is really difficult to work out consistently while on the road (different post in and of itself!) and I realized I hadn't truly worked out in nearly three months. Unless you count sweating in 110º heat while touring endless pagodas or struggling to haul my ass up hills in a bicycle with no gears and a basket…
Anyway…I knew what I needed to do. I HAD to get some workouts in, get my sweat on, and tighten up.
Stumbling upon my Solution
I made my way to Thailand (for the first time) in April with the intent to celebrate the Thai New Year, Songkran. After three days of chaotic celebrations, I needed a quiet escape. Many people had recommended heading 3 hours north to the quaint town of Pai. After a 3 hour minibus ride and 762 curves, I arrived in the quirky, hippie infused, beautiful town of Pai.
On my first morning there I decided I needed to get out for a run if there was any hope of me getting back to being fit again. I strapped on my shoes and headed out. As I huffed and puffed around the windy streets, I stumbled upon a Muay Thai gym across the road from where I was staying. Learning the art of Muay Thai had been a bucket list item of mine for quite a while. I figured there was no better time to challenge myself!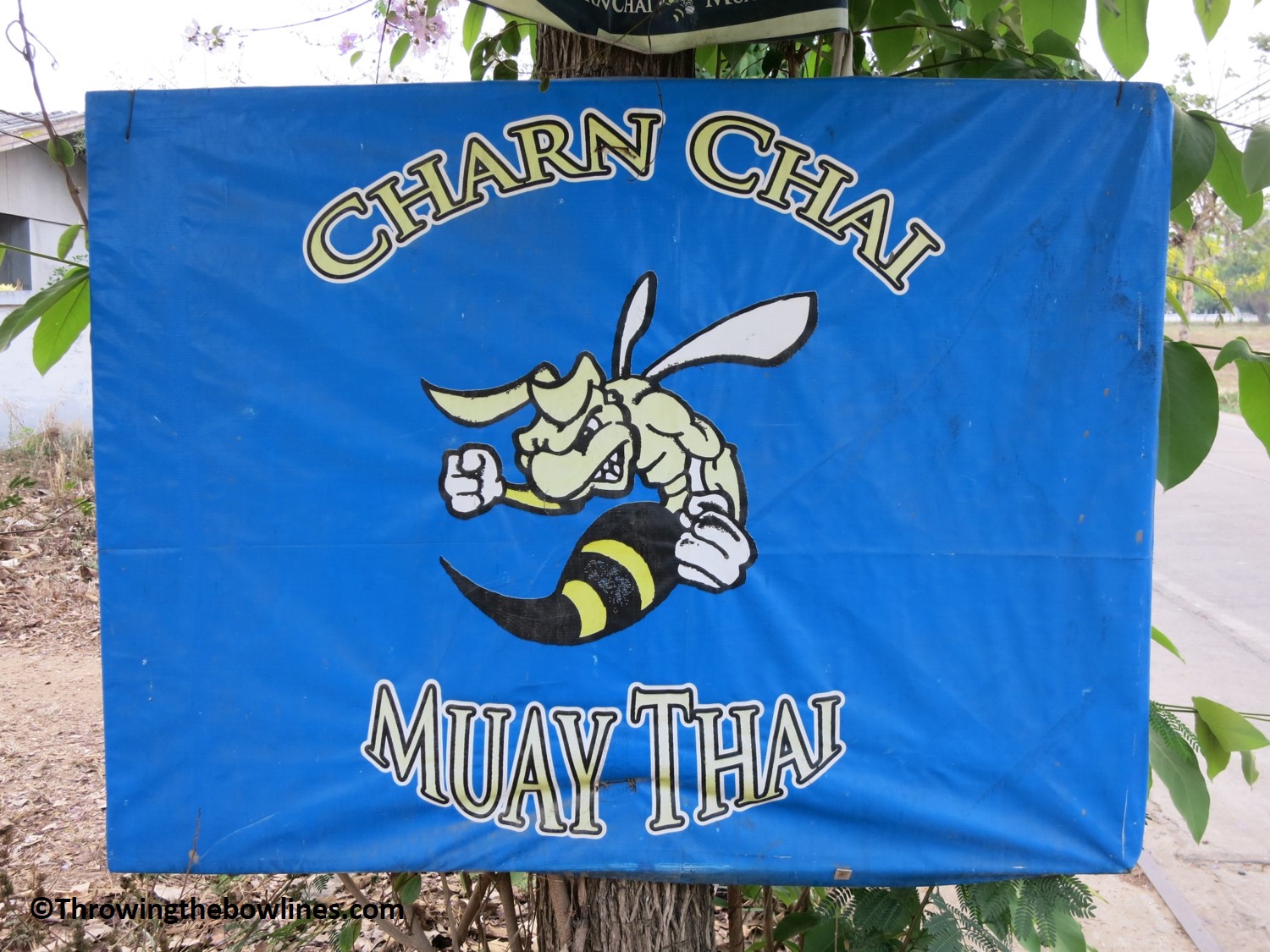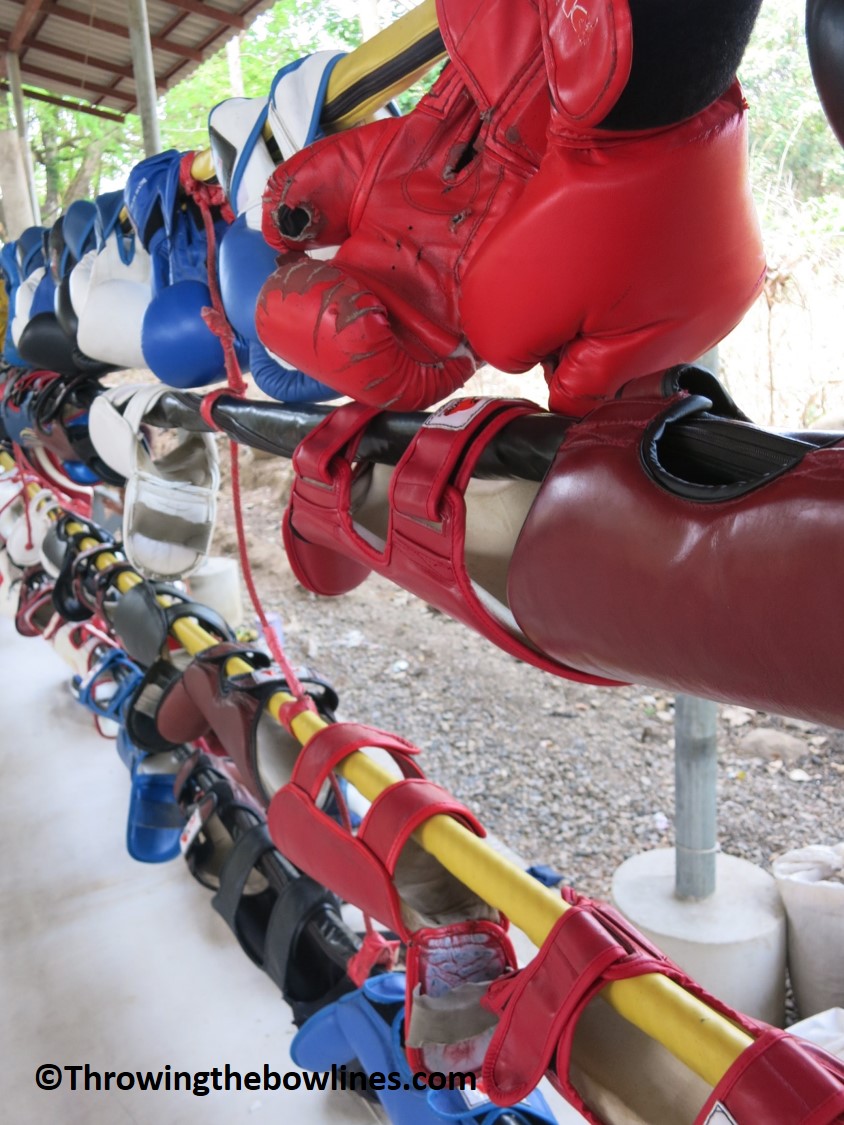 Upon arriving for the first 2 hour training session with CharnChai Muay Thai, I instantly felt at comfortable. It was a very welcoming and relaxed environment for those who have never done any sort of martial art. As a beginner, I was taught the basics of Muay Thai to include stance, punches, elbows, kicks, and blocks. After the tutorial in front of the mirrors with a trainer, there is no better way to learn than to put on the gloves and hit some pads!
By the end of the two hour training session I was absolutely drenched in sweat and every part of my body was sore, but I felt amazing. The session also included a circuit with weight lifting, bag training, and ab workouts….I was hooked – I LOVED it! Plus that was just the first of two sessions they offer each day. I had originally planned on staying in Pai for two days, but decided to stay and train for a week.
After my week of training, I was sad to leave but had to as my visa was expiring soon and I had plans to go to Myanmar. I was thankful for the experience, but wished I had more time. I moved on to Myanmar and truly enjoyed my time there, but kept thinking about the Muay Thai and how much I would love to have the opportunity to do it again. So, I made the decision to return!
It was just what I needed….a month in Pai – one location, routine, and daily fitness! The training, the people, the town – I couldn't have asked for more. Charn Chai gym is like a family. Bee, the head trainer (and owner) and his team of trainers were awesome. They are all former fighters so they are able to teach you technique and really push you to become better – whether you just want to get fit or train to be a fighter. After each session, we indulged in delicious food cooked twice daily for us by the gym, as well. For me I was able to spend a month getting fit, found a new passion, made great friends, lived in an amazing slice of heaven, and ultimately I reinvigorated my traveling spirit. A month well spent.
Have you ever done a local sport/art to get fit while on the road?