I learned fairly early on during my trip throughout New Zealand, that this country fit my personality perfectly.  Beautiful scenery with amazing mountains, heaps of hiking, gorgeous beaches, and plenty of activities to get your heart racing!  After doing a 16,000' sky dive at Fox Glacier, I wasn't sure anything could top that adrenaline rush.  There was one activity that had been on my bucket list for years that I was certain could and I will willing to find out: bungy jumping.  What better place to find out than where bungy was invented?!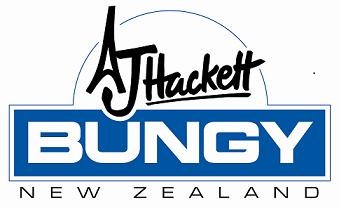 Cue….AJ Hackett Bungy.  AJ Hackett just celebrated 25 years of bungy jumping in 2013.  They are pioneers in the world of bungy jumping and I didn't have any hesitation in signing up to jump with them (okay, maybe a bit!).  My original plan was to do the highest in Australasia, Nevis, but there was a deal too good to pass up, The Thrillology.  It was essentially 3 bungy jumps for the price of 2!  I am not one to pass up a good deal, so I decided to throw down for the Thrillology to get the real NZ bungy experience!
Kawarau Bridge
My first jump was at the Kawarau Bridge, the original bungy at 43m (141 ft) over the Kawarau River. I nervously waited atop the bridge for my turn aside Chris Pine, aka Captain Kirk :). I was more 'excited' nervous than I was 'scared' nervous.  My nerves intensified when the girl right before me tried SIX times and didn't jump!!  I have to say the staff were so good with her, but ultimately her fear won out.
It was my turn…ahhhh!!  I had all my friends from my bus watching and cheering me on and after watching the last girl fail, I knew I just had to go for it.  3…..2……1…..BUNGY!!!!  I was off that ledge with the best swan dive I could muster and headed straight toward the gorgeous blue water!  I screamed the instant I left the platform and before I knew it, I was bouncing back up.  It was exhilarating, amazing, and unbelievable.  I LOVED IT!!!  It was seriously so fun that I would have done it again right away.
You can check out the video of my Kawarau Bridge jump here. (You will be taken to YouTube to view)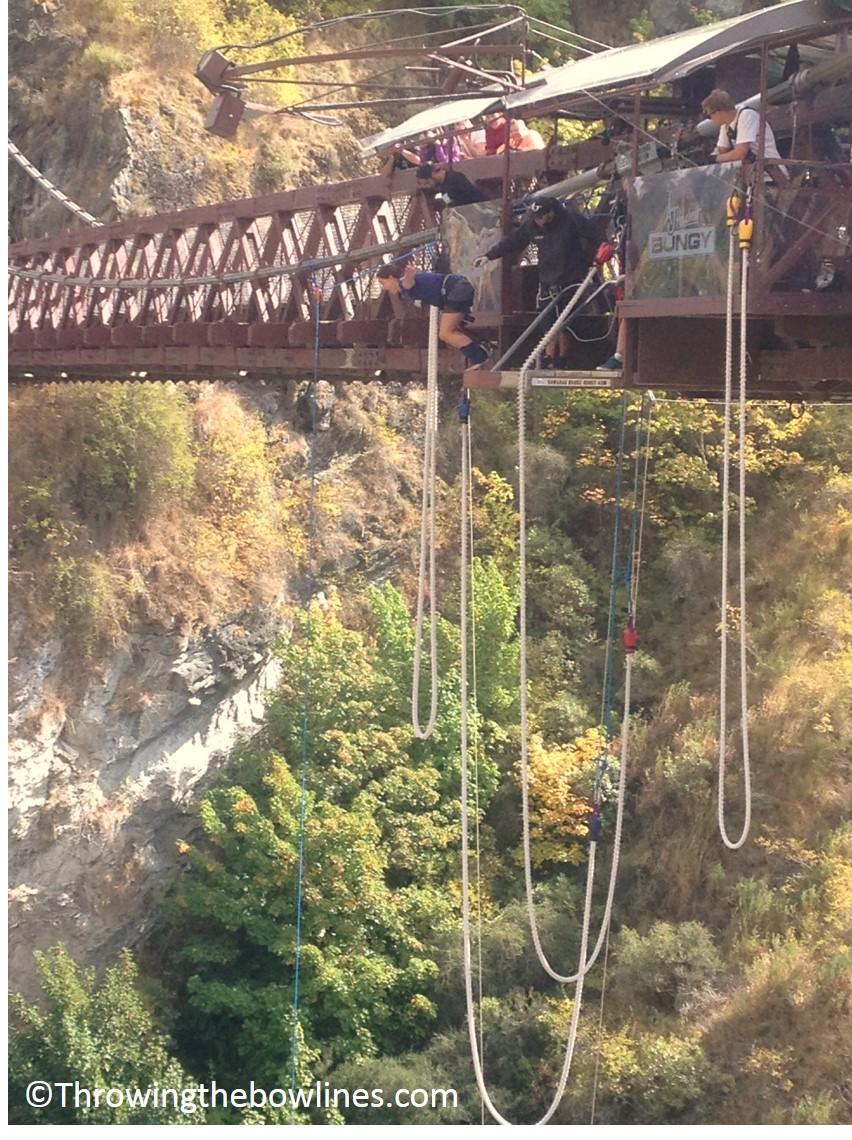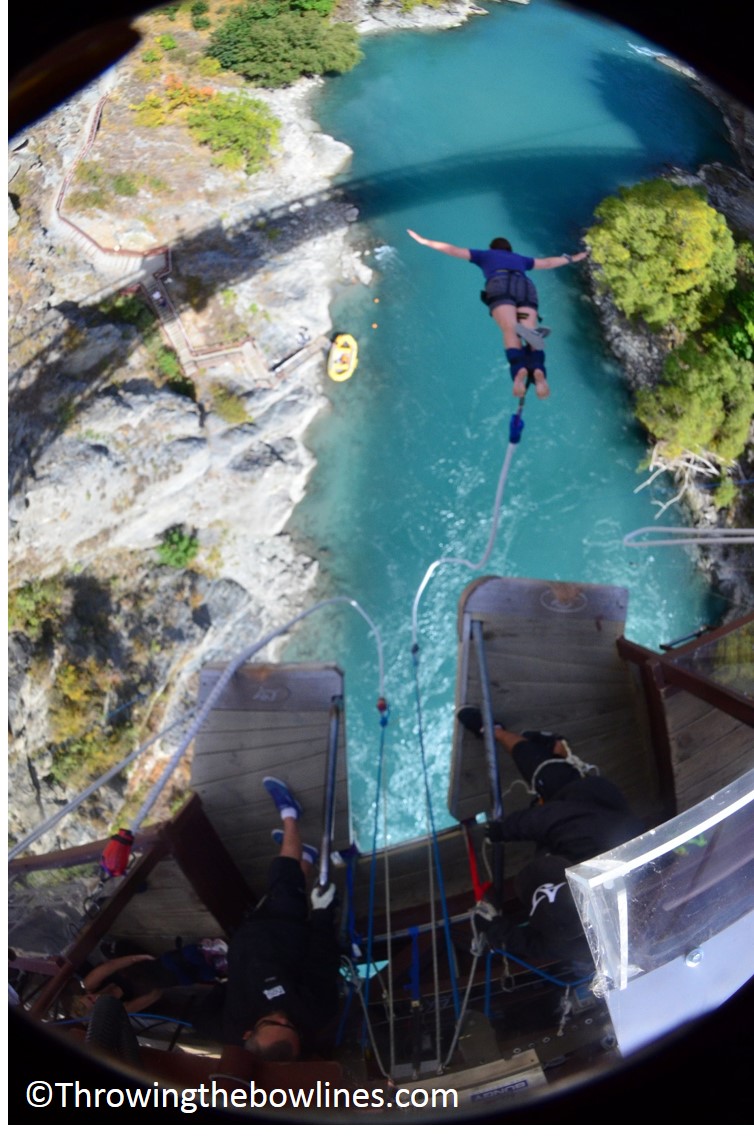 Nevis
Nevis is the granddaddy of 'em all, at 134m (nearly 440ft!) this is the highest bungy in Australasia!  I had my sights set on ever since I knew I was coming to New Zealand and was ready for it after conquering Kawarau.  It is about a 40 minute drive outside of Queenstown (about 20 minutes beyond the Kawarau Bridge) and only accessible by AJ Hackett buses.
Frankly, from the minute I got there, I was scared.  This thing was massive and you jump from a highwire cable car suspended over the Nevis River.  That just doesn't seem right!  They loaded us up in a cart and sent us over to the pod.  My knees were shaking the entire way over…this wasn't excited nervous, this was SCARED nervous!!
We were briefed that we would need to do a big jump (swan dive like) out of the pod.  If we went feet first there was a high likelihood that we would experience a 'not-so-comfortable' snap back at the end of the bungy. Ouch.  Also, they put a strap in our foot wrap that once we bounced twice, we needed to reach up, pull it out, and pull hard on it to release our feet so that we could be pulled up sitting rather than upside down, yikes….more to screw up and try and remember!!  It was like my brain forgot how to work!
After getting strapped in and watching about half a dozen crazy people throw themselves out successfully, but not all successful in detaching their feet, it was my turn.  I decided that since Sawyer joined me for my skydive, it was only right that he join me for the highest bungy jump too!
Cue. Internal. Panic. NOW!!
Stepping onto that ledge, my heart racing, seriously second guessing myself…but knowing it was too late, then the guy throwing the bungy cord out of the pod – and me almost losing it as it jerked me forward a bit, I knew it was now or never….
3……….2…………1………..BUNGY!!!
I remember diving and falling.  I was so scared I couldn't ever scream…it completely took my breath away.  It wasn't until the cord yanked me back up after an 8.5 second free fall that my breath caught back up with me and I let out a crazy scream.  It was amazing and freeing, but shit…it was scary.  I reached for the cord in my foot wrap and found it.  I knew I need to pull it to release my feet, but it just didn't seem right…you want me to detach myself hanging over a gorge?!  But, I didn't want to get pulled up upside and laughed at once I got back to the pod.  So, I trusted the experts and pulled…sure enough it worked!
Nevis was exciting, but I am not sure I have ever been more scared to do something in my entire life.  Because of that, I don't think I enjoyed it as much as I should have.
You can check out the video of my Nevis jump here. (You will be taken to YouTube to view)
THE LEDGE
The final jump was at The Ledge which is 47m (151 ft) at the top of the gondola in Queenstown.  The morning I jumped it was super foggy, but I went ahead with it anyway.  The unique thing about the ledge is that you are strapped in by your chest (rather than your feet), so you are able to run and do almost any type of jump off you want.  You can do handstands, front or back flips, flying squirrels, etc.
This being my third jump in three days, I was becoming quite comfortable with bungys…just another day at the office 🙂  The guy in front of me took 15 minutes and nearly shit his pants prior to doing a graceful fairy leap.
I decided that my jump was going to be the one they referred to as 'The Matrix', complete with 2 plastic guns!  I was going to be running, jumping, turning back and shooting the people in the pod and falling.  Pretty awesome, right?  I was excited for this one, not nervous at all.  To be honest, I was more concerned about not dropping the guns than anything!
3…….2……….1……….BUNGY!!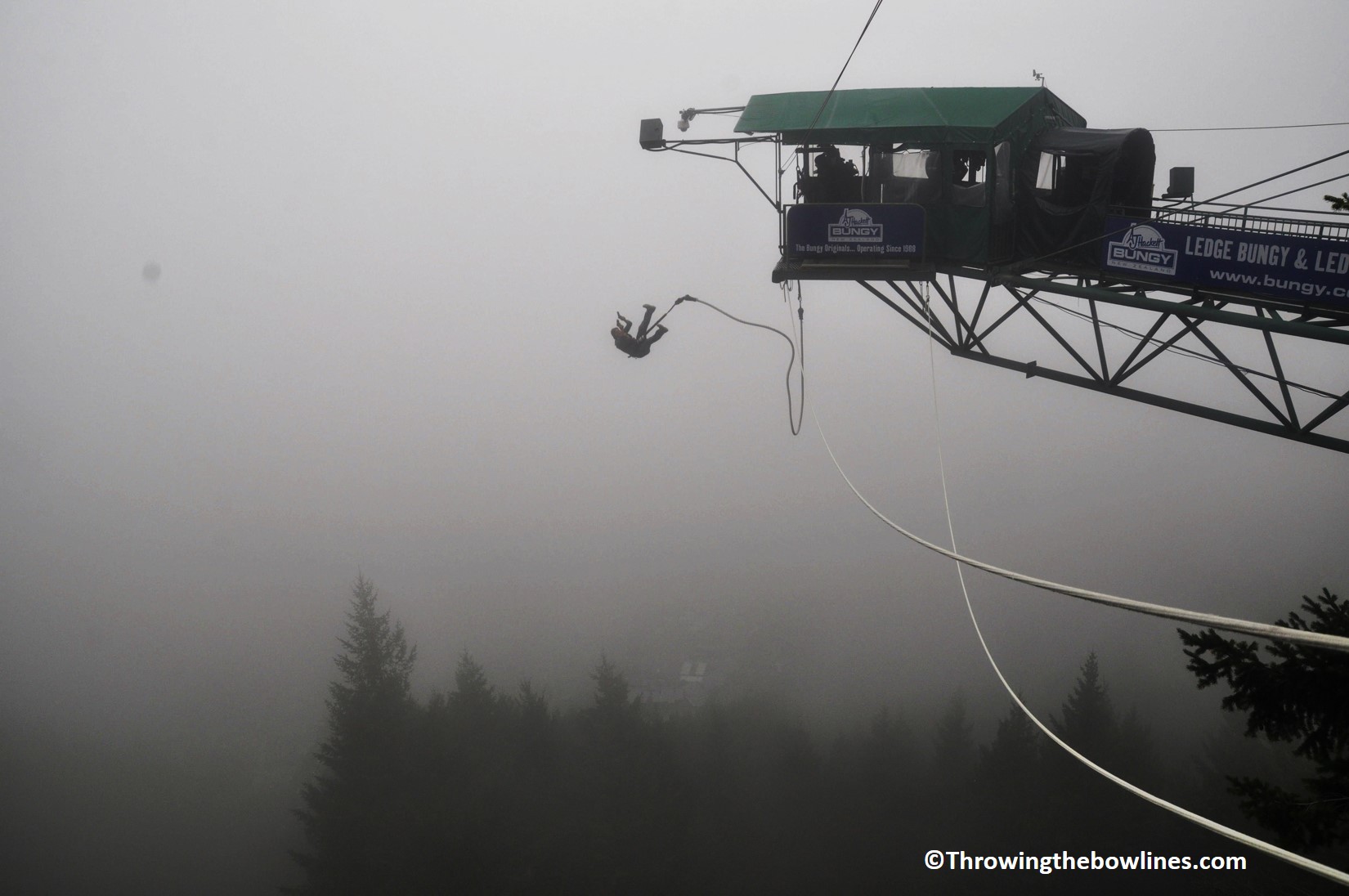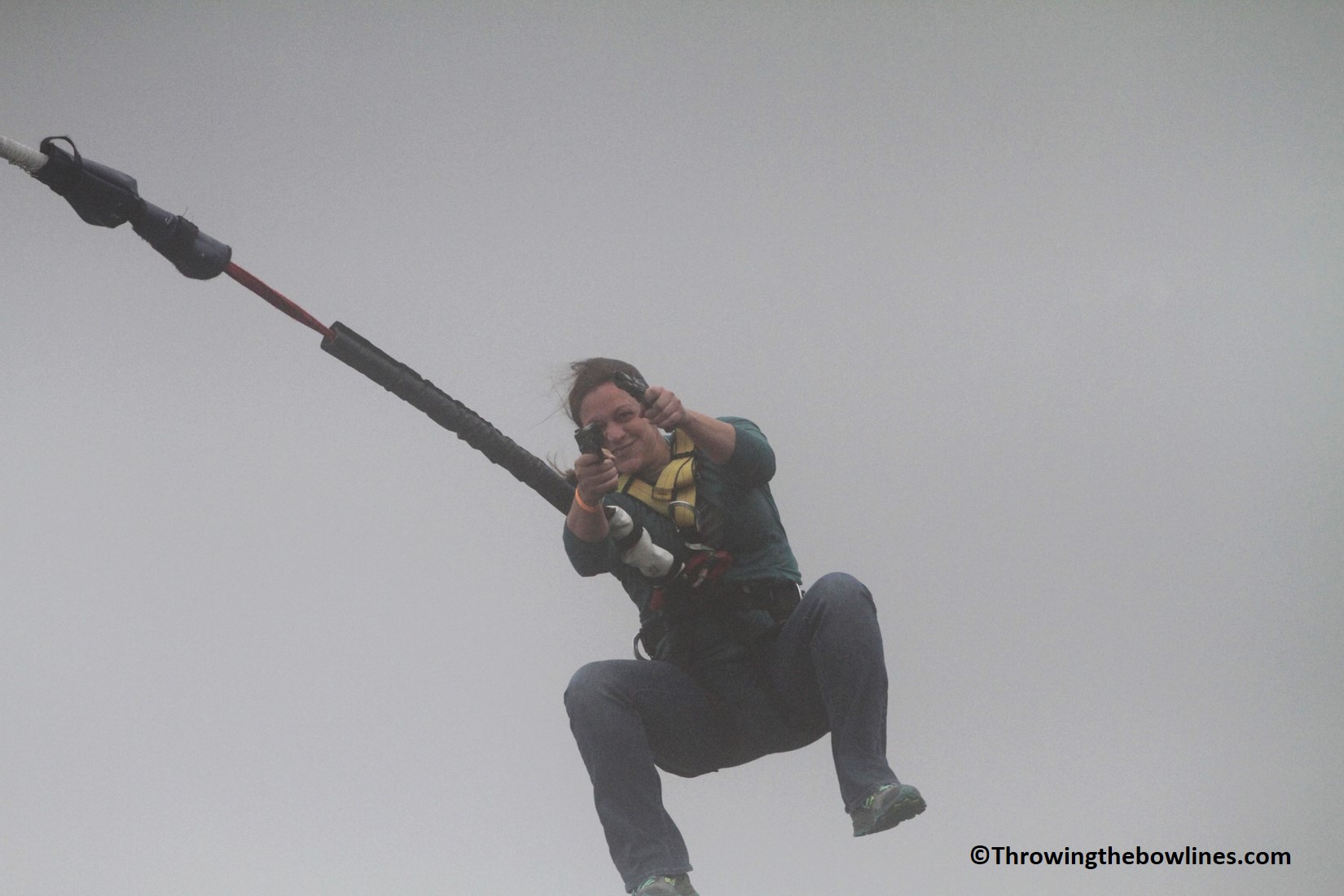 It came out perfectly and was actually more fun than I expected!  The first bounce is HUGE and really amazing.  I just wish the fabulous views of Queenstown in the backdrop were visible.  You'll just have to use your imagination!
If you find yourself in Queenstown and have any desire to do a bungy jump, do yourself a favor and go with the experts, AJ Hackett.  They will give you the guidance and reassurance that you will be safe. Push your fear aside and just jump!!
Tips:
If you are interested in more than one jump, check out the deals offered by AJ Hackett before signing up for one.
If you really loved your jump, they have a deal where you can jump again for a fraction of the cost (usually about half), but you have to do it right away!
They offer photo and video packages and as much as you say you aren't going to buy them, believe – you will.
If you are too scared to do one solo, you can do a tandem jump at Kawarau (the only one that allows this).
You can actually be dunked into the river at Kawarau too!  I asked for it, but sometimes it doesn't happen.
Bungy jumping is looking fear right in the face and drop-kicking it….it is like no other! Is bungy jumping on your bucket list?