My trip to the Cook Islands was a beautiful escape from touring around New Zealand and just what I needed in order to recharge my batteries. In Part 1 of my South Pacific adventures, I highlighted my time spent on the island of Rarotonga, in the Cook Islands. In this post, I will share how I spent the other 6 days of my escape, on the island of Aitutaki.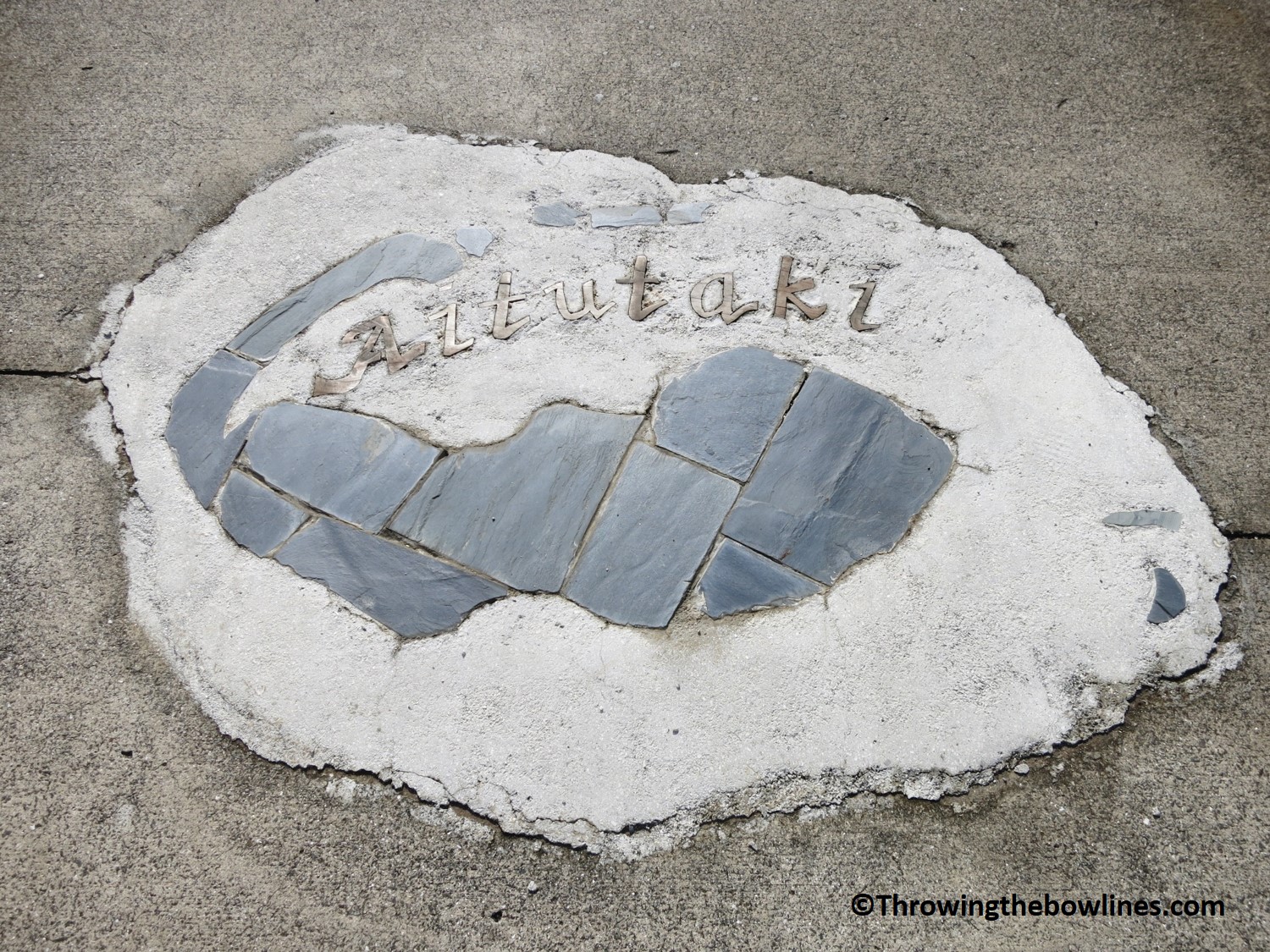 Aitutaki is an easy 45 minute flight from Rarotonga with Air Rarotonga. It is a small island (8km long and 2km wide) surrounded by a triangular reef (12km each side) which forms a beautiful lagoon. Many people who visit the Cook Islands spend most of their time on Rarotonga and opt for a day trip to Aitutaki to explore. In my opinion, if you chose this option — you are missing out. The minute you step off the plane on Aitutaki, you will not want to have to go back to Raro that same day. You may very well "miss" you flight back to Raro and stay here forever!
AITUTAKI
Accommodations
I did some research on accommodations on the island since they are not as plentiful as Raro. I stumbled across Matriki and reached out to them via email to inquire about availability and rates. They were so responsive with options, advice, and suggestions. I immediately booked my stay on Aitutaki with them.
If you are visiting Aitutaki, do yourself a favor and book with Matriki. I cannot recommend them more highly! The owners, Trevor and Tracey, greeted me at the airport and took me on a tour of the island, stopping at local supermarkets so I could grab some groceries, pointing our hiking trails, and the best spots to check out later.
The bungalows they offer are set right on a beautifully manicured beach, with gorgeous clear waters, overflowing with corals and tropical fish. There is one bungalow set back from the water but in lieu of not being right on the water (literally 20m away), it offers its own bathroom. They come equipped with two burner stoves, refrigerator, and all the cooking and kitchen supplies you would need to whip up a tasty meal. There are balconies on each to enjoy the fresh ocean breezes.
Trevor and Tracey go out of their way to make you feel welcome and part of their crew. They offer private boat trips, delicious lunches, and the best company! As a solo traveler, it was so nice to have people that would have a drink on the beach with you and chat like good friends. They will even knock on your door with a fresh coconut for a delicious mid afternoon drink! Trevor and Tracey truly made my stay on Aitutaki incredible!
There are other accommodation options to include some high end resorts, if that is more your cup of tea.
Activities
Snorkeling – Probably the most popular activity on Aitutaki is exploring the beautiful lagoon. I was fortunate because Matriki offers private boat trips for their guests. These trips were perfect because of the small size (no more than 6 people) and flexibility. They have snorkeling equipment for hire for very reasonable rates.
One Foot Island – We visited One Foot Island on a Sunday which was absolutely perfect because there are NO other tours that run here on Sundays! (Aitutaki is a very religious island and many tours companies and stores are closed on Sundays.) This island is tiny and peaceful but overwhelmingly beautiful. We enjoyed an easy boat ride to the island followed by a snorkel along a shallow coral that was home to hundreds of stunning fish. While we snorkeled, Trevor and Tracey prepared our home cooked lunch. Trevor is a chef and he did not disappoint! They food was absolutely fabulous and so fresh! We all helped ourselves to second servings and enjoyed fresh fruit and yogurt for dessert.
If you do go to One Foot on another day, aside from Sunday, bring your passport with you. There is a post office on the island that will add a One Foot stamp to your passport! Nice little keepsake 🙂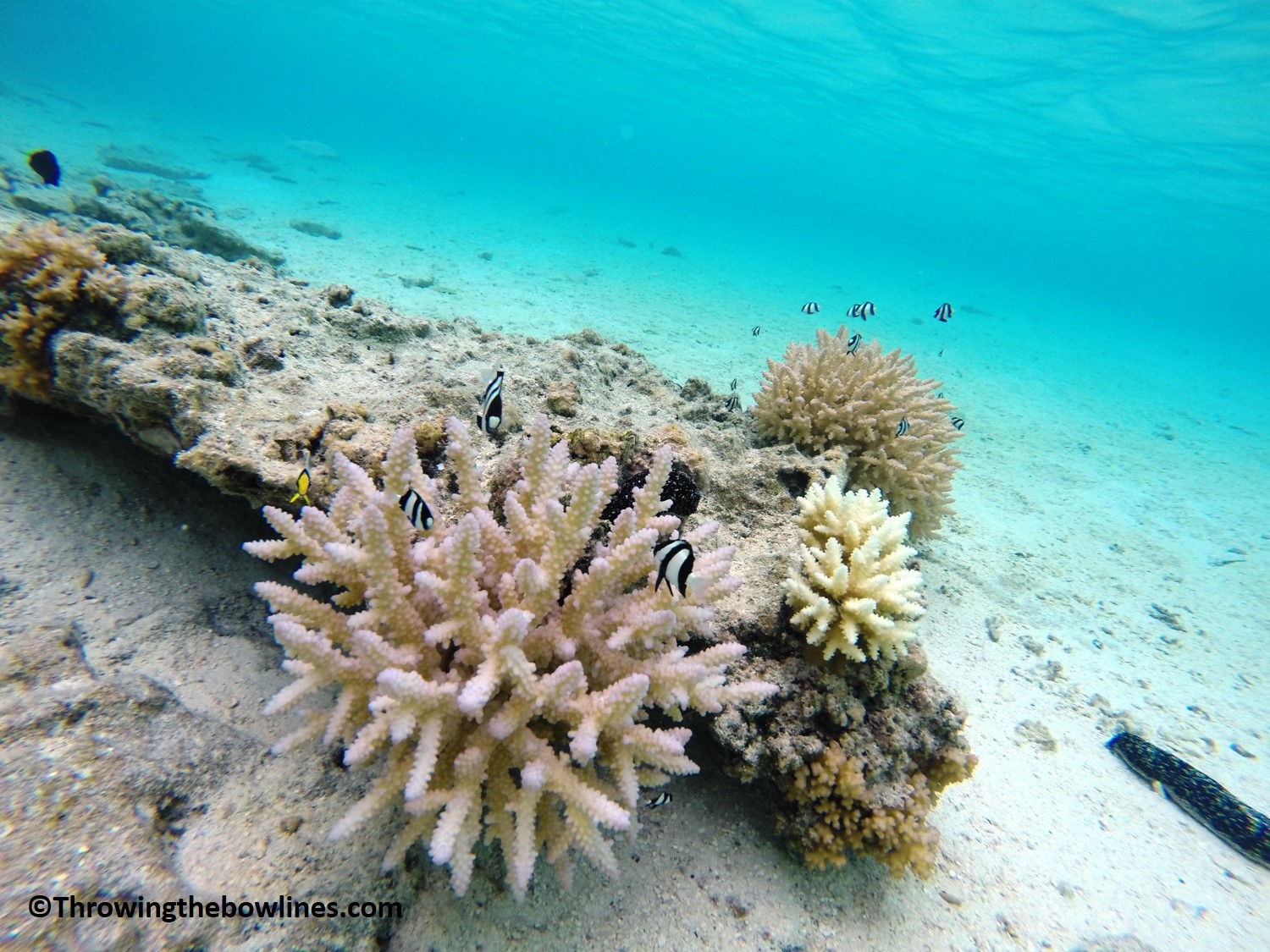 Honeymoon Island – The second snorkel trip we took with Trevor was a day trip to Honeymoon Island. It was an overcast day, but Trevor was able to avoid the weather by switching up our agenda. Honeymoon Island was a brilliant little island that is full of coconut trees that have been popping up over the years after someone began burying them in hopes of them growing. The island is home to Red-Tailed Tropic birds that we found nesting on the ground amongst the trees. They were beautiful birds and their babies were the cutest little fluffy balls of feathers!
Not only did we visit Honeymoon Island for snorkeling, but we also went to three other spots! We snorkeled at a Giant Clam Reserve where massive clams welcomed us with bright blues and purples. Incredible to see how large they were and how old they must be.
Next we snorkeled around an old ship wreck that had hit the reef many years ago before coming to its final resting spot. Corals had taken root all over the ship and fish had now made this their happy home!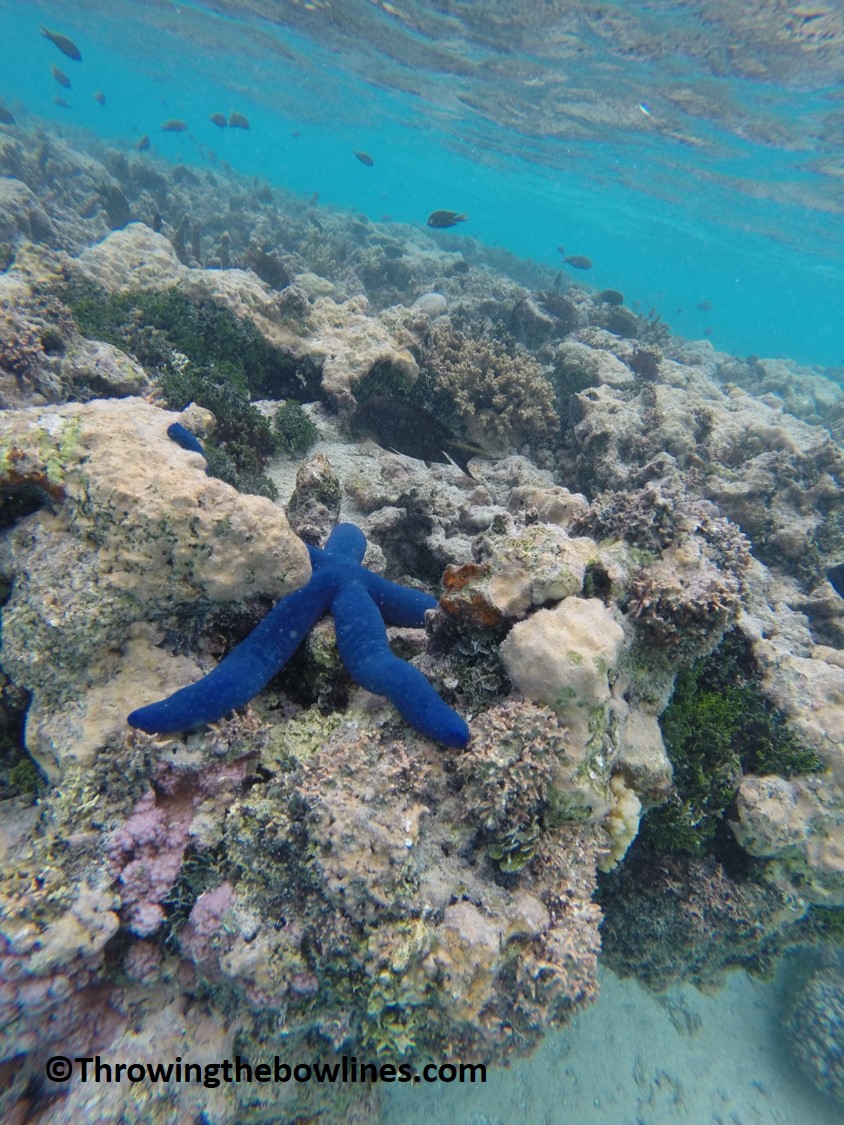 And finally we stopped at a spot where we got to feed the butterflyfish coconut and banana! It was incredible – when we put the coconut in the water they slowly started to come. We were then able to get into the water while holding a half of a coconut. They all swarmed me nipping at the coconut, amazing!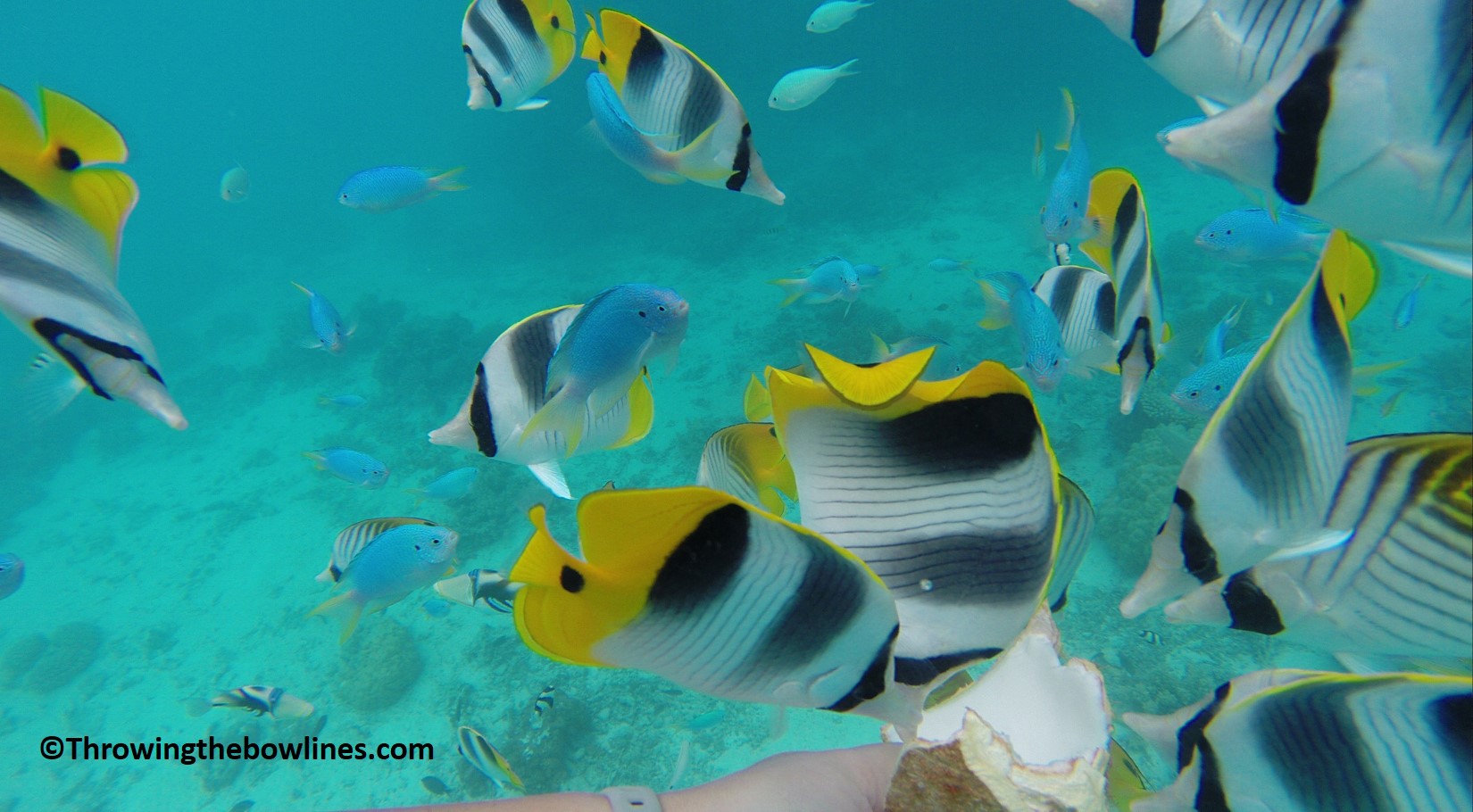 Sidenote: I learned later in the afternoon that a tour company that had taken out 40 people to snorkel had to turn around and cancel the trip due to the weather. It is understandable because I am sure they aren't able to change their itineraries as easily due to the weather. I felt very fortunate to have been with Trevor on the Matriki trip!
Diving – There are a few scuba diving operators on the island that can take you diving outside of the lagoon. I didn't feel the need to do it since the snorkeling was so impressive. There is so much sea life within the lagoon because of the corals, that I felt it was the better option. If you stay with Matriki, they will happily assist you in booking a dive trip.
Hiking: Maungapu is the main hike that takes you to the highest point on the island at 407ft. (124m). It took me about 20 minutes to climb and was relatively easy, with just one steep section coming before the summit. It was well worth it as you are rewarded with gorgeous views of the island. You could clearly see where the coral separated the lagoon and the ocean by the distinct colors of blue. The trail starts across from the Paradise Cove, but it is best to have someone point out the trail as there are no obvious signs. It actually looks like a road with houses on the first section, but then turns into more of a trail.
Transportation
Aitutaki is quite small so getting around is fairly easy by either scooter or bicycle. You will need a Cook Islands scooter permit, just as in Rarotonga, in order to hire a scooter. You can get yours at the police station in the city center. It is a bargain on Aitutaki for only $2.50 as compared to on Rarotonga for $25. You don't get the plastic license with your photo, but it will work on any island.
Currency
The Cook Islands use the New Zealand Dollar as their main currency, but do have their own coins – here and there. You might end up with some funny looking coins as change, a good keepsake in my world.
Animals
On the 15 minute drive from the airport to Matriki, to include a tour of the island, I realized I hadn't seen one stray dog. If you remember, I mentioned that there were an abundance of stray dogs roaming around Rarotonga. Tracey informed me that there are no dogs allowed on Aitutaki because back in the day they thought dogs carried leprosy and they were banned from the island! I guess Sawyer and I won't be moving to Aitutaki 🙂
There are cats though which many people adopt as their island pets. Matriki had two that commonly greeted me in the mornings, Marmalade and Tiger. I am not the biggest fan of cats, but these two were just too cute to not fall for! They were a great part of the Matriki family.
Aitutaki does also have their fair share of natural alarm clocks, aka roosters, as well. So, make sure you don't leave your earplugs in Raro. You will need them here too!
Food
Food on the island is even more expensive than Raro as Aitutaki gets shipments less frequently. Since this trip was already a splurge for me, I opted to buy some groceries at the local store and cook my meals since my room had a two burner stove, cooking tools, and a refrigerator. Meat and most veggies are imported from New Zealand which makes them quite pricey. Bread can usually be found in stores twice a week and goes quickly! I whipped up some tasty meals for my six day stay with these groceries.
Keep your eyes peeled for the Mango Man, as well! He is an adorable, old Italian man that owns a farm which grows some fruits and veggies. He came by Matriki the first night and brought delicious mangoes with him for us to purchase. They were so fresh and sweet, well worth the purchase!
People
The people on Aitutaki were even MORE welcoming than those on Rarotonga. Maybe because it is a smaller island and they can pick out the tourists so easily. I rode my bike through the city center and was greeted by smiles and waves everywhere. The locals enjoy their rugby and surprising to me, volleyball. People of all ages play and they have men's and women's teams. I enjoyed my final Aitutaki sunset with the locals while they played intense matches of volleyball games. Great way to close out my time on the island.
Overall
If you plan to visit the Cook Islands, you must splurge and book at least a few nights on Aitutaki. This is the most beautiful island I have ever been, plus you don't have the crowds that tend to flock to Rarotonga or Fiji, and the like, since it's more off the beaten path. You will truly find yourself in paradise, just remember to bring your sunscreen!
Anyone ever been to Aitutaki? Are the Cook Islands on your travel bucket list?