I have been fortunate to take some pretty amazing trips in the past….Africa, Europe, etc. in addition to weekend getaways.  I would have never considered myself a light packer, no matter the length of the trip.  I always over packed to ensure I had enough options and always had plenty of back up choices.  Last summer, I spent a week in Alaska with a friend and I had an enormous rolling suitcase and a backpack, while she managed with only a carryon.  So, believe me when I say, packing for a yearlong trip and striving to fit it all into one carryon and a small backpack, was truly a challenge.  But one I had to make a reality.
When I started researching RTW travel, the thing I enjoyed most was reading other people's packing lists.  Each blog I read gave such great insight as to why they chose what they did, what was most important, and what you can really live without.  After reading so many, I felt ready to start building my own list.
For me, it was important to try and fit nearly everything into a carry-on size bag for a few reasons.
No Baggage Fees – fees for checked bags have skyrocketed over the years and every dollar saved on baggage fees goes towards another night somewhere amazing or a few rounds of drinks!
No Lost Luggage – not having your bag…sucks.  Lost altogether….shitty.  I hope to be able to carry-on as much as possible, but realize this may not be possible on smaller airlines.
Less weight – Everything I pack, I have to carry on my back.  I know myself well enough that if I had a larger bag, I would fill it.  I may be strong, but I don't need to prove my back strength running after a train, in 100°, while nursing a hangover with a 50lb pack.  Pass.
I read reviews on hundreds, seriously…hundreds of different types of packs and bags.  Did you know there is a difference between a backpack and a travel pack?  Neither did I, until I dove into black hole of gear research.
Ultimately, here is my summary of what I have decided to pack for my year long journey.  I think I have done fairly well, but am sure this will change ten times over as time goes on.  A couple of notes:
I plan to 'chase the sun' for the most part and sticking with warmer climates so that I did not have to pack for different seasons
If I need something warmer, I know I can pick something up along the way.
So, let's begin….
BAGS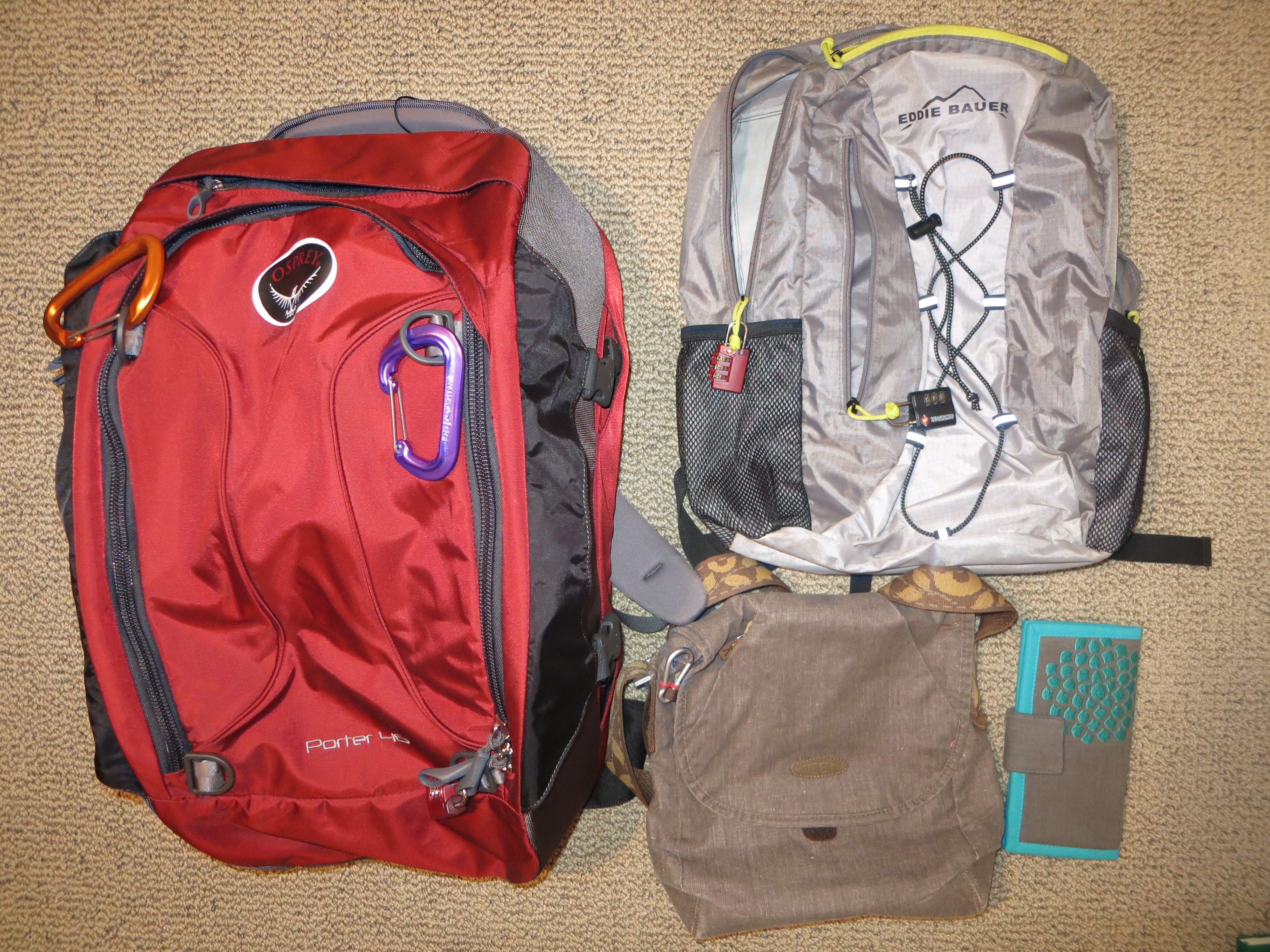 Osprey Porter 46
This bag is my main pack for the trip.  It is considered a travel pack and is very clean (no straps hanging off).  This pack's dimensions are the maximum allowed for a carryon for most major airlines.  The backpack straps and hip belt can be tucked away in a zippered compartment, in case you would want to check it or make it more suitcase-like.  One word of caution…even though it is a carryon size, a lot of non-US airlines have a weight limit on carryon luggage, usually around 15lbs (7kgs).
Eddie Bauer Daypack
I took this pack to Africa with my and absolutely loved it.  It folds down into nothing when you aren't using it and can be stashed in a larger bag.  It has plenty of pockets and storage for day use.
Keen Brooklyn Purse
I LOVE this purse.  It has the perfect amount of pockets, to include several zippered ones, for security.  It can be rolled up and stashed in my day pack when not in use.  But, yet large enough to hold my iPad mini and still have plenty of room.
Wallet 
CLOTHING
I am by no means a fashionista, but I knew that if I was going to be traveling for a year, this was now going to be my lifestyle.  So, I didn't want to be so practical with my clothes that I wasn't comfortable with what I was wearing.  Nor did I want to stand out like a huge tourist.  I wanted to be comfortable and be me.  I also knew that I needed to have pieces that would work well together so I could make several outfits that were interchangeable.
Bottoms
Jeans – super controversial in the travel world, but I wear jeans 90% (outside of working), so why wouldn't I wear them traveling.  Yes, I know they are bulky and don't dry quickly.  But to me, it was a no brainer.
Black pants (Athleta) – I absolutely love them!  They feel like I am wearing sweat pants (who wouldn't want to wear sweats?), but look like a nicer pant.  I can comfortably wear these on long travel days or if I need to dress up a bit.
Capris (Athleta) – To wear as leggings or to workout/hike.  Good to layer for cooler weather.
Khaki shorts – good staple item
Black shorts (Nike Golf) – Great material (drifit) and look decent
Skort (Athleta) – doesn't cover my knees, but a nice alternative to shorts.  Love the lining built in.
Gym shorts – for sleeping, working out, and lazy days
Tops
Long sleeved zippered hoodie – for everyday use on planes, trains, etc.
Long sleeved collar shirt – light and airy.  A bit dressier
¾ length shirt – can be used for nicer occasions
3 short sleeved shirts (2 Icebreaker merino wool)
1 short sleeved T – for sleeping and being a bum – representin' Colorado!
2 sleeveless shirts (Athelta and basic) – yoga tank can be used for working out too
1 tank – for under the collared shirt and beach coverup
1 workout shirt (UnderArmor) – for getting my sweat on
SHOES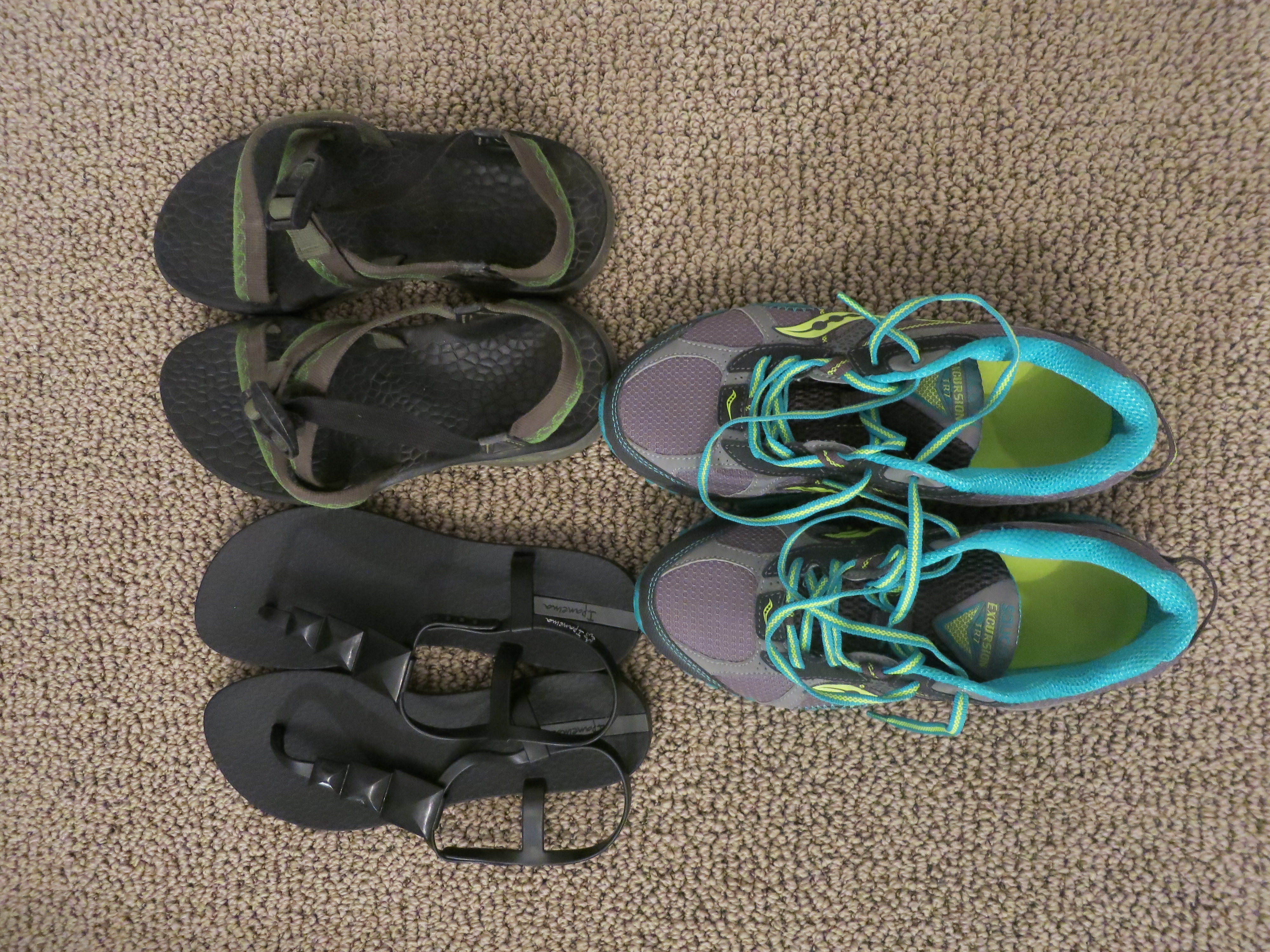 Trail Running Shoes (Saucony)
Chacos
iPamema Sandals
UNDERGARMENTS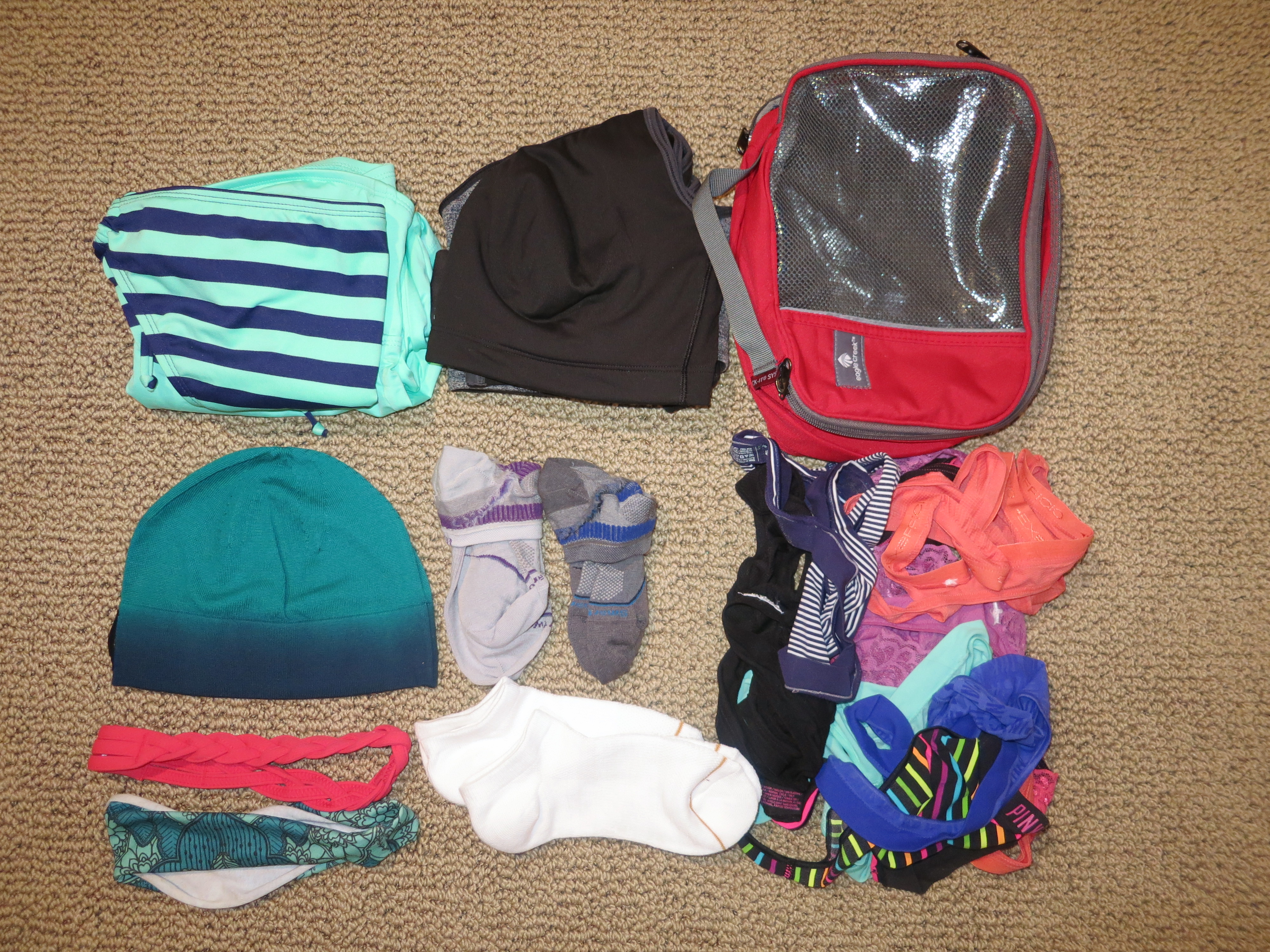 10 pairs of underwear (5 ExOfficio)
5 pairs of socks (2 Smartwool)
2 sports bras
1 regular bra
Swimsuit
Winter hat
2 Headbands
TOILETRIES
Liquids
Insect Repellant
Sunscreen
Toothpaste
Face lotion
Shampoo
Conditioner
Spot Corrector
Lotion
Hand Sanitizer
Tip:  Start with travel size toiletries if you dont plan to check your bag and purchase larger ones once you get to a location where you will be for a while.
Non-Liquids
Eye Shadow – a girl needs to get pretty every now and again!
Toothbrush
Floss
Deodorant
Brush
Razor
Makeup Brushes
Concealer
Tweezers
Nail Clippers
Chapstick
Mirror
Hair ties
ELECTRONICS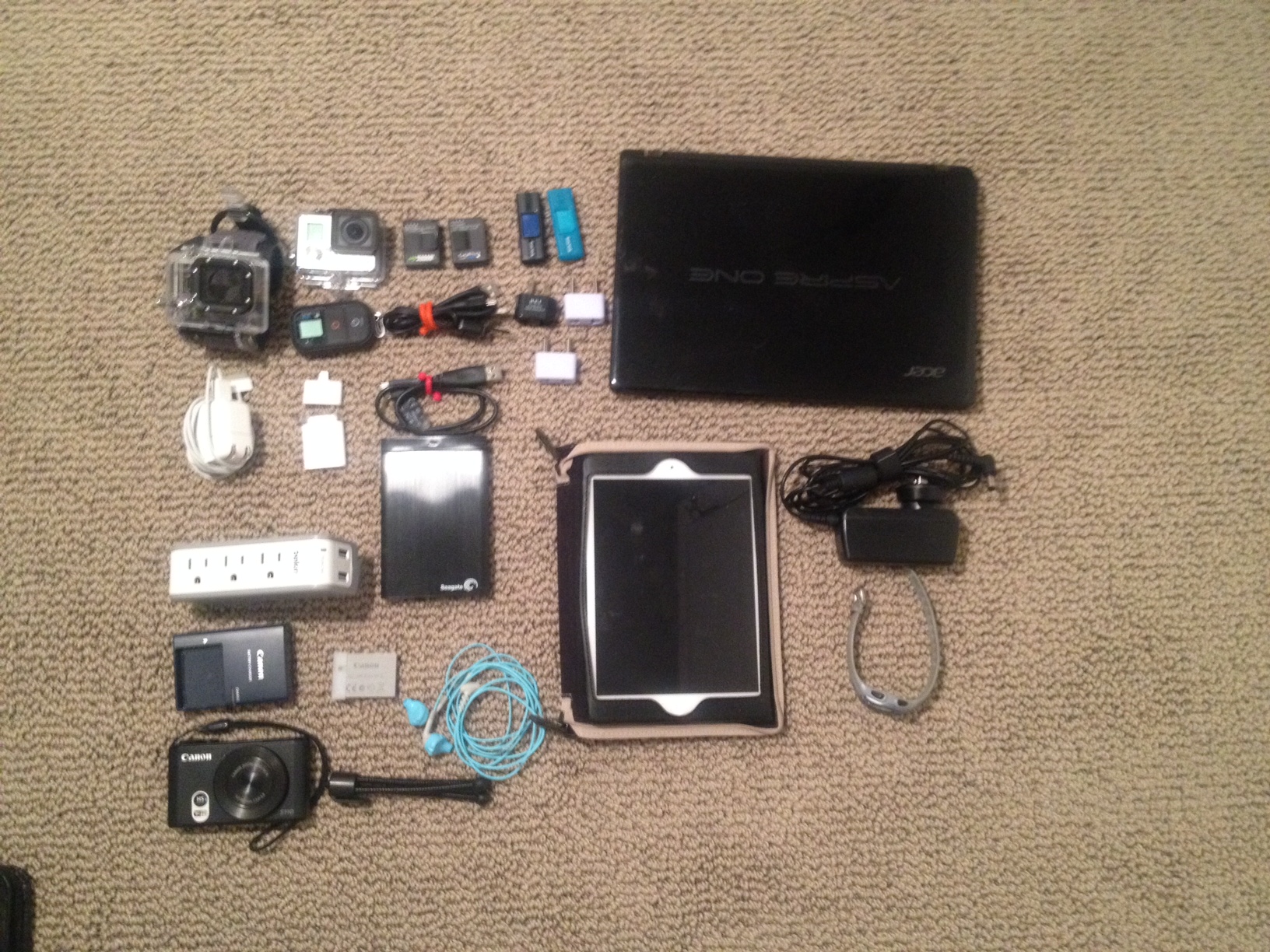 GoPro Camera 3+ Black & accessories (wrist housing, xtra batteries, chargers)
Thumb drives
Plug adapters
Netbook
iPhone/iPad chargers
1TB external hardrive
iPad mini & chargers
iPhone (not pictured)
Timex watch
Power strip
Canon point and shoot camera & chargers
Headphones
MEDICAL KIT
Band aids – assorted sizes
Moleskin
Gauze
Neosporin
Benadryl
Dayquil
Imodium
Dramamine
Ibuprofen
Cipro* – for GI issues
Zofran* – Anti-nausea
Malarone* – for malaria issues.  I have the dosage if I start to show symptoms.  I didn't want to haul around hundreds of pills not knowing exactly where I was going
Augmentim* – antibiotic
Pepto pills
Burn gel
Hydrocortisone cream
Thermometer
Tiger balm
Cabelas Utility Binder – rather than a traditional tackle box that a lot of backpackers use for med kits, I found this binder with zippered pockets that I am really loving.  The case is firm to pocket the stuff inside too.
Tip:  I took all the prescriptions and pre-packaged pills out and packed them in pill pouches to save room.  May cause issues if customs inquiries what they may be, but I am willing to take the risk to save space.  I just have starter amounts, too.  I can pick up scripts in other parts of the world, if needed.
OTHER
Steripen – to sterilize water in countries where it is unsafe to drink from the tap
Sleep Sheet
Pack Cover
Grocery Sack – to be used for laundry too
Headlamp
Cable lock
Combination lock
Headlamp
Clothesline
Sink stopper
Sewing kit
Utensils
Door stop
Multitool
Sharpie
Duct tape
Rain jacket (Patagonia) – decided to take a rain jacket instead of my ultralight down sweater.  I knew I would be in warmer climates and I would probably run into more rain than super cold weather.
Towel – the super awesome, really plush kind….nope, not at all but it serves its purpose!
Nalgene water bottle
Ear plugs
Sunglasses
Eye Mask
Journal
Not Pictured:
Hat
Face Wash
iPhone (unlocked) – I highly recommend you either buy an unlocked smartphone or else you can pay to have any existing one unlocked through your carrier, as long as you are patient.
Documents (passport, yellow vaccine card, insurance, passport photos, etc.)
EVERYTHING!
Whew, and here is everything that will go into the main pack and it all packed up.  It fits!  It actually works pretty well and things are easily accessible.  In total, the main pack weighs 25lbs (11.4kgs).  The daypack is about half full right now.  I am certain this will change as I go and I will get rid of/lose some stuff and probably pick up an item or two.  But, I feel comfortable with what I have so far.  I'll check back with updates as I get into things!
So, there you have it!  What have I forgotten, what will I NOT need??