With two months under my belt, I was starting to get the hang of this long term traveling thing!  I KNEW this month was going to be expensive and likely the MOST expensive of this trip.  There were too many amazing experiences that all seemed to cost a pretty penny!  This month's expenses will include all transportation (flights, buses, trains, etc.) where last month's did not include New Zealand transport (I paid for the flight and bus pass well in advance).  Let's see what transpired over the last months and what the damage was….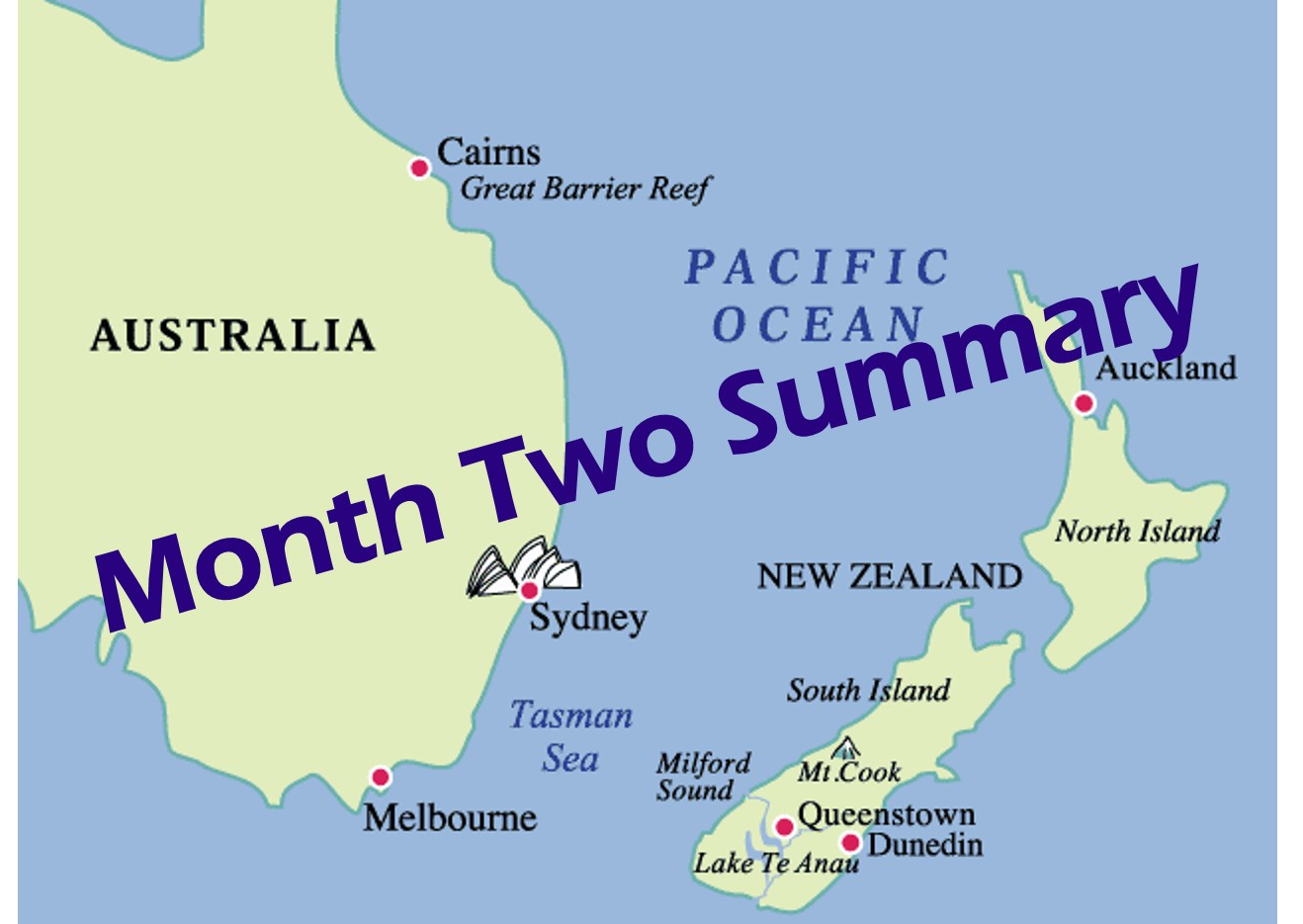 1-31 March 2014
Days traveled:                   31
Countries Visited:               2
Cities/Places Visited (Overnight Stops):    10
New Zealand
Marahau (Abel Tasman National Park)
Punakaiki
Franz Josef Glacier
Wanaka
Queenstown
Australia
Sydney
Katoomba (Blue Mountains)
Byron Bay
Brisbane
Cairns
FLIGHT FIGURES

Number of Flights:                        2
Queenstown, New Zealand (ZQN) to Sydney, Australia (SYD)
Brisbane, Australia (BNE) to Cairns, Australia (CNS)
Distance Flown:                             2,074 miles (3,340km)
Time Spent on Flights:                5 hours 10 min
BUS BUSINESS

Bus Segments:                           6
New Zealand                           5
Australia                                 1
Distance on Bus:                         1,119 miles (1,801km)
Time Spent on Bus:                  25 hours, 56 min – too long, thanks to the nearly 13 hour haul from Sydney to Byron Bay
FERRY/BOAT FACTS

Ferry Rides:                              3
New Zealand:  Wellington to Picton
Australia: Sydney Harbour to Manly Beach, return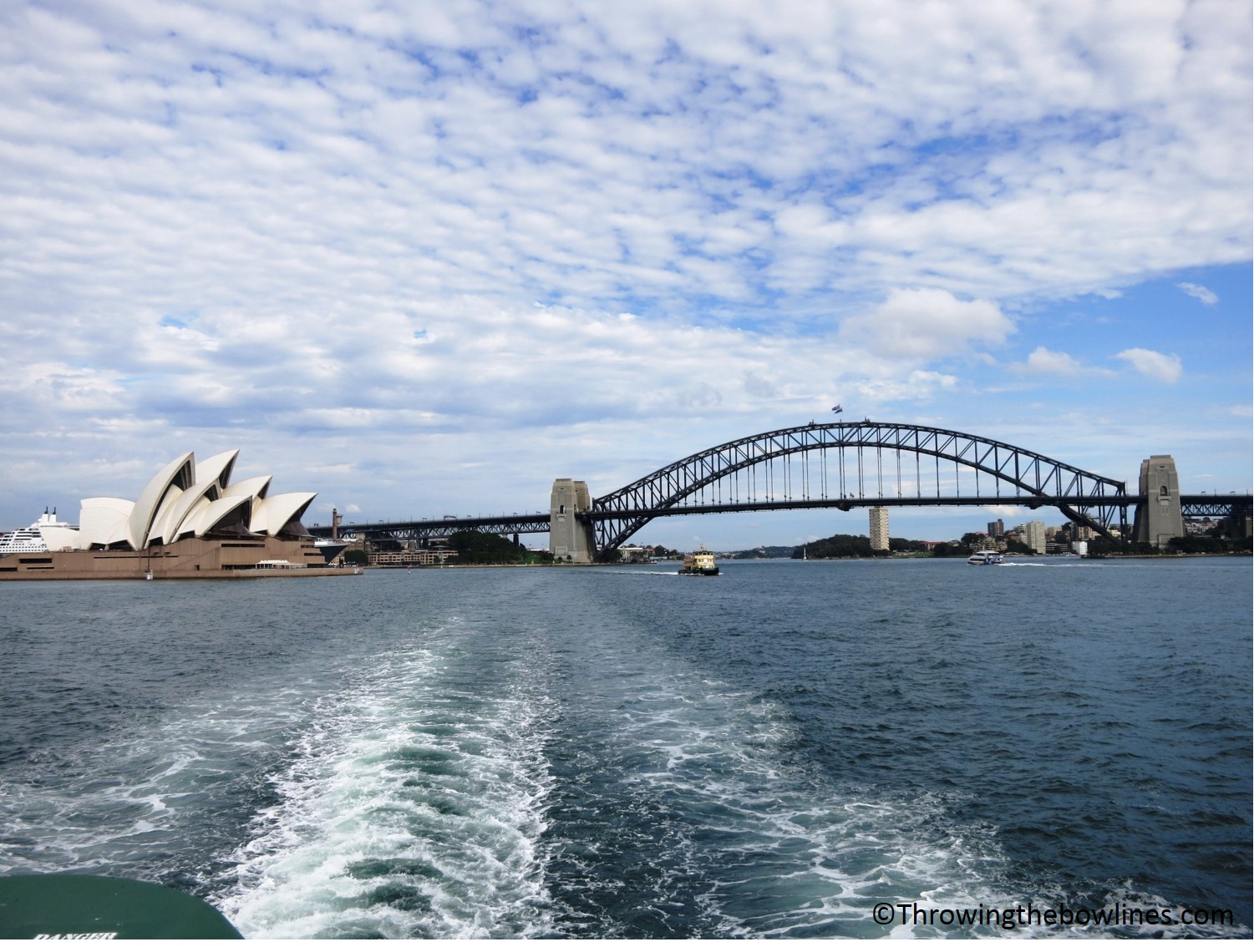 TRAIN TOTALS

Train Rides:                          2
Sydney to Blue Mountains, return
Distance on Trains:             150 miles (244km)
Time Spent on Trains:        4 hours
ACCOMMODATION STATS
Different Beds Slept In:                  15
Number of Top Bunks (ugh!):    3 – I am getting better at snagging the bottom!
Best Hostel:                                        Te Nikau Retreat/Mamaku Lodge, Punakaki – absolutely awesome, a real house set right in the rainforest!
Worst Hostel:                               Bunk Backpackers, Brisbane – the 4 share room was the size of a shoebox
GEAR UPDATES:
Items Lost/Broken:
Chaco Sandals – These are some of the most durable and dependable sandals out there, but somehow mine broke during a walk in NZ.
Small mirror – Just realized I didn't have it the other day, so that tells you how much I used it.  No need to replace
Yurbuds – at nearly $40 and "developed for athletes", these were such a disappointing purchase.  I used them almost daily for long bus rides and also to workout.  The plastic buds that are supposed to stay in your ears worked well for about a month then they wouldn't stay attached to the actual earphone.  Poor product.
Items Purchased:
Icebreaker Sweater – I needed something warm that was a bit nicer
Havianas Flip Flops (NOT thongs…as the crazy Aussies call them) – My $6 pair was worn out after a month.  Time to upgrade considering I now live in flip flops.  Rough, I know…
Dress – Total splurge while in Byron Bay.  I needed something to feel pretty and girly 🙂
GoPro LCD Screen – allows me to actually see what I am taking a picture of while using the camera
GoPro Filter – red filter allows for better underwater photography (as you go deeper, you lose your colors) – had to be prepared to dive the Great Barrier Reef!
Earphones – cheap and much better
MISCELLANEOUS MENTIONS
Books Read:                       3.5
Cutting for Stone, Abraham Verghese (finished the last half)
The Girl who Played with Fire, Stieg Larsson
Everything That Remains, The Minimalists
Love with a Chance of Drowning, Torre DeRoche
Nicknames Earned:                       1, Peter Pan – any guesses how I got this?  Let me know your guess in the comments below 🙂
Hours of TV Watched:                   0, zero, zilch
Famous People Met:                  Chris Pine, aka Captain Kirk – he watched me do my Kawarau bungy and said my dive was "bitchin" 🙂
Vertical Distance Jumped:             16,739 feet (5,102m)
Karawau Bridge Bungy                   141 ft (43m)
Nevis Bungy                                    440 ft (134m)
The Ledge Bungy                            154 ft (47m)
Fox Glacier Skydive                        16,000 ft (4,876m)
Top Bunk Dive                                 4 ft (1m)
MOST CHOICE EXPERIENCES
Bungy jumping 3 times!  Kawarau Bridge, Nevis, and The Ledge
Visiting the amazing Pancake Rocks in Punakaiki on Pancake Day (England)!
Flying in a small plane over beautiful Lake Wanaka
Hiking through the gorgeous Blue Mountains via Wentworth Falls
Scuba diving the Great Barrier Reef – 15 times!!
This was truly an epic month of amazing experiences that I was able to check off of my bucket list!
Money, Cheddar, Moola, Dough….
Money Spent*: $5,375….Sweet Mother of Jezebel, that hurts.
This month definitely hurt the bank account, but I knew it was coming.  I had saved the "fun" things in New Zealand until the end and they added up quickly.  Tack on a liveaboard on the Great Barrier Reef…I am surprised the bank didn't cut me off!
This encompasses nearly my entire trip in Australia – inclusive of all transportation (which was excluded in last month's summary)
I have truly LOVED my time in New Zealand and Australia, but I am so excited to be heading to a country where I will be spending a fraction of the money I have in the last two month.
I have stayed in shared (dorm room style) hostels my entire trip
Budget Busters:
Bungy Jumps (3) + photos & video – $505
Skydiving + photos & video – $494
4 day scuba diving trip on a liveaboard – $913
Advanced Open Water certification – $185
Flight to Australia – $370
Thank goodness I am now in a country where 1.5L of bottled water costs me $0.20 and a meal of pork noodle soup is $0.90!  My wallet is going to be much happier after the last two months.
Anything really surprise you about the last month?  What else do you want to see?  Let me know in the comments below!

*All figures are in U.S. Dollars
Photo credits:
Photo #1:  http://www.clubtravel.ie/destinations.aspx