Month 3 wrapped up my time in Australia and brought me to start my journey through SE Asia, in Thailand. It brought a slower pace of travel which is what I really needed. It is quite exhausting moving every few days, and even more expensive. I ended up having my longest stay to date in one location! Check out what I've been up to 🙂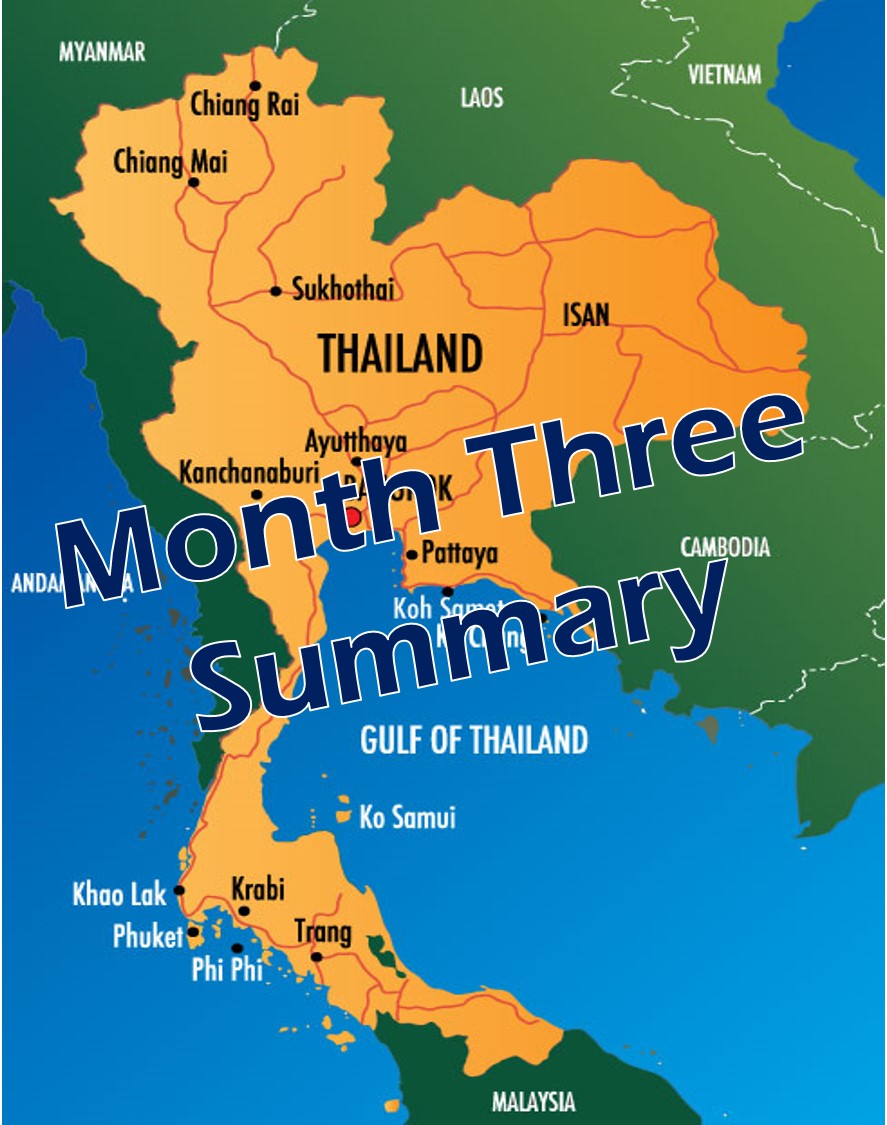 1-30 April 2014
Days traveled:                   30
Countries Visited:              2
Cities/Places Visited:         5
Australia
Thailand
FLIGHT FIGURES

Number of Flights:              4
Cairns, Australia (CNS) to Sydney, Australia (SYD)
Sydney, Australia (SYD) to Bangkok, Thailand (BKK)
Bangkok, Thailand (DMK) to Chiang Mai, Thailand (CNX)
Chiang Mai, Thailand (CNX) to Bangkok, Thailand (DMK)
Distance Flown:                     6,606 miles (10,626 km)
Time Spent on Flights:        14 hours 20 min
BUS BUSINESS

Bus Segments:                        2
Chiang Mai to Pai (return)
Distance on Bus:                 161.5 miles (260 km)
Time Spent on Bus:          4 hrs. 50 min. – a huge and welcomed improvement over the few months!
BICYCLES
Bicycles Rented:                   1 – one too many.
ACCOMMODATION STATS

Different Beds Slept In:                    7
Number of Top Bunks (ugh!):      1 – a perk about SE Asia? You can easily afford single rooms, i.e. no bunk beds!!
Best Accommodation:                   Lub D Silom, Bangkok – super clean, great location
Cheapest Accommodation:              Royal Guesthouse, Chiang Mai – for $5.50 a night you got a double bed, closet, desk, and a fan – there was even a pool! The downside? You have to walk 100 stairs up to the 7th floor….in 105° heat. Make sure you don't forget anything in your room.
Longest Stay:                                      9 days in Chiang Mai, Thailand
GEAR UPDATES:
Items Lost/Broken/Trashed:
Tank top – One of the tanks I bought in NZ as it was really cheap and worn – trashed.
Old Swimsuit – You get what you pay for…cheapie – trashed.
Items Purchased:
Lonely Plant guidebook, "SE Asia on a Shoestring" – I typically don't like carrying guidebooks but rather explore on my own. I decided to pick this up because I thought it would be a good reference since it covers a bunch of countries. Has turned out to be handy.
iphone Armband – Nice to have for running. Picked up at the night markets in Bangkok ($5)
2 tanks – soooo hot here. They are everywhere at the night markets in Bangkok ($3 each)
New swimsuit – splurged on a good, cute one in Oz before I left! ($80)
MISCELLANEOUS MENTIONS

Books Read:                       0
I was on such a streak with reading so many good books, but frankly I tried to put more attention on the blog this last month. Plus I ran out of books downloaded on my ipad. I need more suggestions!
7-11's Visited:                  93?
Thank heaven for 7-11! Seriously. Let me tell you why:
Air conditioning! They are seriously ice cold, and on 100°+ days, I would find any excuse to dip into one.
Money breakers – They will break your large bills (1000s), even if you only spend 20 Baht. You might just get the "annoyed eye roll having to do this for the 100th time for foreigners that day" look.
Toasties – as amazing as Thai food is, sometimes you need a break. Toasties are the perfect solution. Ham and cheese sandwiches that they throw into a Panini press and serve piping hot.
Days over 100°F (38°C):                 19
Stupidest Decision:                           Renting a bicycle in Pai
Motorbikes (scooters) are everywhere in Thailand and it is very common for foreigners to rent them while visiting Pai as an easy way to get around. I am deathly afraid of them, due to the fact that I have seen more people bloodied and bandaged from motorbike accidents. SO, I decided to rent a bicycle instead to explore the area. I, of course, waited until the hottest time of the day to get the bike and set off for a 8km ride to Pai Canyon. The first part was wonderfully flat and breezy, but all of that changed quite abruptly. I faced my first hill and I knew I was in for trouble. My 3 gear bicycle with cute basket wasn't making it up this hill, try as I might. With sweat dripping, I resigned to hopping off and pushing it up the hill. Let's just say, this repeated about 6 more times over the course of the roundtrip ride. I ultimately did make it to the canyon…which was rather unimpressive after all that effort. Never again.
Best Decision:                                    Muay Thai training at Charn Chai gym, Pai
This was exactly what I needed…exercise, consistency, and routine. I needed a good challenge and that is exactly what I got. It was something I had never done before and after the first 15 minutes of the first two hour training session, I knew it would be tough. I loved it and it is now why I am going back to Thailand after Myanmar. I just need a couple weeks of routine and stability in one location.
GRUB!
I absolutely LOVE Thai food and I couldn't wait to get to experience it firsthand. It did not disappoint! I prefer to eat from street food vendors as I feel like their food is more authentic and really supporting people working hard. With that said, street food in Thailand is not only delicious, but CHEAP! Most things cost $1 and you get a generous portion. I never went hungry in Thailand!
Bowls of Noodle Soup Consumed:           23, no joke.
Best Meal:                                            Tough to choose…maybe Yellow or Green Curry or Pork Noodle Soup
Daily Indulgence:                                       Fruit smoothies! Mango Passionfruit was my preferred choice
Favorite Sweet:                                           Steamed banana cake
The Thais don't really do sweets or desserts, but they are most commonly known for their mango sticky rice. I tried it, but it wasn't my thing. I found the steamed banana cakes to be delicious!
MOST CHOICE EXPERIENCES
Celebrating Songrkan!
Thai cooking classes
Muay Thai training, Pai
I had some truly amazing experiences this month, but none were more special than visiting the Elephant Nature Park. I encourage everyone that is interested in seeing elephants in Thailand, to please choose this option. You will not regret it!
Money, Cheddar, Moola, Dough….
Money Spent*:             $1,996.02
This is a significant improvement of Month One and Month Two, which made me very happy! Although I knew it would be coming, it is so nice to not see the funds dropping so rapidly. I am glad I did get the more expensive countries out of the way first because now I feel rich! Well, as rich as I can be with no income 😉
 Australia (1-6 April) =      $721.00
1 flight – $143
Doctors visit and meds (ear infection) – $120
New swimsuit – $80
Stocked up on supplies for Thailand -$60
Thailand (7-30 April) =    $1,275.02
2 flights – $140
Cooking class – $37
Elephant Nature Park – $77
Muay Thai Training – $40
6 massages – $40
This month was a welcomed relief in terms of bleeding money! Once I was able to get out of Australia, it was so nice to be in a location where accommodations for private rooms were $15, meals were $1, and 1.5L of bottled water $0.20 (versus $8 in OZ). I am definitely not being super thrifty, although. I have spent more on accommodations, in some cases, so that I could have private bathrooms and air conditioning. I could have spent less, but comfort and peace typically won out 🙂
*All figures are in U.S. Dollars