Six months?! I cannot believe that I have been at this travel thing for over half a year! It seems like just yesterday I was at the airport giving tearful goodbyes to my family and now I am halfway done with my journey. After taking most of month five to relax in Thailand, month six had me back in full on travel mode. I was bouncing around quite quickly only staying a couple of nights in each city. It felt good to get back to being a traveler and getting to do an see so many cool things!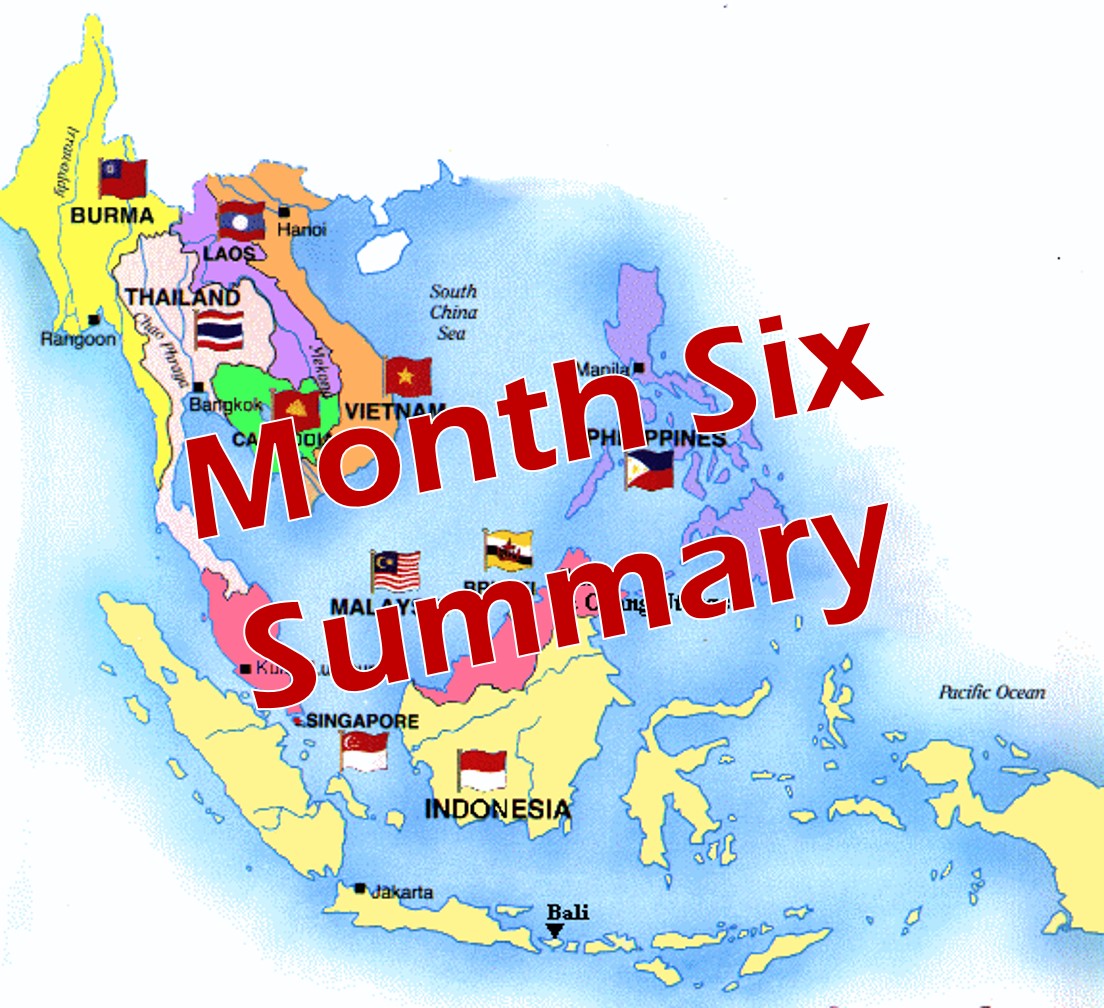 1-31 July 2014
Days traveled:                   31
Countries Visited:              5
Malaysia (Peninsular)
Singapore
Malaysia (Borneo)
Cambodia
Vietnam
Cities/Places Visited:         13
Malaysia (Peninsular)
Singapore
Malaysia (Borneo)
Kota Kinabalu
Mount Kinabalu
Sandakan
Sukan
Semporna
Cambodia
Vietnam
Ho Chi Minh City
Dalat
Lak Lake
FLIGHT FIGURES
Number of Flights:              4
Penang, Malaysia (PEN) to Singapore, Singapore (SIN)
Singapore, Singapore (SIN) to Kota Kinabalu, Malaysia (BKI)
Kota Kinabalu, Malaysia (BKI) to Kuala Lumpur, Malaysia (KUL)
Kuala Lumpur, Malaysia (KUL) to Siem Reap, Cambodia (REP)
Distance Flown:                     3,004 miles (4,830 km)
Time Spent on Flights:        8 hours 30 min
BUS BUSINESS
Bus Segments:                        8
I took the most interesting bus ride to date from Mt. Kinabalu to Sandakan while in Borneo. Some friends and I were ready to move one from Mt. Kinabalu as it was rainy and quite chilly. A bus was supposed to come through Mt. Kinabalu at 3p and we were told to just flag it down. It arrived around 430p and thnakfully stopped for us. This is when we were told that the only available seat were in the luggage hold. We did manage to get a 5 MYR ($1.50 USD) discount! 🙂
Malaysia (Borneo)
Kota Kinabalu to Mt. Kinabalu
Mt Kinabalu to Sandakan
Sandakan to Sepilok
Kinabatgan to Semporna
Semporna to Kota Kinabalu
Cambodia
Vietnam
Phnom Penh, Cambodia to Ho Chi Minh City, Vietnam
Ho Chi Minh City to Dalat
Distance on Bus:               409.75 miles (658.5 km)
Time Spent on Bus:          45 hours – that is a whole lot of bum sitting.
ACCOMMODATION STATS
Different Beds Slept In:                   18
Number of Top Bunks (ugh!):          2
Best Accommodation:         Grace Angkor Wat – Siem Reap, Cambodia. Beautiful rooms, breakfast buffet, free airport pickup and rides to the night market, nightly turn down service. Pure relaxation!
Most Unique Accommodation:      I spent one night at the Kuala Lumpur airport as I was making my way from Borneo to Cambodia. My flight from Borneo landed at 2130 and my flight to Cambodia didn't leave until 0930 the next morning. I couldn't justify paying for transport to a hotel and the cost of hotel room for less than 12 hours. So, I parked myself at the Burger King…they had free wifi and really comfy chairs! The KL airport is actually very accommodating for people who need to catch a few hours of sleep. Believe it or not there is a website, The Guide to Sleeping in Airports, that is really handy if you find yourself with stopovers!
 GEAR UPDATES:
This was a fairly good month with regards to not loosing nor gaining too much! After six months of being in warm weather, you would figure I would have this packing thing down by now!
Items Lost/Broken/Trashed:
Pocket Knife – This was the perfect little knife for my trip and I mistakenly left it in my hand luggage while flying out of the Singapore airport and security spotted it. Damn! – LOST
Items Purchased:
Paring Knife – No seriously. I bought this in Borneo so I could peel my mangoes. Nothing like my lost knife 🙁 ($1)
Scarf – small souvenir from Cambodia ($4)
MISCELLANEOUS MENTIONS
Books Read:                       7
Remember that absurd amount of time (45 hours!) spent on buses? Yeah, I had plenty of time for reading this month. Plus, I learned that I could borrow books from my local library. Score!
The Husband's Secret, Liane Moriarty
The Orphan Train, Christina Baker Kline
The Goldfinch, Donna Tartt
Looking for Alaska, John Green
Unbroken, Laura Hillenbrand
Dark Places, Gillian Flynn
The Rosie Project,  Graeme Simsion
Biggest Splurge:                             Dinner in Singapore
After 4 months of travel in SE Asia, I had not had a "good" beer or real Western food since arriving. Finding myself in Singapore, which is about the furthest from being your stereo typical SE Asian country that you can get, I scouted out a microbrewery and headed that way. I indulged in 2 microbrews and a pulled pork sandwich. It was all absolutely delicious. Then the bill came…$62 Singapore dollars (over $50 USD). Haha…that could have fed me for 2 weeks in Thailand, easily! It was worth it, but only once!
Best Decision:                                       Splurging for a nice hotel
After experiencing my first real case of travel burnout, I knew I needed to start taking better care of myself. Priority number one? Booking myself a private room in a real hotel. This room was beautiful with the most comfortable bed I have slept in in months. It included a full buffet breakfast (with omelet station!), tuk tuk service, turndown service with fruit. But the thing I was most excited about? A bathtub!! You have to understand that the standard bathroom in SE Asia is what I refer to as the "all in one". Shower, toilet and sink all share the same space – everything just gets wet, hair on the floor, lovely, right. A real bathtub was a real luxury! Oh, and the price tag…$20/night 🙂
Hardest Moment:                            Visiting the Killing Fields, Cambodia
There are many sites around the world that are to commemorate very dark times in a country's history. The Killing Fields outside of Phnom Penh, Cambodia and the S21 Prisons are examples of just that. From 1975 – 1979, the communist Khmer Rogue regime led the Cambodian genocide. They tortured, starved, and beat Cambodians to their deaths. They eliminated anyone they suspected to have "involvement in free market activities". Over 1 million Cambodian men, women, and children were brutally killed. It was very difficult to hear the stories and see the places where the worst took place. It was hard for me to imagine that this all occurred less than 40 years ago! I think it is truly important that we visit these places and educate ourselves so those that perished are not forgotten.
MOST CHOICE EXPERIENCES
Wildlife safari in Borneo
Temples at Angkor Wat
Money, Cheddar, Moola, Dough….
Money Spent*:             $2,503.78
After having my cheapest month ever in month 5, month 6 was quite expensive by SE Asian standards! I knew it would be a bit pricey because I found myself in 5 different countries. The more you move…the more expensive it becomes. I visited probably the most expensive SE Asian country (Singapore) and also one that is more difficult to get to (Borneo). I also indulged more this month in activities and opted for more single rooms versus dorms. All in all, I am okay with this total given what I was able to do and see! 🙂
Budget Busters:
4 flights:                                          $342
Scuba Diving (6 dives):                  $324
3 Day Borneo Jungle Package:     $120
Part I of Vietnam Easyrider:        $70
Souvenirs/gifts:                             $98
*All figures are in U.S. Dollars
If you missed the other monthly summaries, check them out here: Month 1, Month 2, Month 3, Month 4, and Month 5