Every time I post another month summary, I cannot believe that I am this far into my journey! Seven months on the road means that I am officially in the second half of my year long trip. I wrapped up my time in SE Asia and moved onto my last Asian destination in month 7. Incredible experiences and unforgettable adventures were plentiful in the last month. See what I have been up to!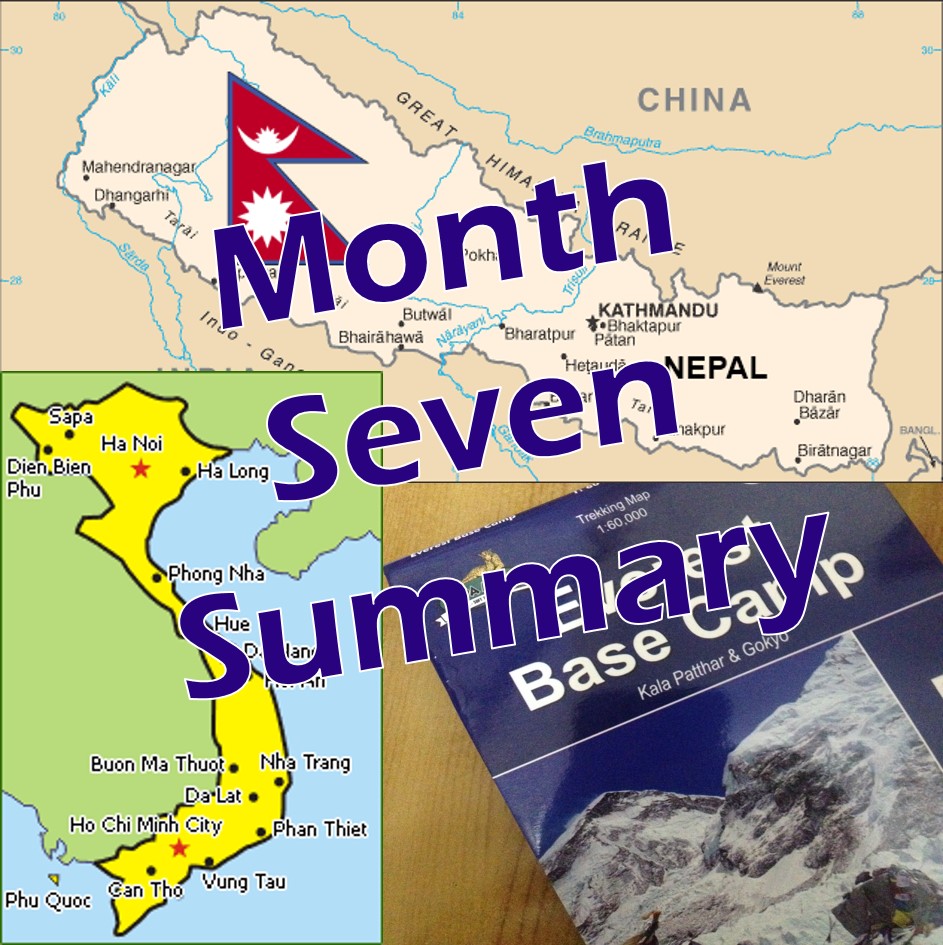 1-31 August 2014
Days traveled:                   31
Countries Visited:              2
Cities/Places Visited:         15
Vietnam
Buon Ma Thuot
Nha Trang
Hoi An
Hue
Phong Nha
Dong Hoi
Hanoi
Nepal
Kathmandu
Phadking
Namche Bazaar
Tengboche
Pheriche
Dughla
Laboche
Goark Shep
FLIGHT FIGURES
Number of Flights:              3
Dong Hoi, Vietnam (VND) to Hanoi, Vietnam (HAN)
Hanoi, Vietnam (HAN) to Kathmandu, Nepal (KTM)
Kathmandu, Nepal (KTM) to Lukla, Nepal (LUA)
Distance Flown:                     2,078 miles (3,699 km)
Time Spent on Flights:        7 hours 30 min
BUS BUSINESS
Bus Segments:                        4
Vietnam
Nha Trang to Hoi An
Hoi An to Hue
Hue to Phong Nha
Phong Nha – Dong Hoi
Distance on Bus:               565 miles (911 km)
Time Spent on Bus:          21 hours
ACCOMMODATION STATS
Different Beds Slept In:                   20
Number of Top Bunks (ugh!):          0, yay!
Best Accommodation:         Hanoi Hibiscus Hotel. Hanoi, Vietnam – Beautifully modern rooms, great location, wonderful included breakfast
Worst Accommodation:      Overnight at Bangkok International Airport. I arrived via Hanoi en route to Kathmandu at 2230 and my connecting flight didn't leave until 0930. Rather than get a taxi to to go to a hotel for a matter of hours, I decided to save money and crash at the airport since my overnight at the Kuala Lumpur airport was pretty decent. Not all airports are created equal. Very little sleep was had that night.
 GEAR UPDATES:
I splurged this month on purchases, but they were all just souvenirs that ended up getting shipped home, for the most part. So, overall no gains or losses to the bag. Still holding strong at 46L! 🙂
Items Lost/Trashed/Shipped:
Purse – My purse was severing me well the last few months, but was starting to rip at the straps. I decided it was a perfect time to retire it and upgrade. SHIPPED
Items Purchased:
Custom Clothes & Leather – HoiAn sucked me in and I couldn't resist getting some custom clothes made. I ended up getting a beautiful dress, robe, and jacket. I also found an awesome shop that did leather handbags…perfect for my replacement purse! It turned out beautifully and they designed it exactly how I asked!
Coffee – Vietnamese coffee is damn good. Enough said.
Trekking Gear – Necessary to complete my packing for my Everest Base Camp trek.
MISCELLANEOUS MENTIONS
Books Read:                       2
It seems that the number of books I read flip flops each month! I have to say that these two books were probably two of my favorite though. I could not recommend the first one any higher to fellow female travelers. It is absolutely hilarious and such a great travel read!
What I was doing while you were breeding, Kristin Newman
Touching my Father's Soul, Jamling Tenzing Norgay
Favorite Meal:         Fresh Spring Rolls – Vietnam and Vegetarian Dal Baht – Nepal
This is such a tough choice considering Vietnamese food is absolutely amazing and I don't think I had a bad meal the entire time. The Pho was to die for and it was interesting how it changed slightly as you went to different parts of the country. Each time I had it, it was a bit different – spices, garnishes, etc. but always delicious. The fresh spring rolls were just too good! We were given all the fixings and then rolled them ourselves with freshly made peanut sauce (with fresh chili!) for dipping. AMAZING!
I had to highlight the dal baht too as I ate so much of this in Nepal. There are roughly 42 million people that live in Nepal and they say about 40 million eat this meal twice a day! I loved the vegetarian version which consisted of rice, lentil soup (dal), a vegetable curry, spinach, and a small yogurt. There are several variations to this, but you mix it all together and feast! The best part, free refills! They will keep loading you up until you cannot take anymore. Amazing after long days of trekking to Everest Base Camp. Dal Baht power, 24 hour!
Biggest Splurge:                             Custom clothes in HoiAn, Vietnam
I am not big on hokey souvenirs. I don't buy t-shirts with city/country names or places, or trickets that will collect dust on a shelf or ultimately sit in a box, never to be seen again. Instead, I buy things that I will use (there is that practical side of me coming out) or else art that I can hang in my home (except I am homeless…) HoiAn is known for custom clothing and shops line the adorable colonial streets. I wanted to get something unique made so I decided on a silk robe…fun, right? Well, I got sucked in. I came in for the robe and left with that plus a dress and a winter jacket. Oh, and I managed to pick up 2 custom leather handbags and a pair of sandals. They all fit perfectly and will be awaiting my return!
Best Moment:                                       Conquering Everest Base Camp
Standing at 17,598 feet (5,364m) after 8 days of trekking to a location that I had only ever dreamed of – now that was victory! It was a feeling hard to describe. Signing up to trek to Everest Base Camp does not guarantee you will make it. Even some of the most fit hikers/climbers/athletes find themselves turning back or even worse, are air lifted off the mountain. To know that I was able to persevere and trek, with relative ease, over 77 miles with nearly 10,000 feet of elevation gain – all unscathed, it was a moment that will be hard to beat!
Most Peaceful Moment:                            Swimming outside of Hung Ton Cave, Vietnam
The caves found within central Vietnam are unbelievable and seriously, otherworldly. After trekking through jungles, into massive caves millions of years old, then swimming through the huge pools within them, we came to our camp for the evening. It was essentially our own private lake, complete with waterfall streaming out from the cave we just explored. While swimming in this lake and taking in the epic scenery, I was in such a happy, peaceful place. One that I hope everyone can explore themselves.
MOST CHOICE EXPERIENCES
This month was filled with epic adventures that seemed to run back to back! It was a pretty incredible month 🙂
Easyrider tour from Dalat to Nha Trang, Vietnam
Money, Cheddar, Moola, Dough….
Money Spent*:             $3,087.47
Ouch. There is no way around it, this month was expensive. But as I said above, this month was filled with epic adventures and those don't come free. I think I got great deals on most of my adventures and purchases – as it was low season in most cases. That helped me to negotiate low rates in some cases. I was also able to save some dough by using frequent flyer miles to get from Hanoi to Kathmandu, it was a bargain at $91+miles! All said and done, I would not regret a penny spent!
Budget Busters:
Part II & III of Vietnam Easyrider:     $125
Custom clothes/Souvenirs:                   $250
TuLan Caving trek:                                 $325
Everest Base Camp trek:                      $1300 (including tips & gear)
*All figures are in U.S. Dollars
If you missed the other monthly summaries, check them out here: Month 1, Month 2, Month 3, Month 4, Month 5, and Month 6