I have been on the road now for over one month!  I really cannot believe it has been a month already, but they say time flies when you are having fun!  I will be summarize each moth as I go so you all can have some perspective as to what I have been up to, how much it costs, and share any insights I have gathered.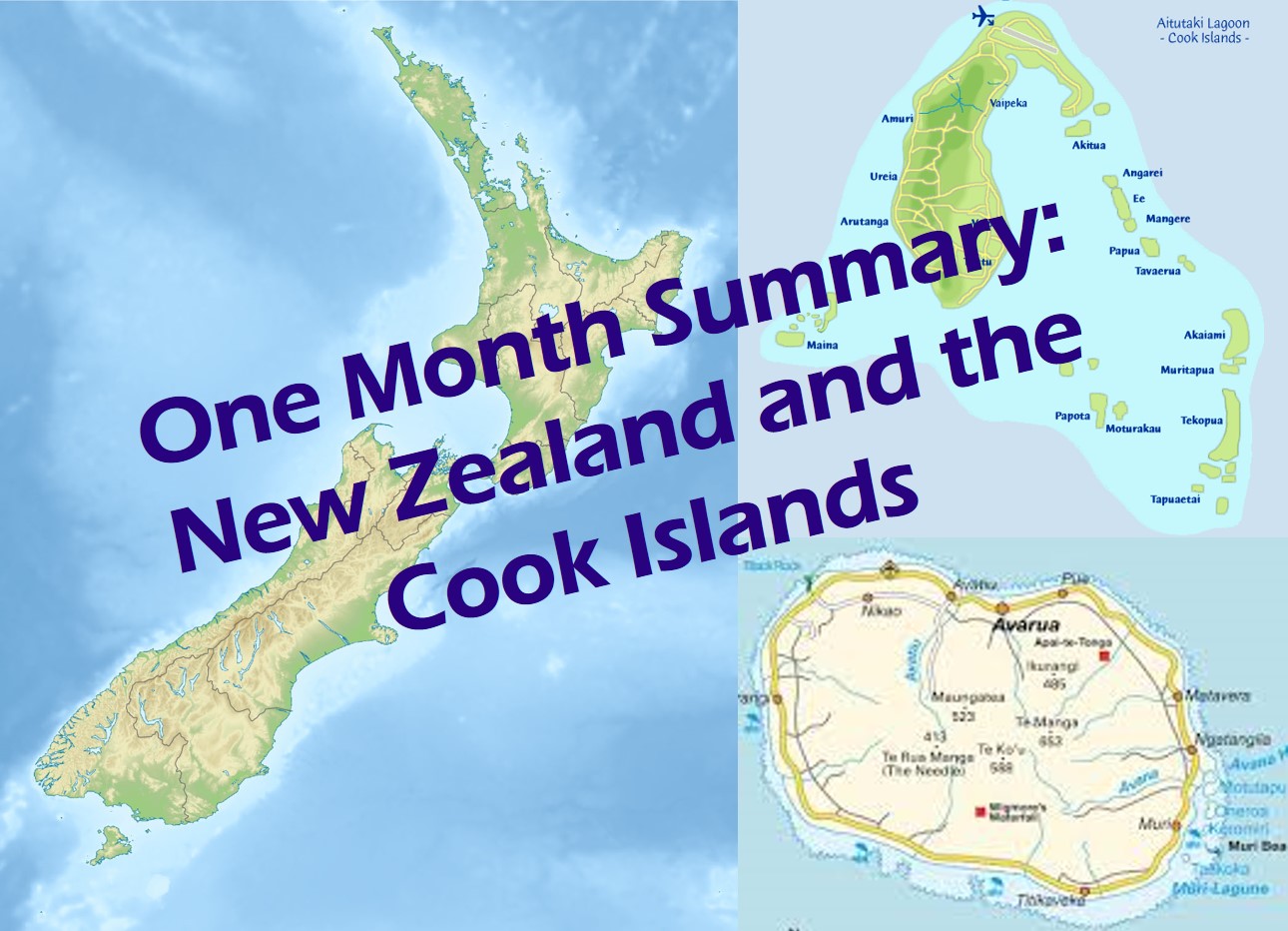 22 January – 21 February 2014*
*I have decided to include the entire month of February so each subsequent month to follow is singular
Days Traveled this Period:       37
Countries Visited:     2
Cities Visited (Overnight stops):                18
New Zealand
Queenstown
Holleyford Valley
Invercargill
Mt. Cook
Rangitata
Kaikoura
Wellington
Tongariro National Park
Auckland
Whangarei
Paihia
Hahei
Raglan
Mourea
Lake Aniwhenua
Whakahoro
Cook Islands
FLIGHT STATS
Number of Flights:     6
Denver, Colorado (DEN) to Orange County, California (SNA)
Los Angeles, California (LAX) to Auckland, New Zealand (AKL)
Auckland, New Zealand (AKL) to Queenstown, New Zealand (ZQN)
Auckland, New Zealand (AKL) to Rarotonga, Cook Islands (RAR)
Rarotonga, Cook Islands (RAR) to Auckland, New Zealand (AKL)
Distance Flown:                                  11,890 miles (19,134km)
Time Spent on Flights:                       23 hours, 30 min
BUS STATS
I have a backpacker bus pass with Stray while in New Zealand and I am loving it!  It is a perfect way to get around the country, not have to drive, see all the highlights (and some unique stops), and meet a TON of awesome people.  If you are interested in booking with Stray, use this Straymates code: AM7622 for an additional 5% off your bus pass!
Bus Segments:                   17
Distance on Bus:                2,514 miles (4,092km)
Time Spent on Bus:           49 hours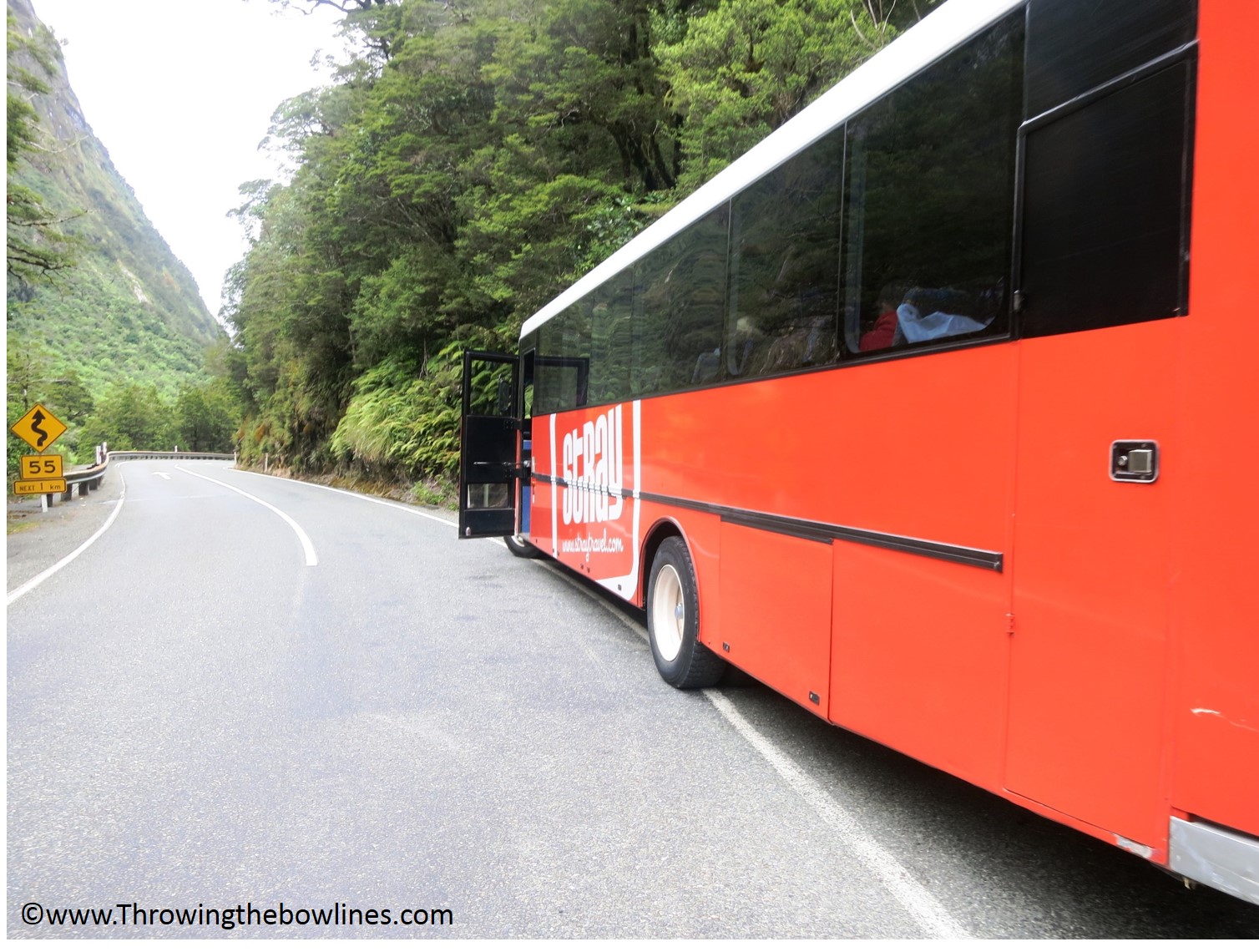 Ferry Rides:                        2
Picton to Wellington (South Island to North Island)
Paihia to Russell (Bay of Islands)
ACCOMMODATION STATS
Different Beds Slept In:                                                 23
Number of Top Bunks (ugh!):                                         8
Number of nights of free accommodation:                    6
Thanks to the Lewins and Wendy for their hospitality!
Best Hostel:                        Adventure Queenstown or Karioi Lodge, Raglan
Worst Hostel:                      Base Wellington
GEAR UPDATES
Items Lost:
Nalgene – I seriously lost this within a day of being in NZ.  I just buy and reuse water bottles
Spork – bummer, but haven't felt the need to replace it
Hat – This is seriously such a sad loss for me!  I loved this hat it traveled with me across 4 continents and now it is MIA.  I think I sadly left it behind at a hostel along the way 🙁
Items Purchased:
Hoodie – the South Island was much cooler than I was expecting! ($50)
Shorts – I am absolutely in LOVE with the Icebreaker brand (merino wool).  They are comfy, quick dry, and don't hold smells 🙂 They are a NZ brand so I sprung for a pair of shorts for the North Island – much warmer and for the Cooks!  They were a bit pricey ($90), but worth it.
2 Tank Tops – cheapies for the islands ($10 each)
Swimsuit – got a 2nd cheap bikini before I went to the islands ($30)
Hat – to replace my beloved hat that I lost 🙁 ($20)
GRUB!
Number of times eating out:      3
Best Meal:                                   Vudu Café, Breakfast
Best Deal:                                    Free drinkable tap water!
MISCELLANEOUS STATS
Books Read:                       7.5
Divergent, Veronica Roth
Insurgent, Veronica Roth
Allegiant, Veronica Roth
Fluke, Christopher Moore
Unwind, Neal Shusterman
Unwholly, Neal Shusterman
Gone Girl, Gillian Flynn
Beautiful Ruins, Jess Walt (finally finished the last half!)
I have read more books in the last month than I have read in the last 3 years!  Loving this.  More recommendations are always welcome!
MOST CHOICE EXPERIENCES
Hiking the Tongariro Alpine Crossing and summiting Mt. Ngauruhoe (Mt. Doom) and Mt. Tongariro
Scuba diving at the Poor Knights
Snorkeling the warm waters amongst thousands of tropical fish in the lagoon surrounding Aitutaki
Amazing surf town and beaches of Raglan
Sleeping in a traditional Maori Wharenui (meeting house), learning about the culture, singing, and dancing
*Watch for blog postings for all of these soon!
Money, Cheddar, Moola, Dough….STATS
Money Spent:   $3,933…ouch.
Daily Average:  $106
This is definitely going to be one of the most expensive months for me over the next year.  I knew New Zealand was going to be the most costly countries I would be visiting, but leave it to me to throw in some exotic islands too!
This figure excludes the flight to NZ and the cost of the Stray bus pass used while in New Zealand since these were paid for prior to coming here.
It does include the cost of flights between NZ and Cook Islands ($511) and the inter island flight in the Cooks ($329)
Rooms pretty much cost what they cost…dorms average about $28/night in NZ
My eating out was pretty limited, but it took me awhile to find my groove in buying groceries. I felt like I was spending money everyday on new food. Planning ahead and group meals helped. Try and find grocery stores outside of the main tourist towns…you'll save a ton.
Going out and drinking alcohol isn't cheap in NZ (or the Cooks), but I found a new love for cider while in NZ!  Try and have some drinks prior to going out to save a few bucks at the bars. Also, try and buy your alcohol at the supermarket to save.
Internet is tough in NZ and free wifi is almost none existent.  In major tourist areas you can buy 24 hours for $4, but usually it's pretty slow with heaps of people using the same network.

Cook Islands is even worse (obviously).  It is a good time to just turn off and enjoy being disconnected.  I did pay $9 for 60 min of internet time because I needed to shore up some things
Overall, I think I am doing quite well with my spending.  We have the option (aka…temptation) for activities everyday that range from $10 – $500.  I am pretty selective in what I choose to do, but at the same time I don't want to miss out on something amazing.  I do look forward to the time where I can stop the hemorrhaging a bit soon, though 🙂
I will be posting a more in depth summary for each country I visit as I complete them so you can see what my actual budget turns out to be.  It will be more extensive with a breakdown of costs for accommodations, food, activities, etc.
What other things are you interested in knowing?  Let me know in the comments below and I will see if I can add that to next month's summary!
Photo Credits:
www.straytravel.com
http://www.cook-island-travel.com/aitutaki-lagoon.php
http://rarotonga.es/