Nine months, three quarters of a year, nearly 300 days have passed since I left the United States hungry to see the world. It still doesn't seem possible that nine months have come and gone already. This time last year, I was still working the 9-5 while feverishly planning the minute aspects of this trip. Now, there are days that I wake up and I am not completely certain which country I am in! I take each day as it comes and find new adventures daily.
In my ninth month, I found myself moving very quickly through countries, which has not typically been my style. But, overall it worked out well. I was busy this month, so check out what I've been up to 🙂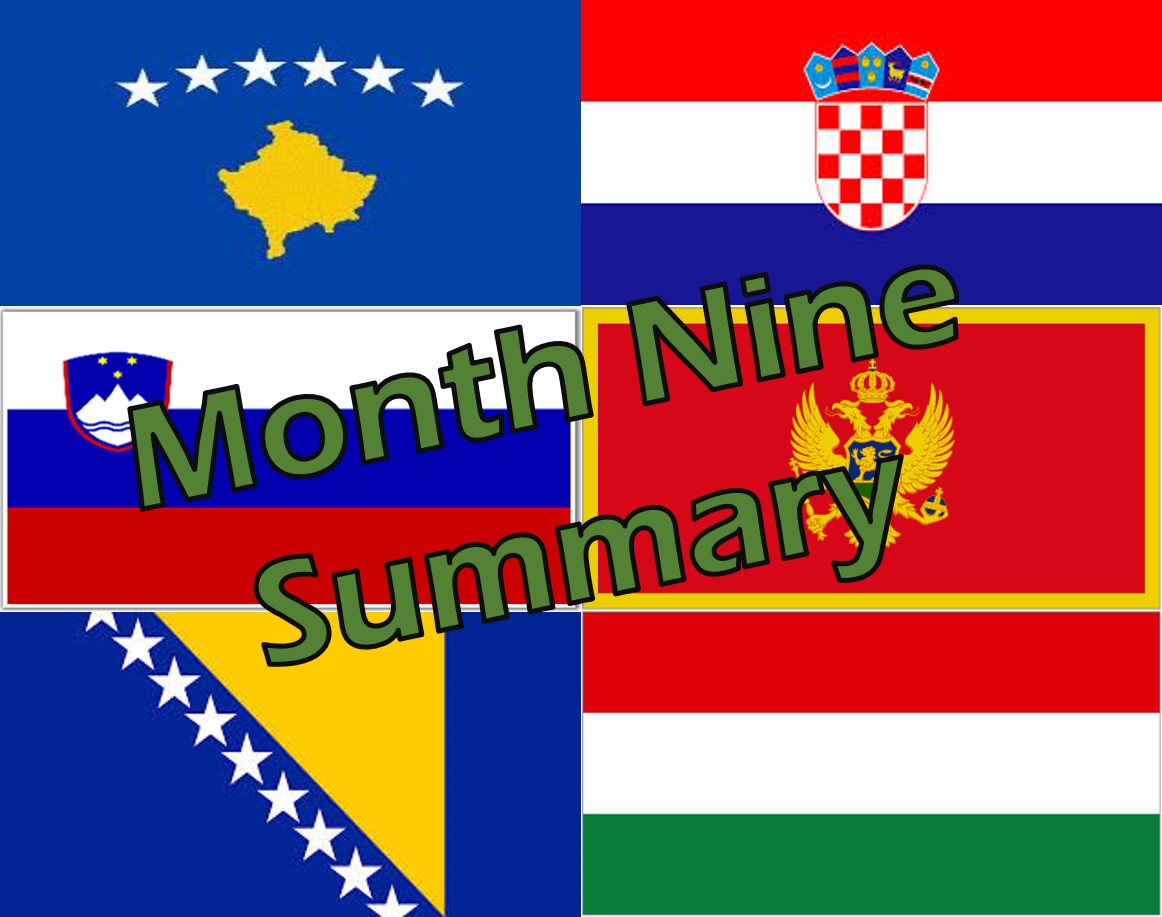 1-31 October 2014
Days traveled:                   31
Countries Visited:              6
Kosovo
Montenegro
Bosnia & Herzegovina
Croatia
Slovenia
Hungary
Cities/Places Visited:         14
Kosovo
Montengro
Bosnia & Herzegovina
Croatia
Dubrovnik
Split
Zadar
Zagreb
Slovenia
Hungary
FLIGHT FIGURES
This is the first month I did not take a single flight! It is so easy to get around in Europe via rail or bus that there was never a need for a flight. Especially because I fell in love with the Balkans and decided to just follow them up the coast and continue north. It was a nice change to be in much smaller countries where buses and trains were the best transport options and were never more than a few hours between countries!
Number of Flights:              0!!!
Distance Flown:                   0
Time Spent on Flights:       0
BUS BUSINESS
On the flip side, the number of buses I took increased but not necessarily the amount of time I spent on them. Again….small countries, short rides! I was loving it!
Bus Segments:                        13
Kosovo
Montenegro
Peja (Kosovo) – Ulcinj
Ulcinj – Budva
Budva – Kotor
Bosnia
Kotor (Montenegro) – Sarajevo
Croatia
Mostar (Croatia) – Dubrovnik
Dubrovnik – Split
Split – Zadar
Zadar – Plitvice National Park
Plitvice – Zagreb
Slovenia
Zagreb (Croatia) – Ljubljana
Ljubljana – Lake Bled – Ljubljana
Distance on Bus:               1,110 miles (1,787 km)
Time Spent on Bus:         39.5 hours
TRAIN TIME

I rode just two trains during the month, but the journey from Ljubljana to Budapest was anything but direct (as promised). At least the scenery was nice, right? Yeah, let's go with that 🙂
Train Segments:                        2
Sarajevo, Bosnia – Mostar, Bosnia
Ljubljana, Slovenia – Zagreb, Croatia – Budapest, Hungary
Distance on Train:                    416 miles (669km)
Time Spent on Train:             15 hours
ACCOMMODATION STATS
Different Beds Slept In:                     14, including 1 night bus
Number of Top Bunks (ugh!):          2
Best Accommodation:         Renting an Apartment. This was much overdue and completely necessary. I had spent too many nights in hostels as of late and the cast of characters I had met, just kept growing. Just when you think there cannot be crazier people than those you have already met, the universe proves you wrong! For $50/night I booked 6 nights in an adorable flat just outside of the city center of Ljubljana. It was perfect. No shower shoes necessary, kitchen, couch, and French press. I was a happy traveler.
Worst Accommodation:     Das Hostel, Zagreb. I booked this one last minute upon arriving in Zagreb. Seemed like it would be okay and to be fair, the room was nice. I had a 4 bed dorm room to myself. So what made it so bad? The people. Creepy ass dude – that worked there –  that literally asked if I wanted company on 3 different occasions, while he was drunk. Oh, and there were no other guests there at the time. Freaked me out. So, I packed up and moved out!
GEAR UPDATES:
This month I had to start thinking about the changing of the weather that I would soon me encountering. The wardrobe is going to shift a bit and I will continue to readjust over the next couple of months.
Items Lost/Trashed/Shipped:
Not sure how it was possible, but I managed to not lose or break a single thing! Bag and contents all remained intact 🙂
Items Purchased:
2 Long Sleeved Shirts: Had to upgrade the wardrobe to accommodate that it was now fall in the Northern Hemisphere and I was continuing my journey further north
Heavy Jacket: I knew it was just a matter of time before I would need one and rather than continue to layer up with nearly every shirt I had plus my rain coat, it was time. Found a cute one at H&M for 30% off. Deal!
Winter Hat: Gotta keep my noggin warm!
MISCELLANEOUS MENTIONS
Books Read:                       7
The Night Circus, Erin Morgenstern
The Immortal Life of Henriette Lacks, Rebecca Skloot
The Language of Flowers, Vanessa Diffenbaugh
Outliers, Malcolm Gladwell
Gold, Chris Cleave
If I Stay, Gayle Forman
Where She Went, Gayle Forman
Favorite Meal:         Chili
The food in the Balkans has been amazing…burek, cevapi, fresh seafood, but my favorite meal was the one I was finally able to make…chili! I have cooked smaller meals before, but when I rented the apartment in Ljubljana and finally had a full kitchen at my disposal, I was able to really work. I had to improvise a bit as the supermarkets aren't quite as excessive as ours. I was able to make my own chili seasoning with spices! Fresh tomatoes, peppers, mushrooms, meat, and beans….simply delicious!
Scariest Moment:        Night bus to Sarajevo, Bosnia
I was on a night bus from Kotor, Montenegro bound for Sarajevo, Bosnia and Hercegnovia. I was told it would arrive there at 6am. I try to avoid night buses, especially those that arrive before 8. Not much is open before then, I can't check into my accommodation usually until after 12…it just complicates things.

Well, we arrived just a bit early at 3am! Oh, and it was seriously in the middle of nowhere! Surrounded by open fields, a couple of apartments and shops. All of which at 0300, are closed. No taxis in sight. I had to figure out if I should hunker down outside the bus station somewhere and wait for it to open until 6 or attempt to walk somewhere in hopes of finding a hotel or cab.
My most dreaded scenario was this….walking alone, at night, with ALL my bags. You can split up credit cards, money, passport, etc all you want in hiding places but when you are carrying everything, it's so risky. If someone wanted to rob me, I would lose everything. Gulp….
I decided that just sitting at the bus station with no one around (in case something happened) was not smart. So I started walking. I could see some lights in the distance. About 1km and I came to a gas station where a nice old man came out to speak with me. Again, he didn't speak any English. We were able to communicate via hand gestures although and he told me where I could find a hotel. It again meant walking aimlessly in the dark. I decided it was my best option.
I started down the road only to have a car pass me, stop ahead, turn around in the middle of the street and start flashing its lights in my direction. Enough to make me more nervous than I already was!! I didn't know if it was a taxi trying to get my attention or just some crazy dude. I had just passed a small bakery where I could tell someone was baking since the door was open. I went back there and thankfully the young baker spoke English. He was so nice and told me that it's very safe around here and the car was likely a taxi. He offered to walk me to the hotel! Which I decided to take him up on.
So, long story short…I arrived at this 4 star hotel where rooms were 80€ for the night (it was nearly 0400 at this point) but the woman helped me to look up my hostel I had booked for the next evening, called me a cab, and I managed to get myself to the hostel in the city center!
I think I was more nervous because I was in a new country, expected to be dropped off in the city of Sarajevo and has no clue where I was, and had all these scenarios running through my head. What I've learned in this trip, which was reinforced that night was, people are good. They will go out of their way to help you.
Most Amazing Experience:         Exploring Plitvice National Park, Croatia
Plitvice National Park is one of those unbelievable locations that you see pictures of and wonder if they are real. They just seem to beautiful to actually exist somewhere in our world. Well, seeing the lakes and waterfalls in person makes you think you've been transported to some other planet. Absolutely magical. You must visit here if you are in Croatia, you will not be disappointed.
Longest Journey EVER:             Ljubljana, Slovenia – Budapest, Hungary
I bought a 'direct' train ticket from Ljubljana to Budapest which was supposed to take 9 hours. Short story…4 trains, 3 buses, 2 metros, 1 taxi, and 13 hours later, I finally arrived in Budapest! They were doing periodic construction on the railways and so therefore we would take the train for a portion and then have to jump on a bus waiting for us to take us beyond the construction where we got back on another train. Thankfully there was an awesome girl there that could speak Hungarian and English and she figured out everything for us and made sure we all arrived in Budapest 🙂
Best Day Trip:    Lake Bled, Slovenia
Gorgeous. I don't think there is a better word to describe Lake Bled. Sitting amongst the Julian Alps of Slovenia, it is as picturesque as they come. Plus, the lake is an international rowing course which for me, brought back such wonderful memories of my college days of rowing. Just beautiful.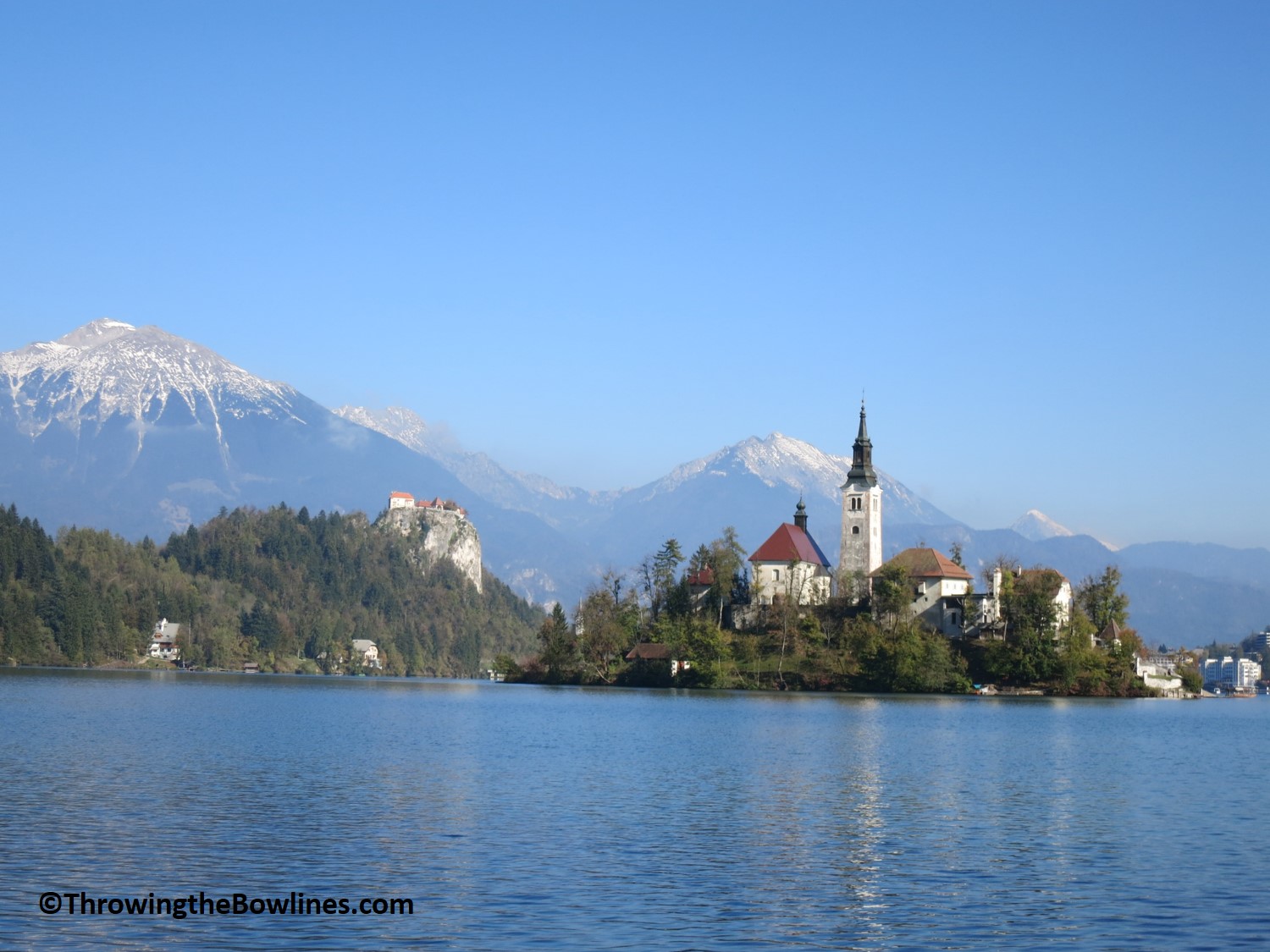 MOST CHOICE EXPERIENCES
This month was  one of exploration, while sprinkled with some adventure. I definitely noticed myself craving more adventurous type activities, even just hiking in new areas. I know that I need to look for more of that in the future months, although because it is more off season, it does get a bit tougher.
Tour of Mostar, Bosnia – the most bombed city since WWII
Day trip to beautiful Lake Bled, Slovenia
Money, Cheddar, Moola, Dough….
Money Spent*:             $1,878.12
I am pretty happy with the amount spent this month considering how quickly I was moving. I was in six different countries (Kosovo and Hungary just 3 days at the beginning and end of the month) and half of those countries (Kosovo, Montenegro and Slovenia) are on the Euro. Things tend to be more expensive with countries that use the Euro versus those that are still using their local currency. There were no major expenses in terms of budget busters, just livin!
*All figures are in U.S. Dollars
If you missed the other monthly summaries, check them out here: Month 1, Month 2, Month 3, Month 4, Month 5, Month 6, Month 7, and Month 8.