Month 4 was my first full month spent within SE Asia and between just two countries. I spent the majority of the month touring Myanmar (Burma) for 3 weeks. May is Myanmar's hottest month and it 'disappoint' in that, whew! Never thought I would be happy to see 95°, but after too many days over 110°, being a tourist, it was a welcomed change! After much debate (with myself…), I decided to return to Thailand and spend some time in one place and relax to close out the month. Is my idea of relaxing the same as yours? Check out what I've been up to lately! 🙂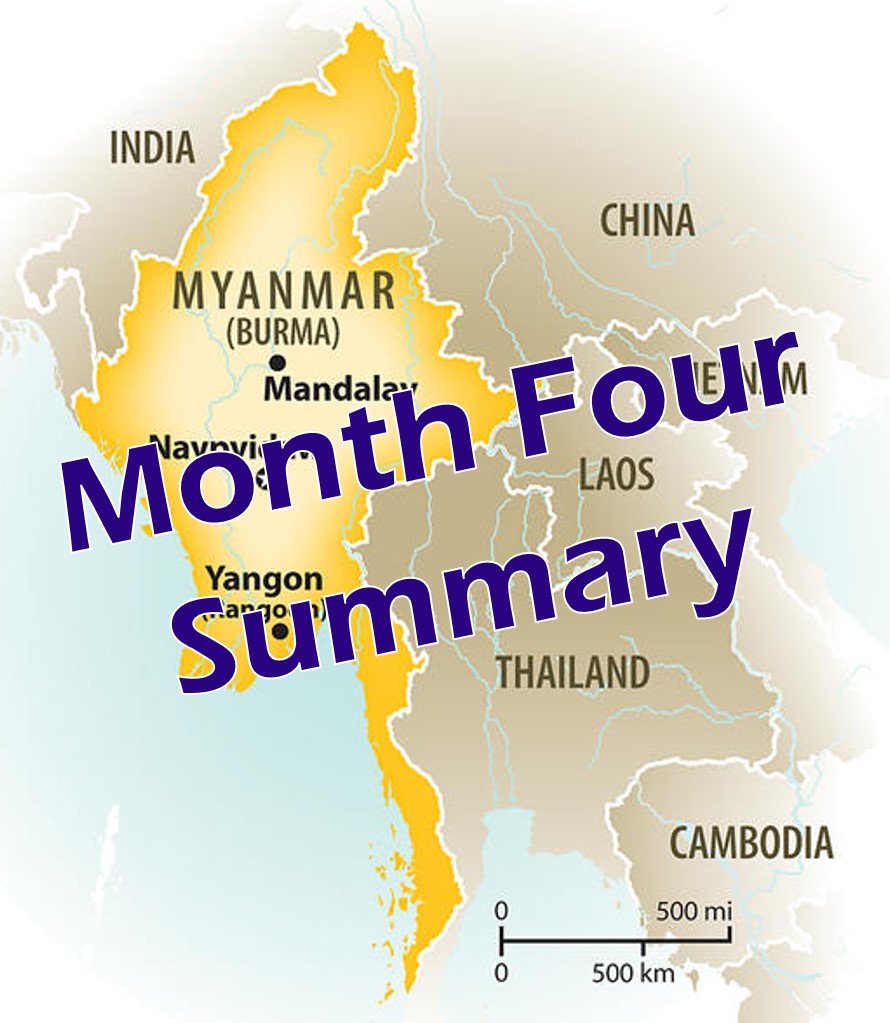 1-31 May 2014
Days traveled:                   31
Countries Visited:              2
Cities/Places Visited:         12
Thailand
Myanmar
Yangon
Kyaiktiyo
Bago
Kalaw
Nyuang Shwe (Inle Lake)
Bagan
Mandalay
Pyin Oo Lwin
Hsipaw
FLIGHT FIGURES
Number of Flights:              3
Bangkok, Thailand (BKK) to Yangon, Myanmar (RGN)
Mandalay, Myanmar (MDL) to Bangkok, Thailand (DMK)
Bangkok, Thailand (DMK) to Chiang Mai, Thailand (CNX)
Distance Flown:                     1,331 miles (2,142 km)
Time Spent on Flights:        4 hours
BUS BUSINESS
Buses were the most efficient way to travel while in Myanmar, so I took my fair share. They are quite an experience and some are more 'luxurious' than others. I definitely took a step back in my goal to avoid hours on a bus this month!
Bus Segments:                        8
Myanmar
Yangon to Kyaiktiyo
Kyaiktiyo to Bago
Bago to Kalaw
Nyuang Shwe to Bagan
Bagan to Mandalay
Hsipaw to Mandalay
Thailand
Chiang Mai to Pai (return)
Distance on Bus:               1,093 miles (1,759km)
Time Spent on Bus:          41.5 hours – tooooo many!
TAXIS
Number of Taxis:      1 – shared with 3 other people
Distance in Taxi:       42 miles (67.5 km)
Time Spent in Taxi:  2 hours
TRAINS
Number of Trains:       1
Distance on Trains:     88 miles (141.5 km)
Time Spent on Trains:             7 hours
This train ride was specifically so I could see and ride across the Goteik viaduct. It is the highest bridge in Myanmar and when it was constructed in 1900, it was the largest railway trestle in the world. The rail line was built as a way for the British empire to expand their influence in the region. It was quite impressive to cross and think it was over 100 years old!
BICYCLES
Bicycles Rented:                   3 – you thought I would have learned my lesson last month. But, no 🙁
Number of Broken Bikes:    2. Stupid chain and chain covers…and seats. I am quickly learning that I am not meant to rent bicycles. I am a magnet for something breaking.
ACCOMMODATION STATS
Different Beds Slept In:                    14
Number of Top Bunks (ugh!):          NONE!! 🙂 First month
Best Accommodation:         Teakwood Hotel, Nyuang Shwe – accommodations are pretty basic in Myanmar, but this one was not only nice, but a deal. My two friends and I split a 3 bed room for $12 each to include fans, a bathroom, free wifi, and breakfast.
Most Unique Accommodation:      Local homestay while trekking in Myanmar – This was such an amazing stay for many reasons, but I think mostly because we were so far off the tourist track in a village that had withstood the tests of time. The people and their way of life was just so beautiful to experience.
Rip-Off Accommodation:                 Memory Hotel, Mandalay – It was my last night in Myanmar before flying out. I tried to go back to the hotel I stayed at previously, but it was full, as were many others in the area. This place tried to charge my $45 for a single room (to be fair, that is the going rate in Mandalay for a hotel), but I managed to get them down to $25. Small room, worst breakfast, and they were the reason I was running for my flight the next day. Boooooo…
GEAR UPDATES:
This month, I made some changes to what I was carrying in my pack. There were things that I just wasn't using and since I am only carrying a 46L bag, they needed to go. I needed to make room for things that made more sense. Some things were shipped home while others were donated at a hostel to anyone who may need them 🙂
Items Lost/Broken/Trashed:
Jeans – I still a big supporter of packing jeans for a trip like this but the only problem…it is bloody hot where I've been traveling! I wore them quite a bit while in New Zealand, but since then they had been hiding in my bag and taking up space. I know I will buy another pair eventually, but for now they needed to go – DONATED
¾ Sleeved Shirt – I had only worn this once and again, it's too hot – DONATED
iPamena Sandals –I was really excited to bring these on my trip as I thought I found the perfect sandal which would be multipurpose – shower, 'nicer' dress up, and every day wear. Frankly, they were more of a pain than they were worth. I bought a pair of flips flops (jandals – for you Kiwis, thongs – for you Aussies) in NZ and have lived in those. This just reinforces the fact to pack what you actually like and will wear – SHIPPED
Hoodie (bought in NZ) –It was cold while I was in NZ for a while so I had to buy an extra layer. Since then…this was just another thing I had to carry – SHIPPED
Green Tee – basic tee that had just become worn out – DONATED
Sleeveless Shirt – just wasn't wearing it because it was too thick (i.e., hot) and it was taking up too much room – SHIPPED
2 Elephand Pants –I bought two pairs of these things as they are all over night markets in Thailand. They are light, airy and good when you need pants to enter temples. Well, one ripped the first day of wearing them, the other ended up with bleach on them after one wash – TRASHED
Day Pack – My trusy day pack…it served me well for the first 4 months, but it was time to upgrade. The pack I was carrying was a light weight, packable backpack. I foolishly thought that I might need to put what I was carrying in the day pack into my main pack at times, and thought it would be nice to stuff the day pack in too. What was I thinking?! There is no room in my main pack for anything extra! Basically, I needed a more sturdy day pack, not only for everyday uses but also trekking – DONATED
Items Purchased:
Day Pack – the big purchase of the month. See above on why I ended up ditching my original. Very happy with this purchase, although more expensive than I would have liked to spend, but I know it will last which is what I need for the next 7 months ($100)
2 pair Elephant pants – see above, already trashed both. ($3/each)
2 pairs of shorts – athletic shorts for Muay Thai training ($15/each)
2 tanks tops – for Muay Thai training ($4/each)
Cute top – since I got rid of my sleeveless shirt, I needed something 'nicer' 🙂 Plus, it was on super sale ($12)
MISCELLANEOUS MENTIONS
 Books Read:                       1
Managed to get one book this month! Suggestions are still welcome.
Unsouled, Neal Shusterman
Number of days wearing Shoes:      7 – seven too many, in my opinion.
The only reason I wear shoes (in lieu of flip flops or bare feet) anymore really comes down to three things:
Flights – I usually attach my shoes to my bag so when I have to check it, I end up having to wear them. Boooo…
Trekking – Valid reason, I suppose. If I didn't hate when my feet are filthy so much, I probably would prefer trekking in flips flops.
Running – if you know me at all, you know how much I love to run….haha. Only to stay fit!
Number of Weddings Crashed:       1
While trekking in Thailand, we happened upon a small village where a wedding was taking place! We were welcomed in to the reception to enjoy traditional Myanmar food of rice, pork fish, rice salad, vegetables, and green tea. We definitely felt like the wedding crashers as we had a lot of stares, but the people could not have been more welcoming!
Stupidest Decision:                           Booking a Roundtrip Flight to Myanmar
I have found that most travel lessons are learned by making poor decisions or from other traveler's advice. I did a bit of research on Myanmar before deciding I wanted to go, but probably could have done more. I knew I would need to get my visa in advance in Bangkok and this would involve a trip to the Myanmar Embassy. Now, I typically book one way flights because I don't like to be locked into a set time frame and this has worked well for me in the past. But, everything I read in my research was that the embassy was going to ask for my proof of onward travel. Since I was on a tight timeframe to get my visa and my leaving for Myanmar, I booked a return flight to/from Yangon. Not only did I not need to show proof at the Embassy, but I was then in a dilemma on how to get back to Yangon after traveling over 25 hours north by bus (over several days). Solution…call it a loss on the return flight and score a $40 one way flight out of Mandalay instead! Things always work out 🙂
Best Decision:                                    Returning to Thailand
When I started this journey many people asked where I was going to be going over the next year. I had not planned anything and most people were shocked by this, probably because it is not comfortable – the unknown. For me, it was exactly what I wanted. It was never about getting to as many countries as I could, just to say I had been there. For me, I wanted experiences. I wanted to take my time if I found something I enjoyed, or leave if I didn't like a place, but to do it on my own agenda. This is what brought me back to Thailand…I really loved it. I needed a break, to not be a tourist for a bit, stay in one place, and to get fit again. I am so glad that I have allowed for myself to have this flexibility.
MOST CHOICE EXPERIENCES
Trekking in Myanmar
Exploring the hundreds of pagodas in Bagan
Visiting the Gardens at Pyin Oo Lwin
Returning to Thailand
Myanmar was a pretty amazing country and I am very glad I was able to get there before it really becomes overcrowded with tourists. It is changing so quickly to accommodate the influx of tourism and within ten years, I estimate, the country will be drastically different. If you have any desrire to visit Myanmar, I encourage you to go as soon as possible!
Money, Cheddar, Moola, Dough….
Money Spent*:             $1,544.48
Yahooooo..this is my best month so far! I am very pleased with this figure as many had warned me that Myanmar was going to be expensive. I was prepared for this, but I found it to be very reasonable. You can make it as expensive as you want, really (just like any country), but if you are willing to make compromises, it is very affordable. I will be putting together a summary on my time in Myanmar and a real breakdown of costs as I think it will surprise many. If I can continue to budget well, I think I can recover from my first two months of splurges, while still having fun J
*All figures are in U.S. Dollars