Month eight was one full of changes. I finally found my way out of Asia after 5 months and moved into a new continent. I was excited to explore a new part of the world and have a change of scenery. I was able to go on many adventures throughout the month and got my first taste of true overland travel. See what month 8 encompassed for me!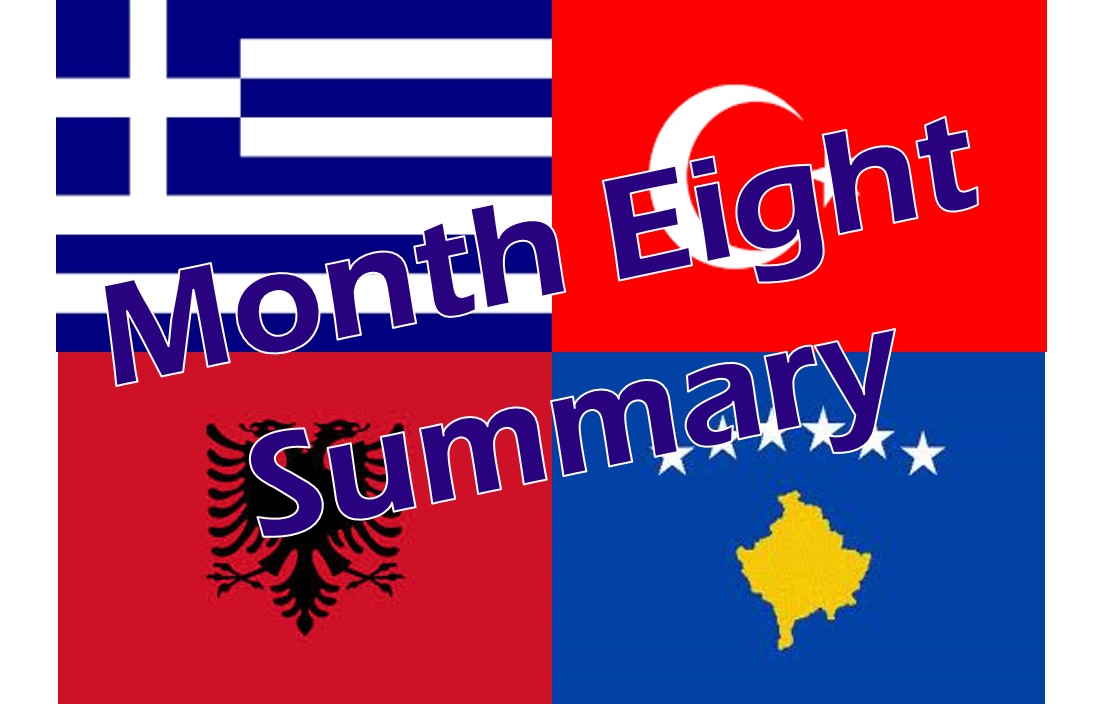 1-30 September 2014
Days traveled:                   30
Countries Visited:              5
Nepal
Turkey
Greece
Albania
Kosovo
Cities/Places Visited:         15
Nepal
Namche Bazaar
Phakding
Lukla
Turkey
Istanbul
Ephesus
Cappadocia
Greece
Rhodes
Santorini
Athens
Meteora
Albania
Kosovo
FLIGHT FIGURES
Number of Flights:              2
Lukla, Nepal (LUA) to Kathmandu, Nepal (KTM)
Kathmandu, Nepal (KTM) to Istanbul, Turkey (IST)
Distance Flown:                   3,372 miles (5,423 km)
Time Spent on Flights:       8  hours 20 min
BUS BUSINESS
I spent way to much time on buses this month and unfortunately, I think this will continue over the next few months. Turkey is a huge country and getting from point A to B takes a long time. I was happy to get to the Balkans where the countries were just a fraction of that size!
Bus Segments:                        8
Turkey
Istanbul – Ephesus
Ephesus – Pamukkale – Cappadocia
Cappadocia – Mamaris
Greece
Meteora – Ioannina – Kakavija
Albania/Kosovo
Gjirokastra – Fier – Berat
Berat – Tirana
Tirana, Albania – Prishtina, Kosovo
Distance on Bus:               1,807 miles (2,908 km)
Time Spent on Bus:         48 hours
TRAIN TIME

I was finally able to ride the train again, which was a nice change from all the buses I had been enduring. The scenery really is so much better on trains. They do make quite a few stops, but they are quite quick…I need more trains in my life!
Train Segments:                        1
Greece
Distance on Train:                    219 miles (352 km)
Time Spent on Train:             5 hours
FERRY FUN

I had the opportunity to take quite a few ferries this month, as well! Originally, I thought that I would make my from Turkey to Greece by bus via Istanbul. Then I realized since I would be on the west coast of Turkey, I could just catch a ferry and explore some of the islands on the way up to the main land! Such a great way to travel!
Ferry Segments:                1
Turkey/Greece
Marmaris, Turkey – Rhodes, Greece
Rhodes – Santorini
Santorini – Pireaus (Athens)
Time Spent on Ferry:            16 hours
ACCOMMODATION STATS
Different Beds Slept In:                     19, including 3 night buses and 1 night ferry
Number of Top Bunks (ugh!):          2
Best Accommodation:         City Circus. Athens, Greece – This hostel was AMAZING! It is only a couple years old, so very modern, fresh, and clean. Although they have decorated with a vintage feel. The room was the most expensive I have paid for a dorm, but given the location, amenities, and amazing breakfast buffet, it was well worth it! I still dream about the homemade Greek yogurt and honey…
Most Unique Accommodation:     Shoestring Hostel. Cappadocia, Turkey – The town of Cappadocia is beautiful and quitw interesting. The landscape is scattered with rock formations that were created thanks to intense volcanic activity and millions of years of weather. The result is what they refer to as "fairy chimneys". Thousands of years ago, people realized that these rock formations would make good homes as they could carve out the soft rock and make cave houses. I slept in a cave for a couple nights and it was really awesome!
Worst Accommodation:      15 hour night bus from Cappadocia to Marmaris. It was hot, uncomfortable and neverending….
GEAR UPDATES:
This month I had to start thinking about the changing of the weather that I would soon me encountering. The wardrobe is going to shift a bit and I will continue to readjust over the next couple of months.
Items Lost/Trashed/Shipped:
Headphones – another pair broken. 3rd on the trip…TRASHED
Clothes – It was finally time to give up some of the summer clothes to make room for trousers and long sleeves! SHIPPED
Items Purchased:
Headphones – this is my 3rd pair I've had to buy. Enough already!
Toothbrush covers – Losing your toothbrush (or leaving it behind) really sucks, but you know what is worse? Loosing your toothbrush COVER. Good luck finding another! It took me 3 months to find one and I can't explain how excited I was to find something so simple 🙂
Jeans – The cooler weather is coming and I can't wait! It was time to start readjusting the bag and preparing for fall like weather!
Shoes – I was looking for some Toms but frankly, I couldn't justify spending 65 Euro. I found knock offs at a market in Athens for 15 Euro. Deal!
MISCELLANEOUS MENTIONS
Books Read:                       4
The Alchemist, Paulo Coelho
A Million Little Pieces, James Frey
Broken April, Ismail Kadare
The Snow Child, Eowyn Ivey
Favorite Meal:         Greek Salads and Greek yogurt
It has been so difficult to find fresh foods, like salads, anywhere in Asia. After 5 months salad deprived, I was so excited to have delicious fresh vegetables available as a staple item. The feta cheese was the freshest I've ever had and the olives were to die for. I indulged whenever possible.
On this trip, yogurt has become a go-to food for me. Mainly for breakfast as it is an easy, tasty alternative to soups, rice, and noodles which just didn't scream breakfast to me. I ate quite a bit of Greek yogurt back home, but to experience the REAL homemade Greek yogurt…it is amazing!! I wish I could find that in every supermarket, alas…it isn't quite the same.
Most Relaxing Moment:        Swimming in the Mediterranean Sea
Most gorgeous waters ever? Quite possibly. While visiting Santorini, Greece, I stayed in the more budget friendly area, Perissa, where they have beautiful black sand beaches. This turned out to be the best place to stay, in my opinion. Fira and Oia are the cities that are known for the iconic photos of the bright blue calderas and sunsets. But, they are completely overrun with hoards of tourists. They are cruise ship stops and constantly busy. I was able to take the local bus to each city (less than 20 min) and still have my beautiful beaches to myself!
Biggest Splurge:         Hot Air Balloon Ride. Cappadocia, Turkey
This was something I had wanted to do for a few years, ever since seeing photos of it online. It was just SO beautiful! I almost didn't go to Cappadocia because it was so far out of the way (12 hour bus ride) and I knew it would be expensive for the balloon ride. But, I finally convinced myself that it was worth it. It was absolutely amazing and I am so glad I did it!! The weather and sunrise were perfect and I felt like I was in a dream. It was worth the long bus rides and money!
Best Moment:             Arriving in Europe
I spent nearly 5 months in Asia and, don't get me wrong….I loved every minute of it. But, I was so incredibly ready for a change of scenery and culture. When I finally touched down in Istanbul and started my European tour, it felt so nice. I am excited to explore churches instead of temples, have bread instead of rice, and some decent beer!
Favorite Town You've Never Heard Of:    Gjirokastra, Albania
Albania blew me away! I had no idea what to expect and upon arriving in the border town of Gjirokastra, I knew I was going to like it. The old town is dominated with classic Ottoman style architecture where the homes have slate roofs, cobblestone roads, beautiful mountains surrounding the city and a castle overlooking the city. It was nothing short of impressive!
MOST CHOICE EXPERIENCES
New experiences on a new continent, so many great things!
Island hopping and visiting the ancient ruins in Greece
Exploring the gorgeous town of Gjirokastra, Albania
Money, Cheddar, Moola, Dough….
Money Spent*:             $2,433.60
This month was better than last, but not by a whole lot. I switched continents from Asia to Europe and quickly learned that the Euro is not as friendly as Asian currencies! I did score a great deal on my flight from Nepal to Turkey. I used 25,000 frequent flyer miles and $90! Aside from that, Greece was just bloody expensive – accommodations, transport, food, etc. and I splurged on some activities.
*All figures are in U.S. Dollars
If you missed the other monthly summaries, check them out here: Month 1, Month 2, Month 3, Month 4, Month 5, Month 6, and Month 7.