Five months on the road….This month was one that I figured would come at some point. I spent most of the month of June in one spot in Thailand to slow down a bit. It was exactly what I needed in – I was able to workout daily, sleep in the same bed, and revive my wanderlust J I eventually had to leave behind Thailand and set off on my next adventure which took me to Malaysia, a country that wasn't on my radar prior to leaving. I was so impressed with Malaysia and everything it had to offer and I just started with the peninsular side! It was such a great month that helps to remind me why I sacrificed so much in order to do what I am doing. So…see what I have been up to!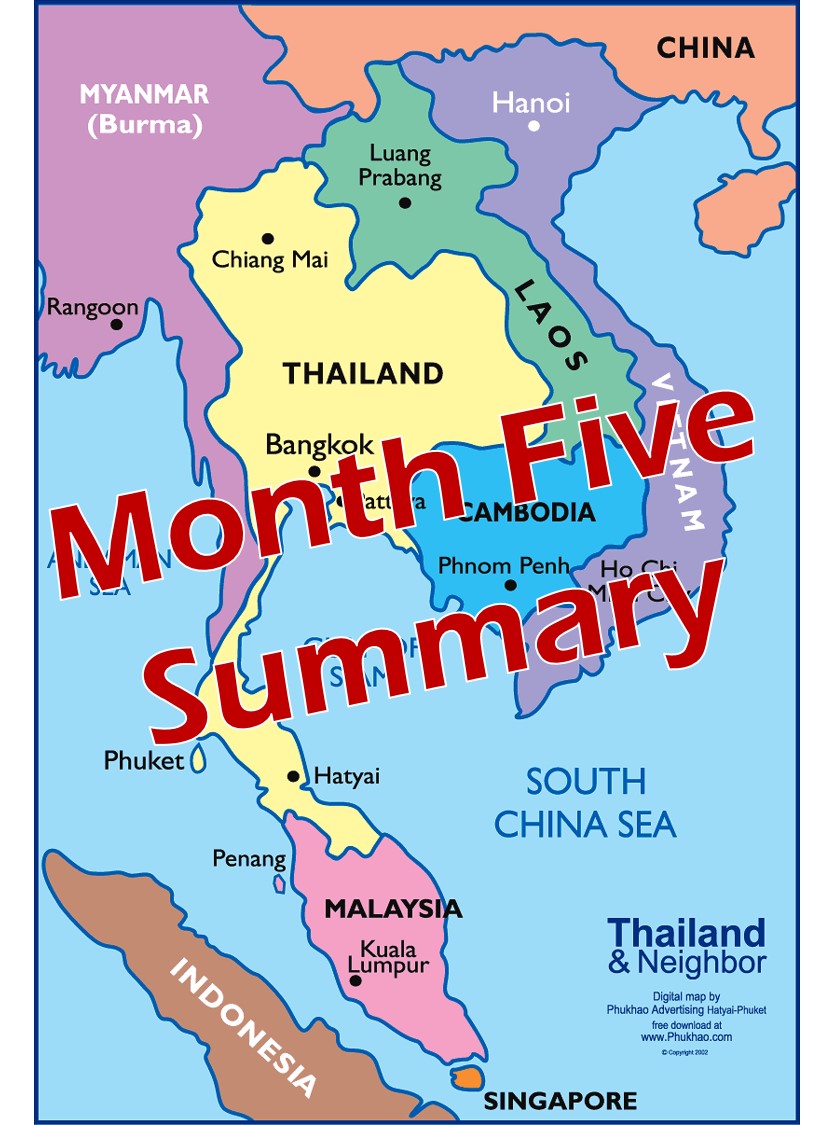 1-30 June 2014
Days traveled:                   30
Countries Visited:              2
Cities/Places Visited:         5
Thailand
Malaysia
Kuala Lumpur
Cameron Highlands
Kuala Tahan (Taman Negara)
Penang 
FLIGHT FIGURES
Number of Flights:              1
Chiang Mai, Thailand (CNX) to Kuala Lumpur, Malaysia (KUL)
Distance Flown:                     1,090 miles (1,750 km)
Time Spent on Flights:        3 hours 45 min
BUS BUSINESS
Bus Segments:                        5
Thailand
Malaysia
Kuala Lumpur to Cameron Highlands
Cameron Highlands to Jerantut
Kuala Tahan to Cameron Highlands
Cameron Highlands to Penang
Distance on Bus:               409.75 miles (658.5 km)
Time Spent on Bus:          19 hours – much better than Month 4!
BOATS
Number of Boats:      2
Distance in Taxi:       39 miles (63 km)
Time Spent in Taxi:  3 hours 15 min
TRAINS
Number of Trains:       2
The public transportation systems in Kuala Lumpur are nothing less than impressive! They offer express trains, metro lines, commuter lines…all at reasonable prices. In addition, they have free buses that go all over the city! Check at your hostel or hotel for a bus route flyer and head to the nearest bus stop. Make sure you get the purple buses (those are the free ones) and the correct color line for your destination…so easy!
BICYCLES
Bicycles Rented:                   NONE! Finally learned my lesson 🙂
ACCOMMODATION STATS
Different Beds Slept In:                    6
Number of Top Bunks (ugh!):          None – two month streak now!
Best Accommodation:         Old Penang Guesthouse – Georgetown, Penang. This hostel is in a 100+ year old row house which was beautiful. The dorm rooms were a bit cozy, but nice beds, individual outlets, lockers, and breakfast included. It was in a great, central location as well.
Most Unique Accommodation:      Hide in the middle of the Jungle – Taman Negara. Nothing like sleeping in the world's oldest tropical rainforest at 130 million years old! Trekking through Taman Negara was an amazing experience and sleeping in the jungle was amazing as well. Sleeping on a wooden bunk with just a thin sleep sack and my backpack as a pillow actually gave me a solid night's sleep.
 GEAR UPDATES:
After last month's reorganization of my pack, I was in fairly good shape. I made a few adjustments again this month, but managed to hang onto nearly everything 🙂 I did pick up a couple things in Kuala Lumpur, although. It was hard to resist with all these shopping options everywhere you turn!
Items Lost/Broken/Trashed:
Skirt – It was taking up too much room and was too hot. Gotta go! – SHIPPED
Items Purchased:
Leggings – Not sure how I lived five months without some! ($10)
2 Tops – Time for something new…things were starting to show their wear ($15/ea)
MISCELLANEOUS MENTIONS
Books Read:                       1
The Fault in our Stars, John Green
Number of times getting Sick:      1
It finally happened…the dreaded food poisoning!! I am actually quite surprised that I made it over 4 months without it. It was a bad plate of pad thai that brough me down quite hard. I was fortunate for a few reasons though:
Meds – I had come prepared with anti-nausea meds and the ever famous, Cipro. I actually FaceTimed my friend who is a PA and asked her what I should take! Nice to have friends on call J
Private Bathroom – thank goodness! I was up all night and I was so glad I wasn't sharing a bathroom down the hall.
Nowhere to Go – I think pain of food poisoning is multiplied when you are traveling because you are usually on the go and have somewhere you need to be. Thankfully, I was staying put in Pai and within 24 hours, it had run its course.
Games of Poker Played/Won:          5/0
The trainers at the muay thai gym played poker a couple times a week and would convince people to come down and join them. I really hadn't played much poker before, but I knew how to play, so I figured I would join my friend for a game. I had fun, but each time lost (never any more than $20). Although, I did come reallllllllllyyyyy close my last time to at least being in the final 3 (to split the pot), but was knocked out 🙂
Biggest Milestone:                             Having pages added to my passport
I know this may not seem like a big deal, but to me it was definitely a milestone in traveling! Having to get more pages added to my passport meant that I had been busy filling it up with stamps and seeing new countries! Nevermind that I had to sit at the U.S. Embassy in Kuala Lumpur for nearly 3 hours…it was worth it!
Stupidest Decision:                           Boat ride to Taman Negara
In order to get to Taman Negara in Malaysia, you have two options. You can take a bus from Jerantut straight to the town of Kuala Tahan (just across the river from Taman Negara) or you can take a boat ride. The boat is typically sold to all the tourists as a beautiful cruise to the world's oldest tropical rainforest and usually included in the package transport deals. After a windy 3 hour mini bus ride to Jernatut, I had to wait another 3 hours for the boat to arrive in a town with not much going on. Let me save you the time and agony….don't take the boat ride. It is 3 hours of sitting on the wooden bottom of the boat, with no room to stretch your legs, and sun beating down on you endlessly. Brutal. Aside from some water buffalo…they scenery was standard forest. Save yourself the time and money and opt for the one hour bus ride.
Best Decision:                                    Renting a Motorbike
Sometime it is the simple things. If you recall in Month 3, I chose to rent a bicycle because I was scared to ride a motorbike (scooter). I realized it was about time I faced my fear and learn to ride one. I also figured I was much better off learning to ride in a town considerably less busy than say, rather than say, Ho Chi Minh City. I rented an automatic one that was quite sturdy for my last week. Not only was it so easy to drive, it made life so much easier!
MOST CHOICE EXPERIENCES
By spending the majority of June in Thailand at the muay thai camp, I didn't 'do' quite as much. Which was exactly what I needed. Once I left Thailand, I was revived to get out and see more. I had a renewed travelling spirit and I am still carrying that. As I said from the beginning, this trip isn't about getting to as many places as possible, it is about travelling slowly, experiencing countries and the locals, and really immersing myself. I think I can say that I accomplished that this month and that makes me happy.
Money, Cheddar, Moola, Dough….
Money Spent*:             $1,070.08
BEST MONTH YET!! I beat last month's spending by nearly $500 – that makes me very happy! The main reason my spending was so low this month was because I spent so much time in one location (20 days out of the month of June in Pai, Thailand). I had negotiated a monthly rate with the resort which equated to ~$5.10 a night (double bed, private bathroom, air con, and refrigerator!). Staying in one place always helps to lower costs – the faster you move, the more expensive your trip will be – it is just a fact (with transportation usually being the most expensive part). Malaysia was a bit more expensive than Thailand, but still quite reasonable. I managed to travel around peninsular Malaysia quite a bit too. I think I have done well this month! Maybe it is just me saving for a rainy day 🙂
*All figures are in U.S. Dollars