I was drawn to visit Borneo to search out the endangered (and quickly disappearing) wild orangutans. But, I quickly discovered that Borneo offered some impressive diving. Actually, some of the best in the world.
Semporna
The heart of the diving is in a town called Semporna which sits on the Celebes Sea. I am going to be honest….Semporna is a bit rough around the edges. It is filled with rubbish and there is a foul smell that lingers all over the town. I wouldn't necessarily call it inviting. When I first caught a glimpse of the 4 foot monitor lizard that helped himself to the rubbish behind my first guesthouse, I nearly lost it.
There is also some legitimate concern with regards to safety in the area thanks to some recent kidnappings, shootouts, and pirates. It is like words out of a novel, but it is very real. Literally 12 hours prior to making my way out to Mabul Island to dive, there was a shootout between 8 pirates and the Malaysian maritime police. It ended with one police officer dead and one kidnapped. Very sad.
Once I got settled in though I discovered some good. The people were beautiful. Any time I needed help or had questions, they were always happy to point me in the right direction. They have a great market each morning filled with fresh fruits, vegetables, and seafood that couldn't have been fresher.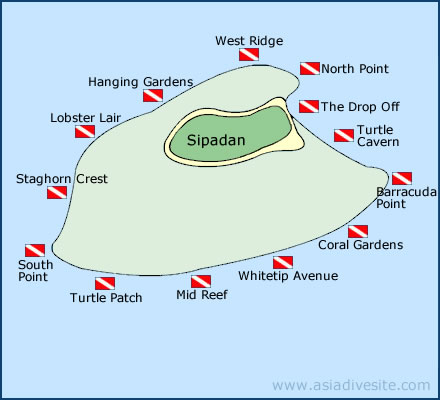 Mission: Track down a Permit
The reason I was in Semporna was for one thing…scuba diving. My first day in town, I had one objective….to find a permit to dive at Sipadan. Sipadan is Malaysia's only oceanic island and home to one of the richest marine habitats in the world. In 2006, the government began limiting the number of people that can dive at Sipadan to 120/day in order to preserve the abundance of beautiful marine life and corals. Many people plan months (sometimes over a year) in advance in order to secure a permit. Most dive shops have about 7-8 permits daily which get snagged up quickly. I visited 3 shops that had permits available, but not until a week later. I really didn't like the idea of hanging out in Semporna for a week, so I kept searching.
I then visited Uncle Chang's dive shop and was told the same. Although, they did offer the best deal for 3 dives and Mabul and Kapauli Islands (my alternative). I decided that I would join them the next morning to get my feet back under me since it had been 3 months since my last dives. I added my name to a wait list in case anyone might cancel for Sipadan and crossed my fingers.
I was thoroughly impressed with Uncle Chang's! Upon arriving at Mabul Island (where you can opt to stay), we were given breakfast and our gear. Their dive guides/instructors were professional and helpful throughout the day. We took the boat out and back to the jetty after each dive to restock tanks and have lunch. We did 3 dives and each was a bit different. Most of the sites around Mabul and Kapauli are good for macro diving, so you are searching for smaller things. We saw lots of nudi branchs, tropical fish, and beautiful corals. Great day of diving!
Once we returned to Semporna, I was told that there had been a cancellation and one permit was available for 3 days later, yayyyyy!!!
Living up to the Reputation
I am by no means a very experienced diver (I have only logged 30 dives), but all of them have been done in countries other than the U.S. I live in a land locked state, so I dive when I am on holiday. But, I can honestly say that I now understand why Sipadan Island consistently finds itself on the top 10 dive sites in the world!
The diving was just impressive. It was quite a contrast from diving at Mabul and Kapauli as here was not as much macro stuff, but larger marine life. We dove 3 different sites to include: Mid Reef (wall dive), Barracuda Point, and Turtle Cave (Tomb). Each was unique, but one thing was consistent…sharks and turtles everywhere!
Barracuda Point was my favorite dive site which gave us glimpses of nearly everything. Within moments of going down, at about 8 meters, there was a massive school of jackfish swarming all around us! It was incredible! At one point there was a shark swimming through the school that nearly blended right in. So amazing! We encountered over 20 sharks during this 50 minute dive and at one point I counted 8 in my field of vision. Turtles gliding through the crystal blue water or napping peacefully were around every corner.
Unfortunately, I am not traveling with underwater casing for my camera and rely solely on my GoPro. It takes great videos, but the photos are not that impressive. Check out my dive videos on YouTube here:
Sipadan 1 – Have you seen a larger school of fish?
Sipadan 2 – How many sharks can you count?
Sipadan 3 – Sleepy turtles!
Sipadan 4 – Gil and friends 🙂
This experience is really hard to put into words and something that as a diver, you need to experience for yourself!
Tips for Diving Sipadan:
Permits:  Book a permit as far in advance as possible. Tour operators are not created equal, so do your research. There is probably a reason that there are companies that have permits available on any given day. I can personally recommend Uncle Chang's and I am a stickler for safety, quality rental equipment, and small dive groups.
Certification:  In order to dive Sipadan, you need to be Advanced Open Water certified. There is only one dive site that you can dive if you are are OW certified.
Be forewarned: There will be divers of all skill levels diving here because it is one of the world's greatest dive sites. I questioned how some of these people ever got a certification, let alone Advanced Open Water – seriously. It was painful to see them kicking coral, surfacing and descending because they weren't paying attention, and disregarding their guide. After my first dive at Sipadan, one guide literally ripped a new one into his group because they didnt listen to him or follow his instructions. As he said…if you would have kept going in the current, you would've ended up in the Philippines! Pick you buddy partner carefully!
Accommodations: Some tour operators require that you stay at their accommodations on Mabul Island (accommodations were banned on Sipadan years ago for preservation) and purchase a dive package. It typically includes at least one day of diving at Sipadan, but then usually a day or two at the other surrounding islands. They need to get their money outta ya, considering most people just want to do Sipadan. Uncle Chang's was the only operator I found that did day trips to Sipadan and didn't require a stay on Mabul. It is cheaper to stay in Semporna, but the ambiance of stay in bungalows of the water is pretty cool too. Warning – don't expect luxury on Mabul!
Photo Credit #1:  www.asiadivesite.com