After trekking steadily for the first four days, I knew it would start getting tougher as we continued to gain elevation. Over the next four days, we were set to gain nearly 5,000 feet (1,500m) of elevation across 17 miles (27.5km) en route to EBC. As we continued to get closer, I was a mix of emotions: anxious, excited, nervous. I was just hopeful I would arrive safely. If you missed Part 1 of this series, check it out here.
Day 5: Tengboche – Pheriche
I was awoke early in hopes that the butter lamp I had lit the day before would show some return with clear weather. Nope…no luck. More rain and clouds. It was discouraging but was still hopeful that at some point the weather would clear and we would get some amazing views of the Himalayas and Everest.
Thanks to the rain and increase in elevation, the morning was quite brisk so we layered up for our 0800 departure. Jangbu had told me it would be a rather easy day after yesterday's big climb. We had to first walk on a pretty steep decline in order to cross a bridge over the river below. From there, it was a steep trek up the other side. Felt good to get the heart pumping a bit!
On the way to Pangboche, I came across this adorable girl and dog. The dog was so awesome…the little girl would pull on his fur and lay on him and he never flinched. Many of the people are afraid of the dogs as there are some wild dogs that do attack their chickens and smaller livestock. Most of the dogs in the towns are friendly, but aren't vaccinated. That rarely stopped me from petting every one…I couldn't help myself!
We walked for about 2 hours before we arrived in the town of Pangboche where I had milk tea made with fresh yaks milk! Since we were nearly at 12,500 feet (3,800m) Jangbu said we would start seeing yaks. They are not able to live below 12,000 feet (~3,500m) and can live comfortably up to 20,000 feet (6,100m)!
During our tea break, I could see that the clouds were starting to break up…a welcome sign! We decided to push onward and headed back onto the trail. About 15 minutes into our hike, I looked up and said, "I see mountains!" Jangbu replied, "Where?!" They were dead ahead and peeking through the clouds. The first one we saw was Lhotse at 27,939 feet (8,526m) which is the 5th highest in the world!
Jangbu said that if we waited to see if the clouds continued to break up, there was a good chance we would see the Everest! I tried to conceal my excitement, but it was a poor effort…I really wanted to see Everest!! I had been so patient over the last few days when we should have had opportunities to see the world's highest peak, only to be covered in thick cloud.
After about 5 minutes….my patience was rewarded!! It peeked through the clouds and over the next 15 minutes, it continued to play peek-a-boo in the clouds. It was an overwhelming feeling, and one hard to describe, to catch the first glimpse of this massive mountain. Jangbu told me we were very lucky because if we were to have continued on this trail, without stopping for another 20 minutes, Everest would have been out of our view, clear skies or not! I felt very fortunate to have caught this first glimpse. I was just hopeful I would see mighty Everest again.
We continued on toward our lunch break spot of Orsho. There is just one teahouse and restaurant in Orsho and unfortunately when we arrived…it was still closed for the season! Although Jangbu had asked in Pangboche if it was open and told yes, these are the surprise you can find which it is still monsoon/low season. It wasn't a problem as Jangbu and I just took a short break and ate our snacks before we started the last leg of today's journey.
As we came into the town of Pheriche 14,009 feet (4,270m), I spotted my first yaks! I was quite excited to see them for some reason. They are just impressive animals and I loved to see that they were able to wander the fields freely.
We made it to our teahouse and had plenty of time to relax in the afternoon. I lounged around and continued to read a book that I bought just before we left, "Touching My Father's Soul" by Jambling Tenzig Norgay, the son of the first Sherpa to summit Everest with Sir Edmund Hillary. He wrote about his fathers expedition and also his which was in 1996, a very tragic year on Everest where 15 people lost their lives. I was really enjoying reading this as I followed their path to base camp. It made the trek so much more real to me as I learned so much more about mighty Everest, the area and the people.
That evening as the sun was beginning to get lower in the sky, I happened to look out the window and see mountains again! I went outside and I couldn't believe my eyes…it was absolutely beautiful!! Massive mountains surrounded us from every angle! To not have seen this beauty the first 4 days, I was soaking up every bit, even if it was about 30°F! The pictures simply do not do it justice…I was able to sleep well that evening dreaming of the gorgeous peaks. I think it is safe to say that the butter lamps we lit at the monastery the night before worked! 🙂
I took some time to think about how I was feeling and think about the last four days. I realized how fortune I was to be feeling so well and not having any issues with the trekking. A lot of people describe the trek as if they were trying to breath in wet cement. I had not encountered any troubles breathing, no indications of altitude sickness, no headaches, etc. Although I have been away from Colorado for 6+ months, I think I owe some of this to my Colorado lungs. Living at over 5,300 feet (1,516m)and playing in the mountains, 10,000+ feet, as much as possible I think prepared me for the elevation. Pheriche sits at 14,009 feet (4,270m) – the highest elevation I had been before was 14,270 feet (4,349m) at the summit of Gray's Peak. Crazy to think I had been higher than this before! I was very thankful to have been feeling so well.
Trekking Stats
Distance:             5.3 miles (8.5km)
Time*:                  5.5 hours
Elevation:            1,115 feet (340m) overall
Day 6: Pheriche – Dughla
I awoke this morning feeling well rested and refreshed! I had my best nights sleep so far and I have to believe it had something to do with how happy I was after yesterday's trek and mountain views. Jangbu and I had a chat at breakfast about our plans for today. There is a fairly standard itinerary for trekking to EBC, but our trek today was going to be a bit different than the standard itinerary for a couple of reasons.
Dingboche Closed – Most trekkers will not spend the night in Pheriche, but instead will stay in a town called Dingboche. Unfortunately, we were unable to stay in Dingboche because the town shuts down every year for a couple of months during the monsoon season because they cannot make a fire/smoke. It is an old belief that if they make smoke (have a fire) it will anger the spirits and they will have a bad farming season next year. So, the whole town – people and animals – move down in elevation and will not return until early September.
Acclimatization Day – many itineraries call for another day to adjust your body to the altitude. Once you are over 3,500m, it is advised that you do not gain more than 300-500m of elevation in a day in order to prevent altitude sickness. Since we were above 4,000m at this point, we considered spending 2 nights Pheriche and take a 4-5 hour acclimatization hike and then head onto Laboche the following day. This would mean that the trek to Laboche would be a long day and we would be gaining quite a bit of elevation.
Most trekkers are usually in Dingboche at 4,410m for their acclimatization day, which is 140m higher than we were in Pheriche. If we were to have an acclimatization day and then trek to Laboche the following day, we would be gaining over 600m of elevation.
Jangbu and I discussed it and since I was feeling well we decided that instead of having an acclimatization day in Pheriche, we would continue on to a town between Pheriche and Laboche – Dughla. We decided this would be better so that we would not be gaining so much elevation the following day. Again, I was very happy to be able to have the flexibility to make changes to the itinerary based on how I felt and what made the most sense.
Upon leaving, the weather was pretty shit….cold, overcast, misty and WINDY! Jangbu told me that it is always windy in Pheriche because it sits in the valley. Although, it was a very short 1.5 hour hike to Dughla at 15,157 feet (4,620m), it was actually more strenuous than the other days had been. It was a fairly gradual climb over the 1.5 hours, but it was the first day I noticed that it was not as easy as it had been given the relatively flat conditions. I was breathing and working harder than I had been.
Dughla is a very small town with just 2 teahouses (and another under construction). Upon my arrival, I realized that I had surpassed the highest elevation that I had ever been before since we were over 15k feet (4,572m), which was a milestone to me! I was joined by the other friends I had made on the trail, as they decided to take the same approach. We had a lazy afternoon and enjoyed reading and relaxing!
Trekking Stats
Distance:             2.5 miles (4km)
Time*:                  1.5 hours
Elevation:            1,148 feet (350m) overall
Day 7: Dughla – Laboche
This was the first night that I did not sleep well. I woke up around 0200 and just could never get back to sleep. Jangbu did tell me that most people tend to not sleep as well once they get to the higher elevations. I was still feeling well, was just lacking a bit of sleep!
We set off toward Loboche around 0930 and expected it to take about 3 hours. Right out of the gate, we had a strong incline to conquer which too about 45 minutes. During this time, we did get some extra motivation with beautiful views of many mountains; Ama Dablam, Taboche, Cholatse, and Thamerku!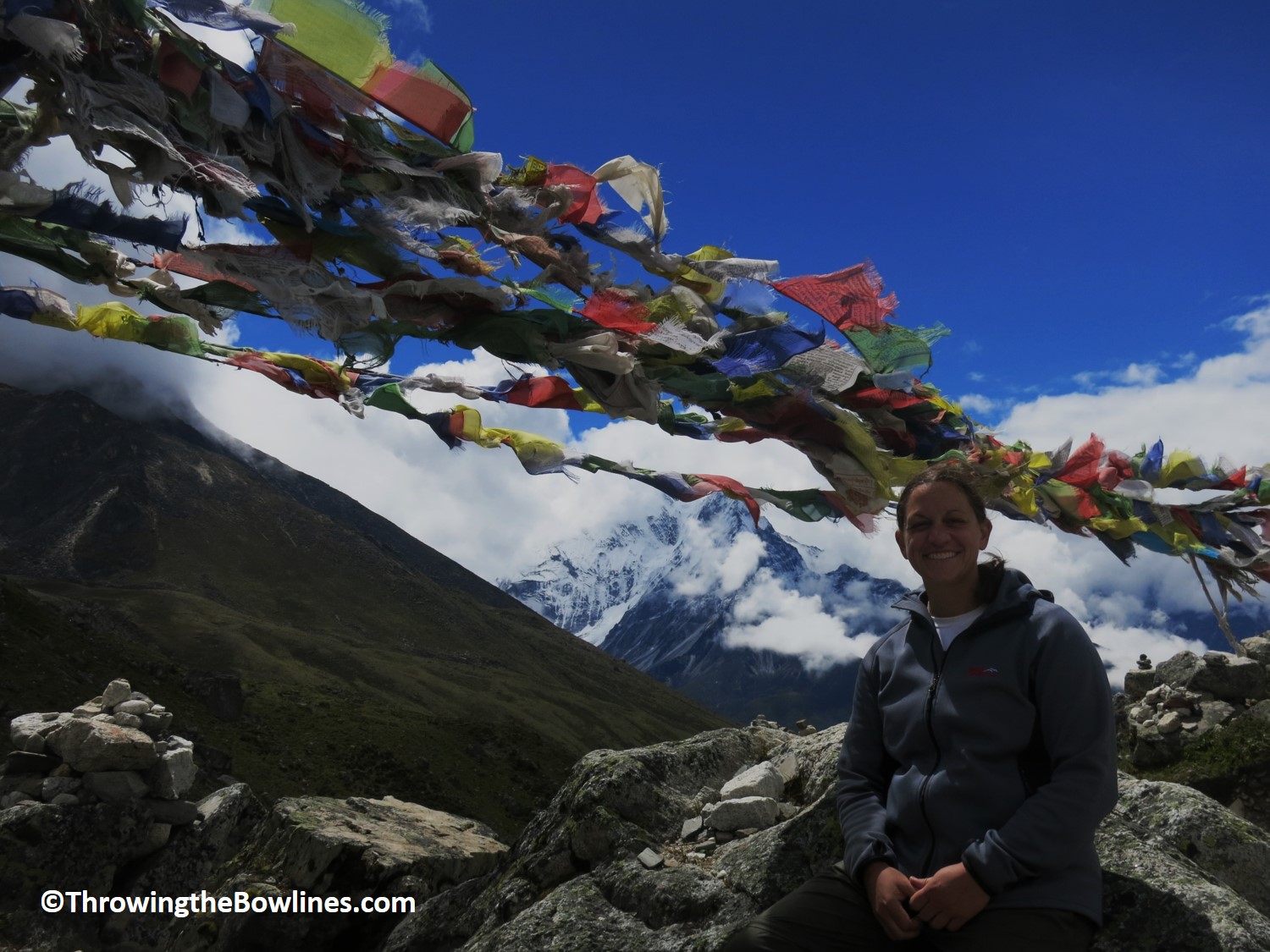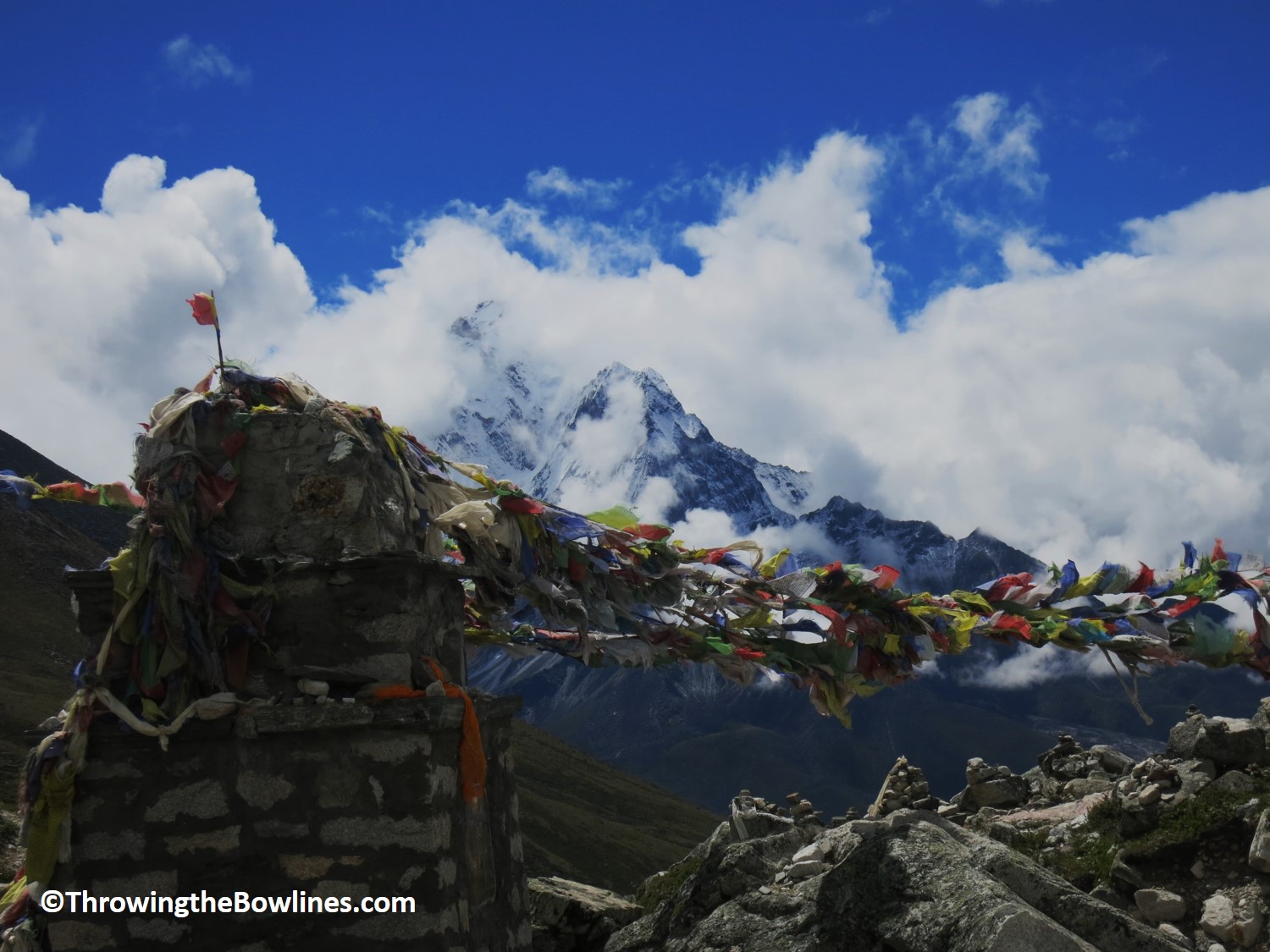 Once we arrived at the top of the climb, we were greeted by many prayers flags and memorials for those who had perished on Everest. It was really quite emotional and powerful to see so many memorials. Everest is a majestic, captivating, and inspiring mountain that mesmerizes so many that yearn to stand atop the highest point in the world. But she is also mysterious, unrelenting, and undiscriminating as she has taken many lives since man has set out to conquer her. Those that undertake the challenge of reaching her summit know that the risks are high and the possibility of death is very real. There are many whose final resting place is on Everest and are honored here and all along the trail on the way to EBC. It was especially hard to think about the 16 Sherpas who died in the April avalanche while preparing for the impending season. I will not soon forget the feelings that these memorials evoked.
Jangbu and I continued onto Loboche which was just an hour ahead where we had a nice warm lunch. As we steadily gained elevation over the last few days, the weather did start to become chiller. Once we arrived at our teahouse in Loboche, a bowl of warm Sherpa stew and some chapatti was just what I needed before our next task at hand.
Loboche sits at an elevation of 4,910m, so we were just shy of 5,000m (16,404 feet)! Jangbu wanted to take a short acclimatization hike to get us above 5,000m (16,404 feet). So, we set out for a ridge not far which was just above 5k meters. From this vantage point, we were able to see the Khumbu glacier which is 65km long and like most glaciers, is receding. Atop the ridge, there were many cairns built by others that came before us. We decided to build one together for good luck. We hoped that it would help us to have a safe journey, clear skies, and happiness! Ours was the tallest of all of them and we were very proud of it!
We spent about 45 minutes on the ridge before the weather began to change and it got quite cold. I learned how quickly the weather can change at these elevations and how dangerous it can be as you get higher. We headed back to our teahouse to talk about our strategy for reaching EBC the next day. I had asked Jangbu if there would be a sign indicating that we had arrived at EBC. He said that there may not be as in the past there has been one, but because it is staked into a glacier that is constantly moving, it falls a lot, goes missing, etc.
When I have hiked 14ers (mountains over 14,000 feet) in Colorado in the past, we would make signs with the name of the peak, elevation, and date so we could take photos at the summit. Knowing that there may not be a sign at EBC, I wanted to make my own to commemorate our accomplishment once we arrived! Then came the question of what to use for the sign…I decided to use the back of my map! I was now prepared for our final trek to EBC the following day.
Our crew for the last week spent the evening had become quite close since we were the only guests at most of the teahouses. We spent the evening playing cards, laughing, and sharing our nervous excitement of our impending arrival at EBC. It was hard to believe that after a week of trekking, I was nearly there! Only one more day and 1,475 feet (450m) of elevation stood between me and a lifelong goal of making it to EBC!
Trekking Stats
Distance:             2.5 miles (4km)
Time*:                  3 hours
Elevation:            950 feet (290m) overall
Day 8: Loboche – Everest Base Camp
When I awoke around 0530, the first thing I did was open the curtains and look out the window. I was instantly disappointed as all I saw was fog. After a moment of thought, I looked again, this time using the curtain to wipe the window…sure enough it was just condensation!! It was a beautifully clear day! Gorgeous blue skies and breathtakingly beautiful mountains all around! I was so excited knowing that today was the day we would make it to EBC!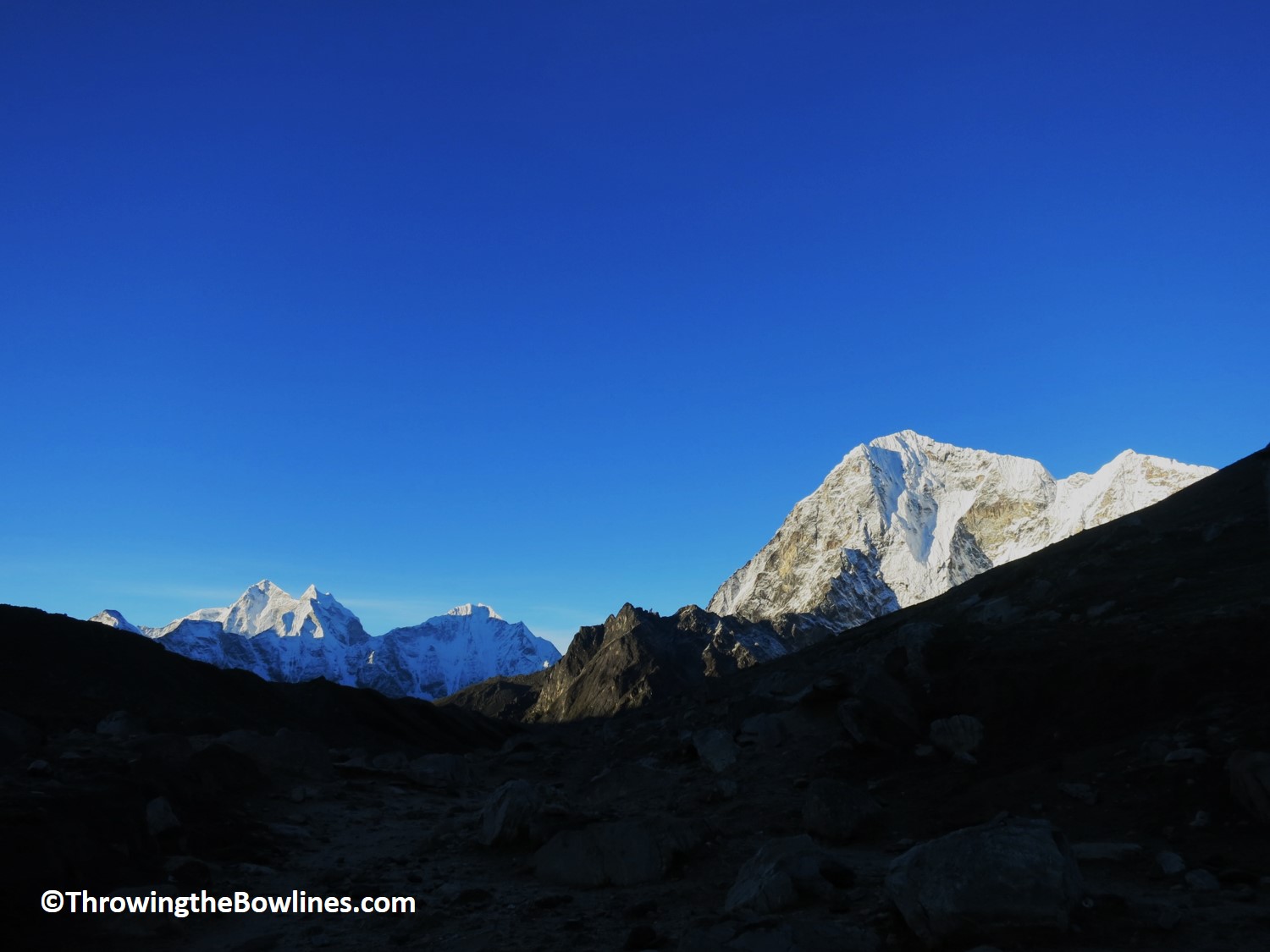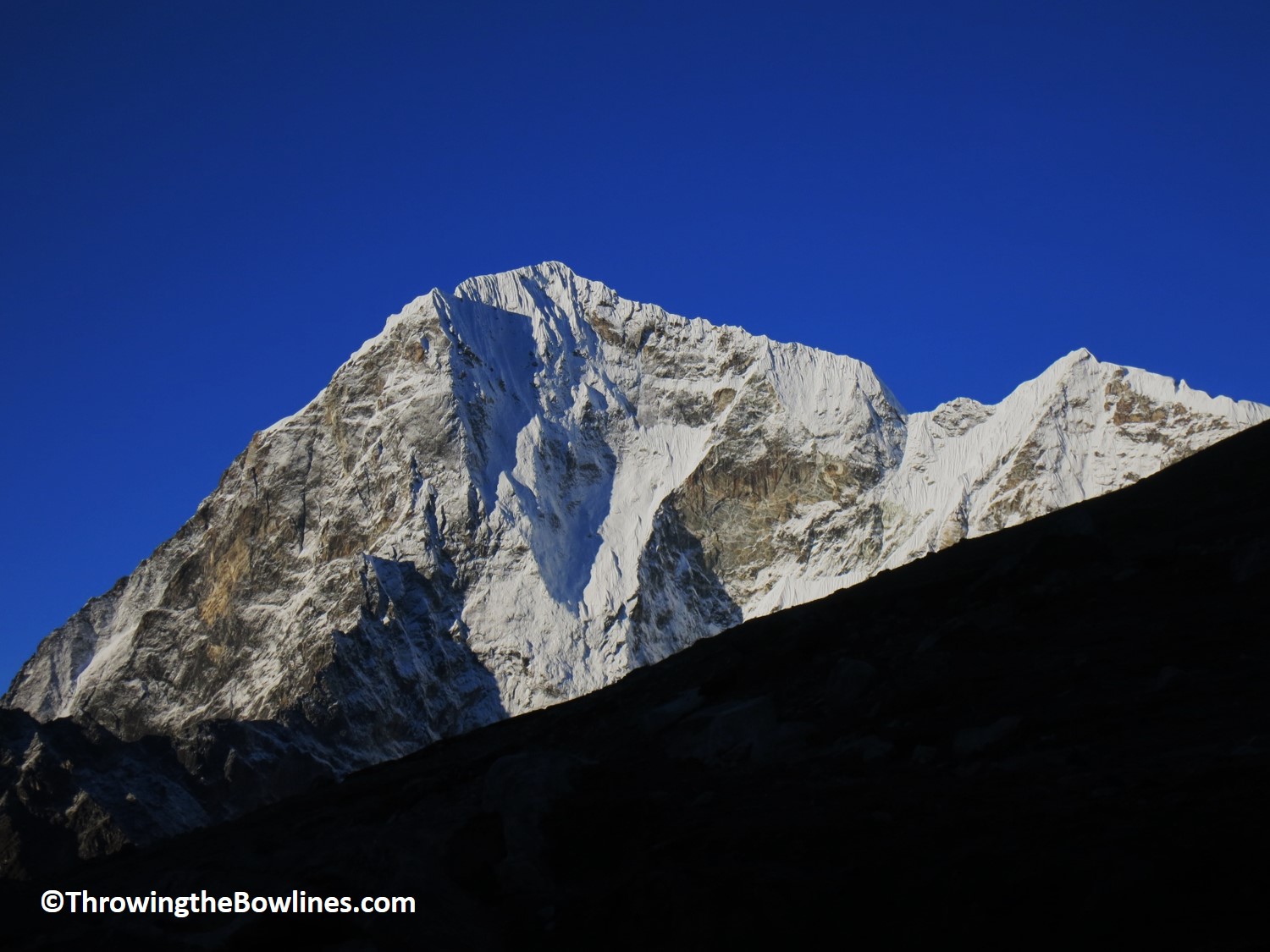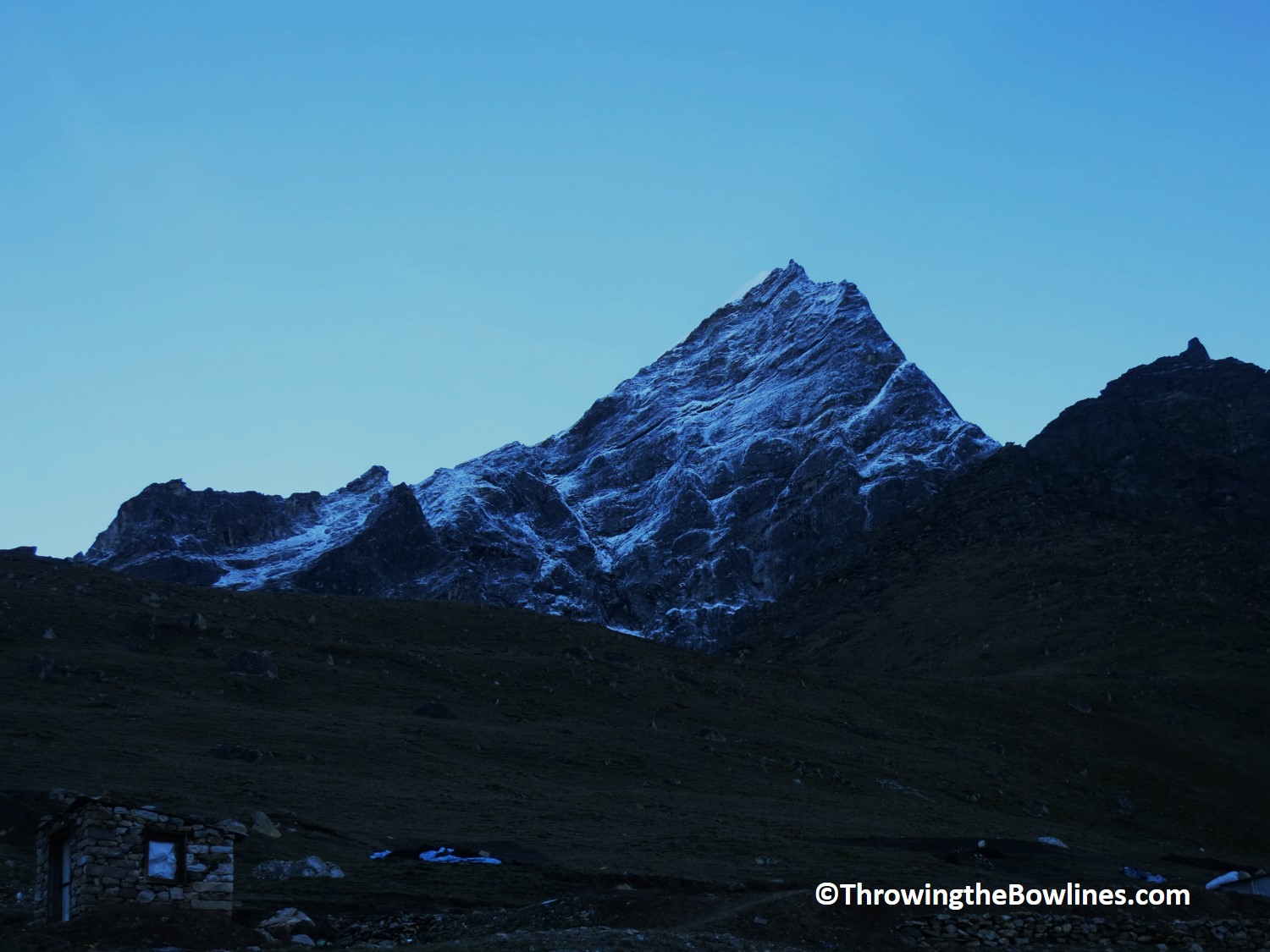 Jangbu and I set off early at 0645 because we had quite a long day of trekking ahead of us. We left Loboche for Gorak Shep, a small town just before EBC. There are no accommodations at EBC, so we first had to stop at out teahouse in Gorak Shep, drop our bags, and then continue onto EBC.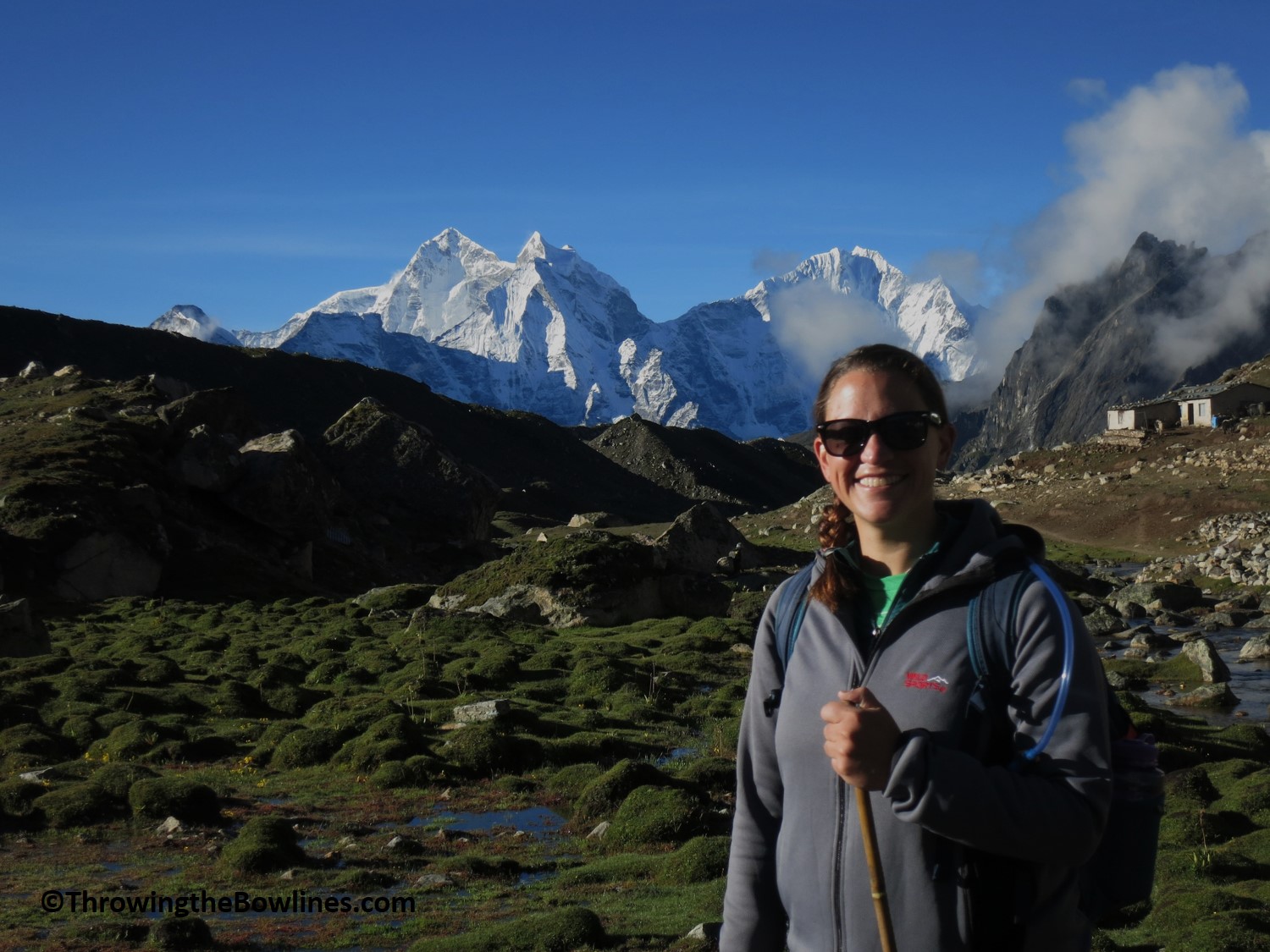 The trek to Gorak Shep was realtively easy and took just 2 hours. I had plenty of amazing views to help motivate me and I was just so excited that EBC was so close. Along the way, we passed a large group of Koreans that were head back to Loboche. They were all so happy and said they had a great trek up Kala Pathar and had beautiful views. Jangbu spoke with their guides and after they passed he said to me, "Do you want to know what he told me?" I said, "yes, what did he say?" I could see his hesitation and knew that it would not be good news. He said, "They did not make it to Base Camp because there was a landslide covering the trail with rocks still falling." I was immediately devastated….
Jangbu went on to say that landslides are very common in monsoon season due to all the rain. Before high season starts in mid-September, the trails are cleared for trekking, but this had not happened yet. I hide my disappoint well, but couldn't believe that we would not make it. Jangbu said that he would do his best to find an alternate way to EBC. I told him that I appreciate any possible way we can take to get there, but frankly, if it was too dangerous, then it would not be possible. At this point, I had no other option but to be positive. I trusted Jangbu completely and I knew he would do everything possible to get me there, but would not put us at risk. I had the BEST guide.
On our way into Gorak Shep, we passed one other trekker and guide who told Jangbu the same – no path to EBC. Upon arriving at Gorak Shep, we saw four Australians whose story was the same. They said they were able to come within about 15 minutes of EBC, but not able to get there. I felt like our story was going to follow suit, but was not willing to give up. I had kept up the positivity!
We had an early lunch at Gorak Shep and packed one small day pack to bring with us. In Colorado, it was tradition to bring beers to celebrate at the summit of the 14ers. So, I bought 2 Everest beers so that Jangbu and I could celebrate once we arrived at EBC. I was confident that we would.
We set off for EBC at 1111 and I told Jangbu that this time was a good sign! Although the trek was not overly strenuous, I could definitely feel the elevation. We were over 17,000 feet (5,180m) and the air was thin! We took our time and went slowly. Being this close, we did not want to have any problems now.
As we got closer to EBC, Jangbu pointed out the area where the landslide was blocking the trail. Jangbu went ahead to scope out the situation while I waited with two other trekkers and their guide anxiously. Their guide was confident that he saw a safe way across and this was confirmed when Jangbu came back saying the same!!!
I cannot explain the joy and excitement I felt when Jangbu said that it was safe and we could make it!!! We continued on the trail and passed a makeshift "Base Camp" that was created by those who were not able to make it to actual EBC.
We crossed over the landslide area, but had no issues as there were no actively falling rocks. We had to improvise one section and scramble up a short area with some loose rocks. But once we made it to the top of this, it was 300m walk across the glacier until WE MADE IT TO EVEREST BASE CAMP!!!
Jangbu and I were the first to arrive and we shared a huge hug! The emotions of arriving at this end goal were quite overwhelming and I shed a few tears. It was exhilarating. It was such a huge accomplishment to have achieved this massive goal. The others who I had been trekking next to for the last 8 days arrived and we all shared our celebratory beers together and took an excessive amount of photos!
Although Jangbu and I were the first to arrive, we were also the last to leave. I just wanted to savor the moment as much as possible. I felt as though I was in a bit of a fantasy world. Trekking to Everest Base Camp had been a bucket list item for me for some time. I honestly wasn't ever sure I would make it. Even the most fit people, who train to trek to EBC, sometimes do not make it. I felt so fortunate and blessed to have made it to 17,598 feet (5,364m) unscathed.
The trek back to Gorak Shep seemed so long, even though it was only 2 hours. It was such a high to stand at EBC and I think I was coming down off of the excitement. That evening, I fell asleep with such a sense of gratitude that I was able to accomplish such a massive goal. Truly fortunate 🙂
Trekking Stats
Distance:             6.8 miles (11km)
Time*:                  9 hours
Elevation:            1,476 feet (450m) to EBC
In the third and final part of my Everest series, I will cover days 9-13 which include a summit attempt on Kala Pathar and the journey back to Lukla. Just when you think you've figured out this elevation thing, it can bite you! If you are thinking about trekking to EBC, definitely check out my Everest packing list for guidance and Part 1 of this series!
*All time includes trekking and breaks